Reports that executive producer Josh Griffith has been ousted from The Young and the Restless appear to be premature. Griffith, an Emmy-nominated writer for his work on ABC's One Life to Live, joined the Y&R family earlier this year during the strike by the Writers Guild of America. His reported dismissal is part of a stunning, sometimes convoluted, shakeup at two different soaps on two different networks.
The turmoil began over at Days of our Lives with allegations that Edward J. Scott was rewriting the show's scripts and altering storyline without the permission of head writer Dena Higley. Scott, the husband of The Young and the Restless' Melody Thomas Scott (Nikki Newman) and a former executive producer for the show, was reportedly trying to force Higley out of her job. The goal, according to DAYS insiders, was to get Higley to walk so that Scott could bring in a friend, Griffith, as the show's new head writer. Scott and Griffith worked together at The Young and the Restless in 2006 and 2007, when Scott was a supervising producer and Griffith was a creative consultant and later co-executive producer.
The problem in all of this is that it is expressly forbidden for a show's executive producer to rewrite the work of a union writer. Scott was not alone in being accused of overstepping his authority. Griffith has likewise been accused of tinkering with the work of The Young and the Restless' head writer, Maria Arena Bell. Whereas Griffith reportedly stopped altering the show's scripts after being told to do so, Scott reportedly did not. Days of our Lives is currently under investigation by the WGA and faces substantial fines if it is proven that Scott violated union rules. Perhaps in an effort to appease the Guild, Days of our Lives fired Scott on Friday.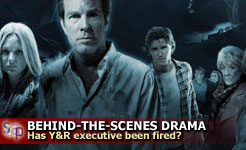 It had been reported by other Internet sites that Griffith, like Scott, was relieved of his duties on August 15. A Y&R insider tells Soap Central that the show is unlikely to face a similar investigation and fines.
Days of our Lives and The Young and the Restless are both distributed by Sony Pictures Television.
A CBS spokesperson offered no comment on the allegations, but denied that any behind-the-scenes changes have been made.
"[Josh Griffith] is still here and still the executive producer," the network said in a statement.
Meanwhile, there are whispers that Griffith may willingly step down, thus sparing the potential embarrassment of having been fired. Some are already speculating that the show has named a new executive producer.