Faith Cassidy Newman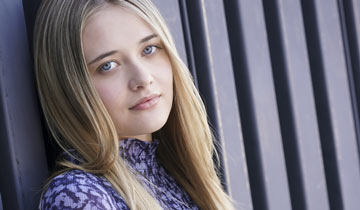 Jonah Lutsky
Brynn Bowie
Madison Bowie
Mckenna Grace
"Squirt" (nickname by Nicholas)
Born September 30, 2009
Said to be 9 years old in early 2017
Said to be 11 years old in December 2017
Student at Walnut Grove Academy
Former kitchen helper at Society Restaurant
Sharon's house on Newman Ranch, 421 Larkspur Trail, Highway B
Single
Sharon Collins Newman (mother)
Nicholas Newman (father)
Cora Miller (paternal great grandmother; deceased)
Albert Miller (paternal great grandfather; deceased)
Barbara Ann Reed (paternal great grandmother; deceased)
Nick Reed (paternal great grandfather; deceased)
Doris Collins (maternal grandmother)
Unknown Name (maternal grandfather, deceased)
Nicole Reed Newman (paternal grandmother)
Victor Christian Newman (paternal grandfather)
Cassidy "Cassie" Newman (half sister, by Sharon with Frank Barritt; adopted by Nick; deceased)
Mariah Copeland (half sister, by Sharon with Frank Barritt)
Noah Christian Newman (brother)
Unnamed sister (born 2001; deceased after premature birth)
Dylan McAvoy (uncle; son of Nikki and Paul Williams)
Victoria Nicole Newman (aunt; daughter of Nikki and Victor)
Adam Newman (uncle, son of Victor and Hope)
Abby Newman (aunt, daughter of Victor and Ashley)
Matt Miller (paternal great uncle)
Dr. Casey Reed (paternal great aunt)
Reed Newman Hellstrom (cousin, son of Victoria and J.T.)
Katherine "Katie" Rose Abbott (cousin; daughter of Victoria and Billy)
John "Johnny" Abbott (cousin; son of Victoria via adoption)
Connor Adam Newman (cousin; son of Adam and Chelsea)
Dominic Phillip Newman Abbott Winters Chancellor (nephew; son of Abby and Chance with sperm donation of Devon)
Whiskers (cat)
Patches (horse)
Moses Winters (dated, kissed)
Damaged kidney in truck accident; Adam donated one of his
Stole pickup truck from the ranch, wrecked it; sentenced to repay damages and community service
Sharon and Nick Newman were ecstatic that they were expecting Faith, the daughter that their beloved daughter Cassie had predicted on her deathbed. Sharon committed herself to the same mental hospital as Ashley Abbott. Sharon went into labor at the same time Ashley did for her hysterical pregnancy. Adam Newman who was gaslighting Ashley, gave her a drug that knocked her out. Dr. Taylor delivered Sharon's baby girl, and Adam snatched the baby out of his arms. When Ashley awoke, Adam handed her Sharon's baby as her own. Dr. Taylor was forced by Adam to deliver the news to Sharon that her baby had been born malformed and had died. They told her the baby had been cremated, so by the time she told Nick there was no way to prove differently. Sharon became involved with Adam. It was several months before Sharon began to recall that her baby had not really died at birth, and she was determined to get her back. A letter from the now-deceased doctor told Ashley that she had had a miscarriage months before and a hysterical pregnancy afterward, so had never given birth that night. Everyone realized that Ashley's baby also named Faith was really Sharon's. A DNA test later proved it, and Ashley reluctantly gave Faith to Sharon. Baby Faith was later kidnapped by Adam who told Sharon that Faith was dead. It was Nick who reunited Sharon with Faith.
Faith grew up on the Newman ranch with her older brother Noah throughout their parent's on again/off again marriages and affairs with each other and others. Although happy whenever they reunited, Faith learned that she could never trust that their relationship would last. Her wealthy grandparents Victor and Nikki Newman lived nearby in the ranch house and spoiled her by giving her horses and trust funds, but they were similarly breaking up and reuniting. Sharon was also continually getting arrested and jailed, or having emotional breakdowns and disappearing, even burned down the ranch house, and once faked her own death. In addition to Nick, Faith knew as fathers Nick's half-brothers Adam and Dylan, Jack Abbott, and her grandfather Victor. Faith also knew as mothers Phyllis Summers, Avery Baily Clark, Chelsea Lawson, and Sage Warner, often being belligerent to them wishing they were Sharon. Faith was used in custody battles, and Christmas 2016 found Faith running away from home and choosing to live with Victor and Nikki. It's a wonder Faith mostly maintained her precocious cuteness and love for her parents through it all and into her young teen years. Faith remains close with her now-adult brother Noah and her half-sister Mariah.
In 2019, Sharon brought her lover former cop Rey Rosales home to meet Faith. After spending some time together, Faith asked when he was moving in. Rey was taken aback until Faith said it was okay, that she approved. Rey and Sharon discussed it, and decided it was a good idea, promising no secrets between them ever again. They eventually split up. And Faith went away to boarding school.
Faith returned home for Christmas 2019, so grown up. She talked with Mariah and Summer appreciating her older sisters' advice on a boy she was trying to get noticed by. But she canceled a ski trip with her friend Haley's family when Sharon confided that she had a lump in her breast. Faith stayed in Genoa City, and returned to school at Walnut Grove. All three daughters were there to support Sharon as she suffered through doctor visits, tests, a biopsy, and chemotherapy. As a result, Faith began acting out at school, saying she didn't fit in anymore. Nick was told, he confided in Rey, and Rey got her to work at Society for Lola learning to do things she didn't want to do. When chemotherapy failed for Sharon, a lumpectomy was scheduled. Sharon had the lumpectomy and was still expecting more chemo and radiation treatments.
In his ongoing effort to get revenge on Adam Newman, Billy published the story of Adam's sinister past, including how he had stolen Faith from Sharon after Faith was born. Faith was teased and ridiculed by her classmates at Walnut Grove, sending her nasty texts on her phone. Faith suddenly had an older friend named Jordan who was a bad influence on her. The two of them began sneaking out at night and drinking vodka. Phyllis discovered Faith with a hangover after Jordan had dared Faith to steal vodka behind the bar at Society, but she had stolen it from home instead. Phyllis refused to keep her secret, told Nick, and Faith was forbidden to see Jordan anymore.
Faith was sent a photo of her mother Sharon kissing Adam. It was decided that Faith would go live with her father Nick. Sharon's husband Rey became enraged, and threatened Adam in front of Adam's wife Chelsea. Rey demanded to know who the bullies were, but fearing retaliation, Faith refused to tell. Then someone planted a bottle of vodka in Faith's locker at school, and turned her in. Faith was suspended from Walnut Grove. Desperate for a friend, Faith was happy when she started receiving texts from a boy who claimed to be interested in her. But in when they finally decided to meet, it turned out that Jordan had been doing it and laughed that Faith had been punked.
Faith was sent to live with her grandparents Victor and Nikki. But one night she got drunk again, climbed into one of the ranch trucks and started driving. She wrecked out the truck and was rescued by Adam, who was on the run. He risked being caught by taking her to the hospital and ended up donating a kidney to save her life. Faith forgave him as he appeared to be turning his life around.
While lying in her hospital bed, Faith was visited by Moses Winters, now 16, who was staying with Devon and working at the hospital with Nate as a student intern. He was exactly what she needed, a fun friend who cared and made her happy. He too was attending Walnut Grove and once she was well and returned to school, Moses came to her rescue whenever the bullies struck. They eventually realized it was more than a friendship. They began dating and kissed. Moses and Faith had their first real date at Top of the Tower private dining room as a surprise. He even helped her with her homework so she could go. Moses was a great boyfriend, arranging surprises for Faith including attending a Tigirlily concert (Faith's favorite group). Moses arranged with Devon for Faith to meet them at Crimson Lights and to watch the concert from back stage. Her family fully approved as Moses was the late Neil Winters son. Faith was sentenced to repay damages and do community service. She worked her tail off to pay for the truck and complete her community service.
Faith acted as wedding planner for Mariah and Tessa's wedding along side visual artist Noah and they created a wonderful 1970s themed event. Moses and Faith began researching colleges. Moses chose to attend GCU so he could stay in town and keep working at Hamilton-Winters. Faith admitted she might do the same to be with Moses. Chancellor merged with Hamilton-Winters. Billy began doing podcasts under the name The Grinning Soul, aimed at helping people better themselves. Moses joined the team as Billy's assistant.

Post a Comment

Share on Facebook

Tweet this

Submit Feedback