Reed Hellstrom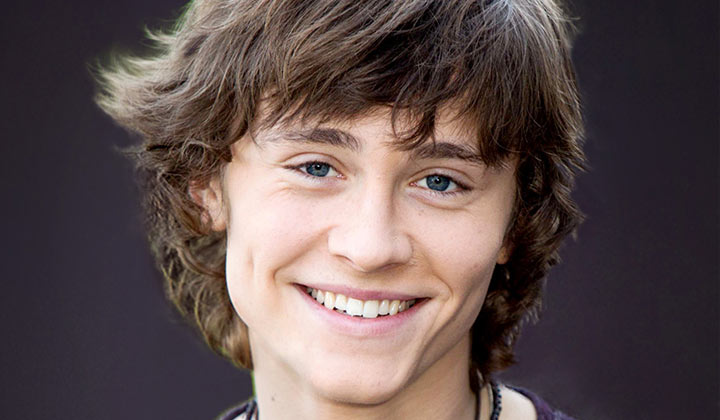 Reed Baron
2008 to 2009
Quin Baron
2008 to 2009
Max Page
2009 to 2015
Born November 29, 2007
Celebrated his sixteenth birthday, sophomore in 2017
Attends a music boarding school in New Hampshire
Musician
Attended Genoa City high school
New Hampshire
Single
Victoria Newman (mother)
J.T. Hellstrom (father)
Mackenzie Hellstrom (step mother)
Dylan Hellstrom (brother)
Becca Hellstrom (sister)
Eve Nicole Howard (sister; died shortly after birth)
John "Johnny" Abbott (step brother by adoption; child of Billy Abbott and Chelsea Newman)
Katherine "Katie" Rose Abbott Newman (step sister; father Billy Abbott)
Nicole Reed (grandmother)
Victor Christian Newman (grandfather)
Cora Miller (great grandmother; deceased)
Albert Miller (great grandfather; deceased)
unknown name (great grandmother; deceased)
Nick Reed (great grandfather; deceased)
Martha Hellstrom (grandmother)
Tom Hellstrom (grandfather)
Dylan McAvoy (uncle)
Nicholas Christian Newman (uncle)
Victor "Adam" Newman (deceased uncle)
Abby Newman (aunt)
Unknown name (aunt, J.T's sister)
Matt Miller (great uncle; brother of Victor)
Dr. Casey Reed (great aunt; sister of Nikki)
Frieda unknown last name (great aunt)
Cassidy Newman (deceased cousin through adoption by Nick; Sharon's daughter)
Noah Christian Newman (cousin; son of Nick and Sharon)
Summer Newman (cousin; daughter of Nick and Phyllis)
Faith Cassidy Newman (cousin; daughter of Nick and Sharon)
Christian Andrew Newman (cousin; son of Nick/Adam and Sage)
Connor Adam Newman (cousin; son of Adam and Chelsea)
Grant unknown last name (second cousin)
None known
Zoey (dated, kissed)
Kendall (kissed)
Matilda "Mattie" Ashby (kissed, dated 2017)
Unknown
Charged time on a porn site to his mother's credit card [2017]
Arrested for driving under the influence; sentenced to 1 year suspended driverís license, a fine, and community service [2017]
Drove a car without a license with Charlie, and hit & run of Nikki Newman; Cane, Victoria, Nikki agreed to never tell and ruin their lives; Victoria took away his license for another year [2018]
Victoria Newman, first born child of millionaire Victor Newman, during her marriage to Brad Carlton, hired Detective J.T. Hellstrom to investigate Brad's relationship with Sharon, who was married to Jack Abbott. The one night Brad spent with Sharon in a hotel room in New York City was discovered. The news caused Victoria to miscarry, and she later filed for divorce. Victoria and J.T. began an affair, and she moved in with him after she found out she was again pregnant. Thanks to one night with Brad after the miscarriage, Victoria was not sure who the father of her baby was.
Victoria was at Clear Springs when its underground parking structure and casino collapsed, trapping her and several people under the rubble. As she was freed, Victoria was hit on the head with a rock, knocked out, and rolled down the pile of debris. Still pregnant, Victoria spent months in a coma while her family and fiancť J.T. held vigil at her bedside. They finally had to decide if the baby should be delivered prematurely to save Victoria. J.T. and Victor chose to deliver, but Nikki insisted that Victoria would rather her baby live, so the decision was taken to court. They ended up waiting a couple more weeks until the baby had a better chance, then baby boy Reed was delivered. A DNA test was run and J.T. was pronounced the father. Reed thrived in the hospital, while Victoria was taken back to Newman ranch, still comatose. Not long after J.T. brought Reed home, Victoria woke up from her coma, and Victoria and J.T. were married. J.T. and Victoria divorced 2 years later, and J.T. was given full custody of Reed. Victoria married Billy Abbott on the rebound, and J.T. eventually married Mackenzie Browning, granddaughter of Katherine Chancellor, and they and Reed moved to Washington, DC. Reed visited Victoria now and then as a small boy, mostly on holidays, flying alone, and Victoria would visit him occasionally in DC. Reed also stayed with Victoria during the birth of his brother Dylan. Reed was ring bearer for Victor and Nikki's wedding in 2013.
In January 2017, a 15-year-old Reed showed up at Victoria's door in Genoa City with a police officer, having gotten there by bus without his parent's knowledge. He explained that J.T. and Mac were having another baby and were moving to Warsaw, Poland, and he did not want to go but wanted to live with her. Victoria let J.T. know, and he told her that he and Reed had not been getting along for some time. They agreed to let Reed stay with Victoria, but she came to resent the way Reed was only interested in playing his guitar or keyboards, being on the Internet, and bonding with Billy, not her. Unknown to her, Reed was charging online porn to Victoria's credit card and slipping booze into his soda. Reed was grounded after Victoria found out, but he managed to slip out to appear at an Open Mike Night at The Underground singing and playing his guitar.
Reed was talented but insecure. He walked off the stage when he perceived that Zoey and Kendall, girls he knew from school, were giggling at him. He was talked into going back on stage, and had a successful debut. But when he got home, Victoria took away his guitar and internet access as punishment. Billy intervened and talked Victoria into trying to encourage Reed in his music instead of making him hate her for punishing him all the time. Victoria asked Reed to play for her and was impressed. Victoria's mother Nikki took an interest in Reed, encouraging him and playing duets with him on the piano. When Reed failed to be interested in learning from the music educator Victoria had found for him, Nikki discovered a street musician named Tessa Porter to mentor him, and they got along well.
Reed and Zoey became a couple, and her best friend Kendall always seemed to be tagging along. One night Reed received a text from Zoey to meet her at the movies, but Kendall showed up instead. By the end of the movie, she was kissing him, and he was liking it. Kendall let Reed know that her uncle might be able to get him a music deal.
Victoria's father Victor gave Reed a fancy car for sixteenth birthday. Reed had just gotten his learners permit, and was elated. But Victor's grand gesture without consulting her angered Victoria, and she sent it back, making Reed hate her all over again.
Kendall knew that Zoey was seeing another boy (Charlie Ashby) and arranged for Reed to catch them kissing, so Reed and Zoey split up. Later Reed walked in on Phyllis and Billy kissing, so Reed and Billy had a heart to heart about women. Reed soon was intrigued by Mattie Ashby who was smart, rather shy, and bespectacled. They began hanging out together when she could, and she would come to see him perform at The Underground. Finding out that her twin brother was Charlie, the guy who had broken up Reed and Zoey, and that Reed was the son of Victoria who had fired his father, caused the two young men to bicker every time they met. But once Mattie and Charlie discovered the truth behind Cane's being fired, Charlie called a truce between him and Reed. But when her parents found out, Mattie was forbidden to see Reed. They began meeting on the sly, had their first kiss, with Charlie often covering for her absence. Cane caught them, but after Lily decided to divorce Cane she and Victoria removed the restriction.
On Halloween, Reed borrowed the key to The Underground from Noah and he, Mattie and Charlie brought their friends intending to have a party. But when they heard Nick arrive they sent their friends home and hid in the store room. Not long after Nick left they realized the place was on fire and they were trapped. Mattie called 911 while Reed called Billy for help, and Charlie left a voicemail for Cane. Billy got inside and rescued them, they got out, but when the building collapsed, Billyís leg was pinned. Jack arrived, and emotionally insisted on going in. He talked to Billy about forgiveness, and they walked out together with Jack smiling and Billy limping. Lily was reminded why she shouldnít have allowed Mattie and Reed to see each other again, and Mattie was grounded. But afterward they returned to seeing each other.
Reedís father J.T. came to Genoa City on business, but Reed ignored the texts and voicemails from J.T. wanting to see him. Finding out that Reed and Mattie were a couple, J.T. asked Cane to invite them to dinner, and J.T. was there.
J.T. told Reed about his and Macís separation, and he took it well. Reed and Mattie attended a party, and he had a couple beers. Mattie tried to keep him from driving home, refused to go with him, and threatened to call the police Ė which she did after Reed left without her. Reed was stopped and arrested for driving under the influence. J.T. decided Reed needed him to stay in Genoa City. Just as he was settling in, Mac had him served with divorce papers. At the end of Reedís trial, he was about to be sentenced with a 90 day suspended license, when Mattie broke in and attempted to explain and stand up for him. But the judge was so appalled by her story, how she tried to stop him from driving by threatening to call 911, and he still drove, she changed his suspension to a year.
Reed broke it off with Mattie. After Reed overheard his parents discussing sending him to boarding school, he slipped out of the house with a bag and his guitar. Landing at Billy and Phyllisí apartment, they called Victoria. Nikki and Victor took Reed home, intent on straightening him out with a regimented life of chores, exercise, and discipline. J.T. and Victoria suddenly reunited, J.T. moved in with her, and Reed was asked to return. They told him to get a job or sell his guitar, that he could not use his savings to pay his fine. But after J.T. admitted he had attempted to murder Victor Newman and suddenly disappeared, Reed asked Victoria to agree to let him go to a boarding music school in New Hampshire (the same school that Devonís half-sister Ana had gone to) to get away from everyone who hated his father, and she reluctantly agreed. Victoria threw Reed a going-away party which was attended by his step mother Mackenzie and Mattie, among others. He forgave Mattie, and they parted friends.
In August 2018, Victoria went to Maine to see Reed perform, and came home saying he had given up on ever seeing J.T. again, and was at peace with it. But by December, evidence had been discovered causing police to conclude that J.T. was dead. Reed arrived early during holiday break, hoping to find out how J.T. died. He decided that there needed to be a memorial for J.T. The family stepped up and attended. Traci told the saga of Colleen and J.T. Phyllis exposed that J.T. had abused Victoria, Victoria confirmed, and Reed smashed J.T.ís photo to the floor and ran out. Mac admitted she had been abused by him too, and how relieved she was to finally feel safe. Billy said he would kill J.T if he were still alive.
While at a party, Charlie had a few drinks, trying to get over Shawna moving to Colorado. Being underage and drunk, Reed, whose license was suspended, drove Charlie home in Caneís car during a bad snowstorm, hitting a tipsy Nikki Newman. Scared, they left the scene not knowing what they had hit, with a dent in Caneís car. Charlie was busted by Cane for drinking. Charlie explained about Shawna and that he had not driven. Reed finally confessed to Victoria, that he was Nikkiís hit and run driver. Victoria and Cane took Reed and Charlie to a recovering Nikki to confess. She surprised them with a confession of her own, that she had been drunk, and felt it was her fault walking in front of their car. They agreed to never tell and ruin the boyís lives. Victoria took away Reedís license for another year, and Reed went back to school.
Reed returned to Genoa City a couple months later after Billy broke the news that J.T. had been alive all along and had been arrested after holding his mother, Nikki and Sharon hostage. J.T. was diagnosed with a brain tumor and had surgery to remove it. Afterward, Victoria visited him. J.T. apologized, wishing they could have cut out his memories, admitting he was broken before he returned, wanting to blame everyone else for his problems, but thought Victoria would fix him. He assured her that everything that happened was his fault, that Nikki was right for stopping him, and he had deserved to die. Victoria told him that no one wanted him dead, not them, Mac, or his children. She asked why he didnít get help. J.T. said he saw Mac become afraid of him, and throw him out, but he didnít fix it. He asked her to tell everyone he was sorry. Victoria said she might forgive him someday, could never hate him, but cannot forget. She told him to concentrate on Reed who has his voice and holds a guitar the way J.T. did. Reed visited J.T. and agreed to give him another chance, ready to hang out together and play their guitars. But J.T. was arrested for attempted murder of Victor. Reed was upset, but J.T. declared that he needed to pay for what he had done. Victoria asked Reed to come home with her, but he said he could not run home to mommy anymore. J.T. pled guilty and agreed to prison time.
In March 2020, Reed returned to Genoa City to be by his motherís side as she recovered from a stab wound in the side, a case of mistaken identity. Once he was reassured that she was going to be fine, Victoria was able to convince him to return to his life.

Post a Comment

Share on Facebook

Tweet this

Submit Feedback