Black Panther is poised to be a box office behemoth. The film is already setting records, and it hasn't even opened in theaters. That comes later this week on Friday, February 16. But this surefire box office blockbuster has a story that's not being told. And if you are not one of the millions of people already planning to see the film, this just might be the reason that gets you to commit. It's the story of one man's battle against himself -- or perhaps the different facets of his personality. That man is Reginald Porter.
Now, before you make a mad dash to the film's official web site to read up on the character, don't bother. And don't ask Siri or Alexa for any assistance because they won't help either. Reginald Porter doesn't appear in Black Panther. Then again, he does. Two times over.
It's okay if your head is spinning. This isn't a wildly soapy plot about Dissociative Identity Disorder. In fact, it's actually much simpler than that: the two male leads in Black Panther -- Chadwick Boseman and Michael B. Jordan -- both cut their teeth as Reginald Porter on the long-running ABC soap All My Children.
In his first credited professional role, Boseman originated the role of Reggie, a tough kid from the apparently mean streets of Pine Valley. Reggie was being treated at the Front Street Clinic for a stab wound. When the police were called in, Reggie held Anna Devane (portrayed by Finola Hughes) at scissor-point.
Flash forward a week or so, and Reggie was, as soaps often say when a role is recast, "taken in a new direction." Jordan took over the role, and over the next three years, Reggie was shown as much more vulnerable. He even ended up becoming part of Erica Kane's (portrayed by soap icon Susan Lucci) family when Reggie's adoptive father, Jackson Montgomery (portrayed by Walt Willey), married Erica.
We checked high and low and burned the midnight oil, but it doesn't appear that Boseman has spoken publicly about his time on All My Children. (Hey, Chadwick! If you're reading this -- shoot me a tweet @danjkroll and we can remedy that). Jordan, on the other hand, has talked about his time on All My Children and the lessons he learned from the show. (Oh, and Michael! You can also reach out, since there is a lot to catch up on since we talked waaay back on your first Daytime Emmys Red Carpet in 2003.)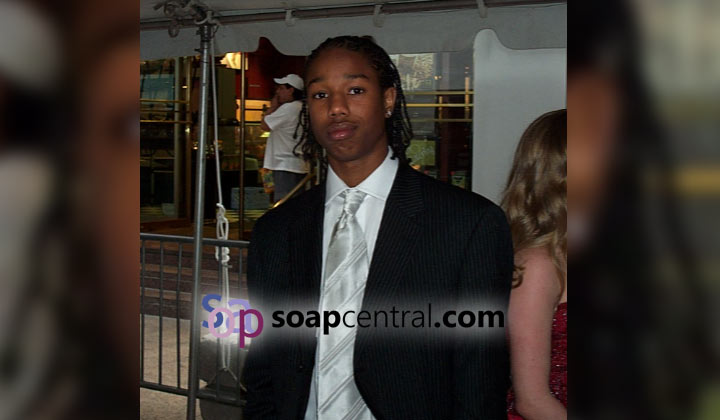 "You work on a show like All My Children -- we all know what it is but you're still able to grow outside of it," Jordan told GQ in a 2015 interview. "It's the perfect situation. I learned, I grew as an actor, I worked with professionals, I got paid."
But the actor admits that he was playing a part he knew he didn't want to repeat again in his career: "No dad, no mom, a fu*king stereotypical black role in a soap opera. I saw the stereotype, so moving forward I was like, 'Nah, those are the roles I don't want to play.'"
Since moving on from daytime dramas, both Boseman and Jordan have garnered critical acclaim. Both have drawn high praise for their work in biopics -- Boseman for 2003's 42 in which he portrayed Jackie Robinson, and Jordan for his portrayal of Oscar Grant in 2013's Fruitvale Station. Since 2015, films in which Boseman and Jordan have had starring roles have tallied a whopping $1.6 billion dollars in worldwide box office receipts. What makes that more incredible is that the eye-popping figure comes from just five films between them.
The two former Reggies will square off in Black Panther. A brief plot summary follows, but if you wanna skip the small talk and get right to the trailer, that appears at the end of this article. And we also dug up Boseman's first appearance on All My Children.
After the death of his father, T'Challa (Boseman) returns home to the African nation of Wakanda to take his rightful place as king. When a powerful enemy suddenly reappears (in the form of Jordan's Erik "Killmonger" Stevens), T'Challa's mettle as king -- and as Black Panther -- gets tested when he's drawn into a conflict that puts the fate of Wakanda and the entire world at risk.
Don't Google the film's plot because there are sites out there that have posted spoilers that you probably don't want to know. Trust us. Go watch the movie, and afterwards, you can Google to your heart's content.
Black Panther also stars Academy Award winners Lupita Nyong'o and Forest Whitaker, Oscar nominees Daniel Kaluuya and Angela Bassett, Tony-nominated Danai Gurira, Letitia Wright, and Martin Freeman.
Do you remember Chadwick and Michael's time on All My Children? Are you planning to see Black Panther? We want to hear from you -- and there are many ways you can share your thoughts.