As far as Internet rumors go, General Hospital seems to have more than its share of stories and gossip circulating on the 'net.
In June, Soap Central reported on rumors that GH's executive producer Jill Farren Phelps was being shown the door and that former head writer Robert Guza, Jr., was returning to the show to take over her job. ABC vehemently denied the rumor.
Phelps remains on board as the show's EP, but rumors continue to swirl that her days are numbered.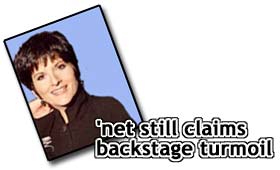 Before the reports that Phelps was being let go came rumors that Phelps and actress Sarah Brown (ex-Carly) were bitter rivals and that his hatred for one another led to Brown's decision to leave the show. Both Brown and Phelps went on record stating their "mutual admiration" for one another and downplayed any and all rumors to the contrary.
Then came similar tales that Phelps and Amber Tamblyn (ex-Emily) were at odds. According to Internet chatter, Tamblyn had wanted to take time off from the show to film a part in a motion picture. The tale went on to say that Phelps refused to give Tamblyn any time off, leading the young actress to a decision to leave the show.
Now comes word that Phelps and Maurice Benard (Sonny) are not on the best of terms.
Several weeks ago, Benard was forced to defend himself against tabloid reports that he strongly disliked his new co-star, Tamara Braun, who took over the role of Carly Corinthos from Sarah Brown.
"It's a flat-out lie," said Benard in an interview last month with Soap Opera Digest. Benard said that "something clicked" when he and Braun did a screen test - and that he's quite pleased with the actress' work as his on-screen wife.
In the latest batch of rumors plaguing the star, Benard was said to have walked out of the GH studios on August 3rd. The rumor apparently snowballed after Benard headed to Phelps' office to discuss some of the material written for his character. Benard believed that his character would not react the way that was written in the show's script. Since Phelps and GH head writer Megan McTavish have not been familiar with Benard's character for that long, Benard is said to have taken some offense to the atypical material written for Sonny.
ABC refused to comment on the rumor, explaining that it is not the network's policy to comment on rumors.