With the sudden and unexpected departure of John Ingle (Edward Quartermaine) from General Hospital, the show's casting department has hurriedly cast veteran performer Jed Allan as the new patriarch of the Quartermaine family.
"Jed Allan's acting experience will serve him well as he takes over the role that the audience loves to hate," said General Hospital executive producer Jill Farren Phelps in a statement. "The cast and crew are very happy he is joining our family as we continue the always unpredictable storylines from the Quartermaine family."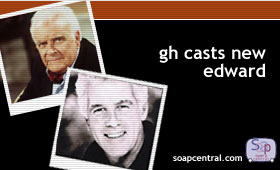 Ingle stunned fans and insiders alike by announcing last month that he had taken a contract role on NBC's Days of our Lives. In a plot that sounds like a soap opera itself, Ingle had been informed late last year that his contract with General Hospital would not be renewed. Fan outcry and a purported change in storyline prompted network execs to re-hire Ingle on a recurring basis. A few weeks later, Ingle turned the tables and announced that he was leaving.
Allan is no stranger to daytime television - or even the fictional town of Port Charles. For over a decade -- from 1971 to 1985 -- Allan portrayed Don Craig Sr. on Days of our Lives. From 1986 through 1993, Allan appeared on the NBC soap Santa Barbara. From 2001 to 2003, Allan tackled the heavenly role of Ed on the now-cancelled GH spinoff, Port Charles.
"I am very honored to be brought on board to one of television's most honored dramas to play Edward Quartermaine," Allan said of his new role. "A complex role like this one doesn't come around often and I look forward to diving right in." Allan begins airing March 1st, which, coincidentally, is also his birthday.