In new promos aimed at gaining more eyeballs for its daytime lineup, ABC proudly announces that "everybody's got their something." General Hospital, it seems, has found their something in the form of one of television's biggest mobsters: Vincent Pastore.
For eight years, Pastore appeared as Salvatore "Big Pussy" Bonpensiero on HBO's Emmy-winning series, The Sopranos. Call it type casting, but on General Hospital Pastore will once again play a mobster. Pastore will play the role of Maximus Giambetti, a big-time mob boss who is disappointed to learn that his firstborn son, Max, is not following in his footsteps. The younger Max is currently a bodyguard for a mob boss instead of actually being a mob boss. Oh, the disappointment.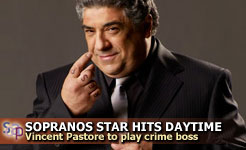 The addition of Pastore to the General Hospital cast would seemingly debunk reports that the show is getting ready to move away from its mob focused storylines. Some fans have decried the show's ofttimes dark and violent storylines. Still, the show has repeatedly earned top honors at the Daytime Emmys.
This is not Pastore's first daytime role. In 2003 and 2004, Pastore appeared in the recurring role of "Rack 'Em Up" Ross on One Life to Live.
A first airdate for Pastore has not yet been released by ABC, but the networks says it will come sometime during the month of October. The role is recurring.