Nina Reeves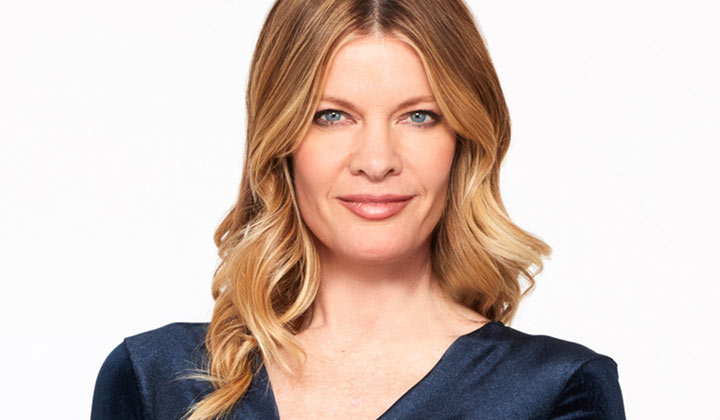 Presumed deceased after Madeline Reeves announced on March 26, 2014 that Nina had died from pneumonia (death certificate listed a date three weeks earlier)
Revealed to be alive on May 1, 2014
Nina Reeves (maiden name)
Heiress
Metro Court Hotel, 1420 Quartz Lane, Port Charles, NY 16543, New York
Formerly Shadybrook Psychiatric Care Facility
Formerly 829 Hawthorne Dr. #82, Port Charles, New York
Formerly Creighton-Clark Clinic Room 306 in Scarsdale, New York
Married to Ric Lansing [Engagement revealed May 18, 2015; Married: May 18, 2015]
Silas Clay [revealed to have been married for over twenty years as of January 8, 2014]
Madeline West Reeves (mother)
Liesl Obrecht (maternal aunt)
Nathan West (maternal cousin; raised as siblings)
Britt Westbourne (maternal cousin)
Unnamed child (miscarriage; with Silas Clay)

*Kidnapped Ava Jerome's child and believed that the baby belonged to her (Nina named the child Jaime Sommers)
Robert "Franco" Frank (kissed)
Broke into the apartment of Silas Clay [break-in occurred Mar 25, 2014; revealed Jun 20, 2014]
Slapped a physical therapist and bribed him to pretend that she required the use of a wheelchair [Jun 30, 2014]
Drugged Silas Clay with an unknown prescription medication supplied by Nina's nurse Rosalie [Jul 25, 2014]
Rendered Silas Clay unconscious [Oct 16, 2014]
Injected Ava Jerome with a paralytic substance [Oct 31, 2014]
Injected Ava Jerome with a substance to induce labor [Nov 3, 2014 (Oct 31, 2014 on the show)]
Kidnapped Ava Jerome's daughter [Nov 5, 2014 (Oct 31, 2014 on the show)]
Bludgeoned Madeline Reeves on the head with lamp [Nov 10, 2014]
Taken into police custody on charges related to the kidnapping of Ava Jerome's child [Dec 12, 2014]
(Nina was transferred to Shadybrook until all charges against her were dropped on Mar 26, 2015]
Accomplice to Franco's blackmail of Olivia Falconeri (they threatened to reveal that Julian Jerome was the father of Olivia's unborn child in exchange for free room and board at the Metro Court Hotel) [Mar 30, 2015]
Comatose for over twenty years after being injected with an overdose of prescription medication [revealed Jan 8, 2014]
Pretended to suffer from muscle atrophy and required a wheelchair after emerging from a coma [wheelchair dependency revealed Jun 3, 2014; condition revealed to be fake Jun 20, 2014]
Was declared unable to conceive a child [Aug 29, 2014]
Faked a mental breakdown in order to remain at Shadybrook with Franco [Feb 27, 2015]
Tasered by Luke Spencer's alternate personality [Mar 9, 2015]
When Doctor Silas Clay arrived in Port Charles, he considered himself to be a single man although he had been married to Nina Reeves for over twenty years. When the truth about Silas' marital status was revealed by Detective Nathan West, Silas explained that his wife Nina had been in a coma for over twenty years after she had been injected with an overdose of a prescription medication. Nina's mother Madeline lied to both Silas and Nathan and informed them that Nina had passed away. Madeline later confessed to causing the overdose.
Nathan was revealed to be Nina's younger brother and he and Silas mourned Nina's passing. Meanwhile, Nina quietly emerged from her coma and worked to regain her strength so she could return to her life with Silas. She located Silas in Port Charles and was thrilled to discover that he had neither filed for a divorce nor married his former lover Ava Jerome. Without warning, Nina showed up in town and surprised Silas. She immediately moved into his apartment and assumed that her life would pick up where it had left off over twenty years ago.
Instead, Nina learned that her mother had caused her overdose in a successful attempt to cause her to lose Silas' child. Then, her younger brother James paid her a visit and explained that he went by the name Nathan West and that he was actually her cousin. The painful revelations continued as Silas shared that he had a daughter with Ava named Kiki and that he was involved in a romantic relationship with Sam Morgan. Even though Silas was involved with Sam, he allowed Nina to reside with him while she regained her strength and adjusted to life after the coma.
Unbeknownst to everyone around Nina except for her nurse Rosalie, Nina was not wheelchair bound as she claimed to be nor was she without money. Nina hoped to exact revenge on a slew of Port Charles residents, including Silas, Sam, and Kiki and she used the guise of being physically weak and without money as a way to remain dependent on her husband. When Silas's nephew Rafe overheard Nina admit her devious intentions, Nina gave him money to escape town and goaded him to leave before everyone learned that he used drugs and had caused an accident which killed an infant. After Rafe was involved in a car accident and declared brain-dead, Nina was relieved that her secrets would not be revealed and she used the tragedy to grow closer to Silas.
After Rafe's death, Nina led Sam to believe that Silas had broken her trust and the couple broke up as Nina had hoped. She consoled Silas and repeatedly reminded him that she was his wife and would stand by him. Meanwhile, Nina admitted to Rosalie that she wanted Silas to give her a baby to make up for the child they had lost. In order to move the new plan along, Nina drugged Silas and they kissed. Although Silas did not sleep with Nina as she had hoped, Sam witnessed the amorous moment and Silas and Sam were driven farther apart.
Nina continued to grow closer to Silas while she developed a friendship with Franco. She revealed to Franco that she could walk and their bond deepened. Soon after, Nina's relationship with Silas became intimate and she announced her desire to have his child. She refused to accept the diagnosis that she could not conceive and continued to make plans for a future with a baby.
Nina's plans for a child fell into place when she learned that Ava was pregnant. She decided she would take Ava's baby and was not deterred from her idea even after Silas learned that she had faked her wheelchair dependency and they had a heated altercation. Nina paid her mother to assist her with the plan to take Ava's child. When Ava was alone, Nina injected her with a drug to induce labor and Ava delivered a girl. Nina immediately claimed the child as her own and she escaped with Madeline's help. Afterwards, Nina declared that Silas would never cheat on her again once she introduced him to their child.
While Nina waited for Silas to arrive, Madeline reminded Nina that the child did not belong to her. Nina refused to listen to her mother and clobbered her over the head with a lamp which rendered her unconscious. Meanwhile, Franco showed up and convinced Nina to leave town with him before the police located her. Together with the baby, they fled to Canada where Nina repeatedly spoke about the family she would have with Silas. Franco forced Nina to realize that she was on the run with a child she had kidnapped. After Nina faced reality, she and Franco named the baby Jaime and planned to raise her as their own. Their plans deteriorated quickly after the police arrived and both Franco and Nina were taken into police custody.
Nina was transferred to Shadybrook for psychiatric treatment while Franco was sent to prison. Nina and Franco kept in touch and Nina shared that she had made a friend, unaware that the woman was Franco's mother Heather Webber. Heather planned to harm Nina but Franco arrived in time to rescue her. He feared that Nina would not be safe without him so he injected himself with LSD to remain at Shadybrook with her. Nina was touched by Franco's devotion and she vowed to stay by his side as he endured the effects of the drug. Nina remained loyal to Franco even when given the chance at freedom. Eventually the charges were dropped against both Nina and Franco and they were free.
Although Nina was free, she was unable to access her trust fund. She went along with Franco's blackmail of Olivia Falconeri which resulted in free room and board for both Franco and Nina at the Metro Court Hotel. He also secured shares of ELQ. Nina lived happily with Franco until Ava's daughter was kidnapped again. Nina swore that she had not taken the child and was devastated when Franco doubted her innocence. She pushed Franco away but allowed him to witness her impromptu nuptials to Ric Lansing, a man she had recently met. Nina also sold the ELQ shares without Franco's knowledge.
Nina claimed that she was happy in her marriage to Ric and taunted Franco with comments about the passion she and her husband shared. Franco feared that Ric had only married Nina to gain access to her trust fund and he shared his concerns with Nina. She defended Ric but secretly wondered about her new husband as well, since their relationship was not intimate and she rarely spent time with him.

Post a Comment

Share on Facebook

Tweet this

Submit Feedback