Guiding Light's Caitlin Van Zandt (Ashlee Wolfe) was a keynote speaker at "The Walk from Obesity - Walk on the Capitol" national obesity event held in Washington, D.C., on June 17th. Van Zandt spoke in front of an audience of thousands of marchers about the challenges faced by 93 million overweight Americans, including herself.
"I'm honored to share with you my personal journey with weight and weight loss," Van Zandt said, standing at the podium at the beginning of her engaging and very intimate speech. "My hope is that by sharing with you my story today, I can in some way raise further awareness of the impact of obesity, a disease that not only affects one's health, but also one's quality of life."
Speaking out for obesity awareness is personal for Van Zandt, who spoke compellingly about the conflicts between loving yourself as you are, and being mindful of the health risks and self esteem ramifications of obesity.
"My goal is to be healthy and happy," Van Zandt emphasized. "By participating in this event, I want to help others understand the physical and emotional impact of this disease and to give people hope that their lives do not need to be compromised by obesity."
On February 29th, Van Zandt underwent a gastric banding procedure, known to many as LAP-BAND®. The actress decided on the procedure after realizing that the 100 extra pounds she carried was having a negative impact on her cholesterol levels and asthma, and that she was putting herself at risk for diabetes and hypertension. Post-surgery, Van Zandt receives counseling to work on the emotional reasons behind her eating.
"I was tired of my self-destructive behavior," she told her audience in Washington.
The actress' personal story has been incorporated into her character's Guiding Light storyline - a few weeks after Van Zandt's real life surgery, her character, Ashlee Wolf, underwent the same process.
The Lap-band surgery is considerined a minimally invasive surgical technique. Using a laparoscope, a silicone gastric band is placed around the opening to the stomach, resulting in a reduced amount of food that the stomach can hold at one time. The procedure is considered less controversial than so-called stomach stapling.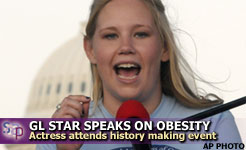 Van Zandt was thrilled that so many overweight young women looked to her to represent them on daytime television, but was concerned that some of her fans erroneously thought she was happy about how she looked, and unconcerned about the health risks of obesity. She ultimately decided to listen to her instincts and her doctors, and made the decision to do what was best for her to lose the weight.
"In the past four months, I've lost 55 pounds!" she told the cheering crowd on the green as she waved and danced in joy. She feels healthier, and as the weight falls away, she's gaining self-confidence in perhaps unexpected ways.
Van Zandt hopes to be a role model for people who want to be healthy, not people who want to be Hollywood thin.
"I feel proud to say that every day, I'm getting closer to the ideal me, the ideal me who doesn't value herself because of her dress size, or because of the number on the scale. My goal with my personal weight loss journey is to be in some way - in whatever way I can - a role model for others with this struggle."
She hopes that all overweight Americans will someday be ensured access to treatment for obesity.
"I feel that everyone in this country deserves the chance to be the best, healthiest person they can be," she stated. "No one should live their life compromised by obesity."