Port Charles Recaps: The week of December 8, 1997 on PC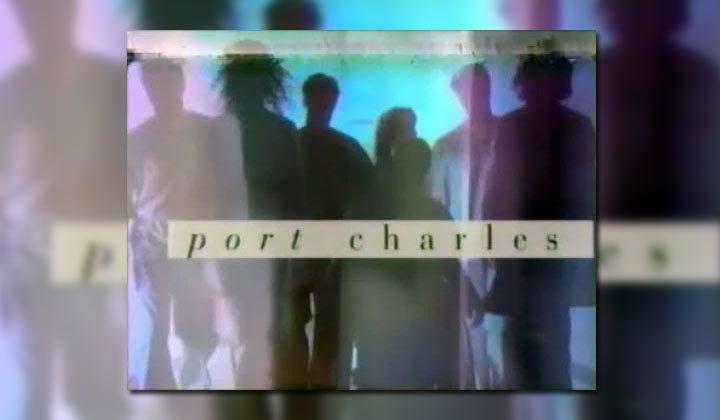 Monday, December 8, 1997
Today's summary was written by Marna M. Clowney
The trial for Scott is about to begin. Lee and Kevin are there for Scott. Lee told Scott that the jury will probably be women who would not convict him of anything. Rex arrives and tries to get Scott upset. Scott handles himself well. The judge arrives and the trial is set to begin and 12 days is the time frame set for the completion of it.
Lucy and Gail are preparing for Serena's birthday party. Gail tries to make small talk with Lucy then asks her about the scene at the restaurant. Nervous, and not wanting to break her concentration in front of Gail, Lucy told her that she doesn't care for the way that she and Lee are raising Serena.
At the courthouse, Lee is questioning potential jurors for the trail. He dismisses several and the one that Scott doesn't trust, they can't dismiss and they take him.
At the hospital, Chris is preparing for his surgical rotation with Bennett, but Bennett dismisses him and told Joe that he will be assisting him. Chris is shocked and Ellen takes Bennett in the hall to find out what is going on. Everyone else wonders what Chris did to get taken off the rotation. In the hall, Bennett told Ellen that he doesn't care for Chris' work and walks away.
At the courthouse, the jurors are selected and Rex tries to get Scott again by telling him about Serena's birthday and that he knows everything about what will go on there. Kevin manages to calm Scott down and Scott remains calm so that the judge or jurors won't see him lose his temper.
At the house, Serena arrives at home and is surprised about her party and wonders where Scott is and Lucy and Gail try to keep her from worrying about Scott. Scott arrives and she is happy.
Back at the hospital, Bennett picks up a report from Chris and told him to make it better. He told him its sloppy work and that a first year medical student would've done better. Eve questions Chris about what he did, because Bennett is on a mission to get him. Later Chris goes to Bennett and threatens to sue for harassment if he doesn't lay off of him. Bennett told him to keep his voice down and Chris asks why...is it because he slept with Nicole? Bennett told him to stay out of his way.
Tuesday, December 9, 1997
Today's summary was written by Marna M. Clowney
Trial continues for Scott. Bess Hutchinson, explains how Scott forged signatures to try and get Jason Quartermaine's trust fund. Lucy is outraged and whispers loudly to Kevin that she thinks the judge is in Rex's pocket. The judge hears her. Lucy plans to break up with Kevin in front of Rex, which Kevin agrees. Lee questions Bess. He is able to get Bess to admit that Rex fed her the information to make Scott look bad. During the break, Lucy confronts Rex. Monica shows up to testify, the prosecution questions her. She testifies that Scott did forge Susan Moore's signature for Jason's trust fund. And that he did try to steal from her son Jason. Lee cross examines her and makes it seem like Scott forged the signature to protect Jason from losing his trust fund to an alcoholic mother Susan. Monica then testifies that Scott is a good father.
Serena and her mother continue to play together. She braids her hair and Gail enters. Serena told her things that her mother told her, and Gail gets concerned. After Gail leaves, Serena and her mother continue to talk and Dominique sings Serena to sleep.
Julie searches for Frank. She went to the Scanlon home and her mother shows up. Nicole tries to explain to her. Julie is angry and tells her that she is just as guilty as Bennett is for the destruction of their marriage. Nicole told Julie that the marriage was over a long time ago. Julie told her that she is hurt that her parents are breaking up. Frank enters and Nicole leaves, he questions Julie. She fills him in on Chris and her mother. Frank tries to make her feel better.
Kevin and Lucy fight at the courthouse in front of everyone. They fight about Scott and she told him that if he can't support her, then he can just stay home. Scott calls home to Gail and she told him that she's concerned because Serena created an imaginary friend who happens to be Dominique. Scott is concerned.
At the coffeehouse, Devon spilled his drink. Kay approached him and asked if he needed a hand. Devon said he was just clumsy. Kay offered to help Devon if he ever needed a hand.
Wednesday, December 10, 1997
Thursday, December 11, 1997
Today's recap was written by Katie Bischoff
On the ride home from the courthouse, Lucy apologizes to Kevin for the things she said during their "argument." He assured her that he understood, and reminded Lucy that it's no picnic for him either to have to say such hateful things to the woman he loves. Scotty arranges with the social worker for an emergency visit with Serena, who told him how her mother visited her. As the interns begin sweating out their impending six-month evaluation, Joe takes Karen's mind off the problem by inviting her out on a date. An irritated Ellen watches Matt and Grace grow closer. Kevin and Lucy decide that the best way to make up is to make out. Gail quietly advises Scotty to play along with Serena's story about her mother. Later, Scotty is shocked when Serena describes the yellow baby sweater Dominique knitted for her. Mike persuades Ellen to join him and Matt for a piece of Grace's famous lasagna. Joe brought Karen to a special spot in the woods to select a tree for their first Christmas together. Unfortunately, a forest ranger arrives, and informs Joe and Karen that they are on federal land. Joe reluctantly pays the fine, while Karen tries not to laugh.
Friday, December 12, 1997
Today's recap was written by Katie Bischoff
Eve schedules time with Kevin to set a pattern so she can pass messages once he "breaks up" with Lucy. Lee tries to keep Scotty from losing hope, but Scotty worries that the jury hearing his case has already found him guilty. Joe and Karen return to the courthouse to lend Scotty their moral support. While watching Rex sneak around through the halls, Jake wishes that he had killed Rex when he had the chance. Eve promises Kevin she won't let Scotty down. At the trial, Agent Conklin takes the witness stand and testifies that he witnessed erratic behavior in Scotty during the time Serena kidnapped. Nicole drops by the hospital to say goodbye to Julie before she heads back to Chicago. She bumps into Chris on the elevator, and whispers an apology, but he silently brushes past her. Dr. Burgess advises Julie to start paying more attention to her patients and spend less time with her parents. Later, Julie overreacts when Eve catches a mistake in a medication order and moves to correct it. When Lee conducts his cross-examination, Conklin suddenly accuses Scotty of being a drug addict.
MAKING HEADLINES: NEWS FROM AROUND THE SOAPS