You said it, Sherman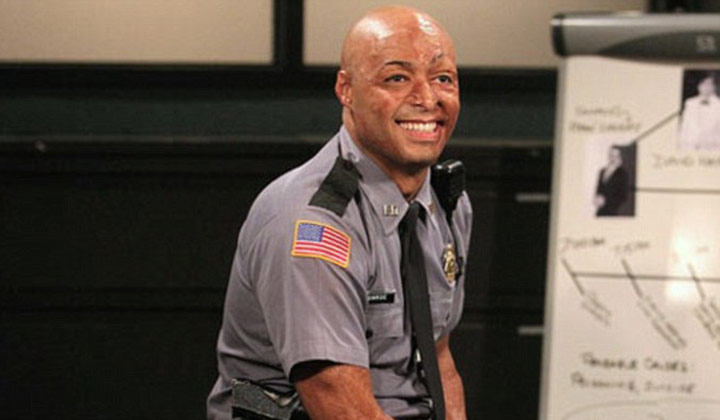 As William Tecumseh Sherman once said, "War is hell," and you don't have to look further than JR Martinez, who debuted as Brot Monroe this past week, to see evidence of Sherman's famous statement. Just like his portrayer, Brot is the victim of an explosion that resulted in severe burns covering over 40 percent of his body. Over the course of 34 hospital-bed-ridden months, JR Martinez underwent 32 different surgeries. While his body will never fully heal, the soldier, who became a spokesperson for the Coalition to Salute America's Heroes, seems to be taking greater steps back toward a normal life than his Pine Valley alter-ego, Brot.

Coupled with the fantastic unscripted support group scenes that aired on November 6, Brot's debut on November 7 instigated an important question: just what kind of story is All My Children trying to tell? The answer is no doubt being closely scrutinized not only by AMC fans, but by supporters and detractors of the war in Iraq, as well as countless other special interests groups. The story seemingly began a few months back, when characters Jake Martin and Taylor Thompson found themselves vying for the same apartment. Jake graciously allowed Taylor to keep the accommodations, but before the characters parted, several harsh words concerning the war were exchanged. Jake was overtly opposed to the conflict, while Taylor was passionately pro-war.

As viewers knew even before that encounter, the characters of Jake and Taylor seemed destined to be together, probably due in large part to the actors' chemistry from their time spent together on Guiding Light. Although I've been enjoying their interaction as of late, I worry that the focus has slowly shifted from what seemed a compelling topical story to one of romance. My expectations, compiled using the technique of soothsaying that comes from watching many predictable soap stories unfold for over a decade, is as follows:

Jake and Taylor develop feelings for each other despite their opposing views. Jake helps Taylor slowly work past her desire to return to Iraq not only to fight for her country, but because that's where she felt closest to Brot, the man Taylor admitted was the love of her life. All the while, Brot lurks in the background, mustering the courage to face Taylor in his current state, the familiar soapy "I told you I was dead to protect you" speech ready and waiting. Brot and Taylor reunite, which sends a sulky Jake to the background. Inevitably, Brot and Taylor will come to terms with what happened to them -- with Brot's courage perhaps providing Taylor with the will to walk again -- but will part, paving a clear path for Jake and Taylor.

As far as the pairing of Jake and Taylor is concerned, I'm fine with that. My concern is that Jake and Taylor's story will shove the war story out of the car and take the proverbial wheel.

I believe that the forthcoming exchange between Taylor and Brot will make or break this story. What will Taylor think of what happened to him, and his feelings concerning what his life has become? Brot's motivation for letting Taylor believe he was dead, that being a fear of her seeing him as he is now, does make sense, but it's just a bit too soapy to deserve a spotlight that is better shined elsewhere. Will Brot be bitter toward the war? And if so, will that affect Taylor? Even juicier, what if Taylor's patriotism is significantly dimmed by what happened to Brot? Taylor Thompson, more devoted to her country than Uncle Sam himself, seething that the war could've done this to her, to him, and to them.

Jake and Taylor's romance looks like a sure thing. The actors aren't going anywhere, so save that for later. Right now, I urge head writer Charles Pratt, Jr. to take a chance by telling the story of two people who were broken up, essentially, because of a war. I want to know how they feel about that, and what they're going to do about it. Thursday's phenomenal unscripted coping session seemed to establish a platform for that direction. Take a deep breath and charge on through.


Sipping From Poisoned Punch Bowls
Having just passed the two-week anniversary of his return, Vincent Irizarry's David Hayward hasn't been absent for a single episode, and for that, I'm grateful. Irizarry has already gotten to reach deep into his bag of acting tricks, expertly demonstrating anguish, depression, righteous anger, and smugness -- the emotions that make David Hayward fans love the diabolical doctor even more. Make no mistake, Dr. Dave has a plan, and all those in his way would do well to duck and cover, as a scorned David Hayward can cause several times the destruction of Pine Valley's recent outbreak of twisters.

If anyone understands the depths to which Hayward will sink to get what he wants, it's JR Chandler. Krystal, whose cocksure assertion that she more than anyone knows what David is capable of, swept me up in winds of stupidity and carried me away. Did the mourning mother really have the gall to say that to JR, a man who was battling David Hayward before Mamadawl and Babydawl had even heard of Pine Valley?

Through careful emotional manipulation, David's already begun to wrap Krystal solidly around any finger of his choice, and the twit doesn't even see it happening. Of course, sleight of hand is David's best event. Notice the way he intentionally referred to his planned hospital wing as "Babe's", not "The Babe Hayward Wing", which is what he intends to christen it. You have to believe that Krystal would want Chandler or Carey, not Hayward, attached to the wing's title. Babe was David's daughter, yes, but the last name of Hayward is a stretch, and a weapon wielded by David who blames Krystal for Babe's death just as much as he does JR, Tad, Adam, and... well, everyone else with a pulse.

Hayward's tactics come as no surprise, but what did catch me completely off-guard was the kiss he planted on Amanda Dillon -- and the kiss she gave as good as she got. David and Amanda, huh? Could be interesting. I was hoping for a JR and Amanda reunion, though JR's grief-fueled comments concerning his former lover look to have prevented that from happening, at least for quite awhile.


Annie, Annie, Quite Contrary

The sight of the luscious Melissa Claire Egan (Annie) sipping champagne while languishing in a bubble bath, ostensibly with her daughter safe and somewhere close by, warmed my cold, Ryan Lavery-loathing heart. Finally, someone effectively duped Ryan, and duped him good, too.

I can't say I didn't see it coming. Over the past year, Annie's had plenty of opportunities to work on her theatrics, orchestrating break-ins, car accidents, and pregnancy pains that, sadly, ended in a very real miscarriage. The bigger the con, the more convincing she was. I remember being breathless right along with Annie as she faked an asthma attack and made desperate calls to Ryan and then Zach to come and save her. She was even more hysterical during the tornado, before which Emma was kidnapped and Annie seemed hellbent on finding her. Of course, the reality of the storm no doubt provided Annie with plenty of inspiration to become literally terrified -- what schemes wouldn't go awry after one, two, three, or four tornadoes decided to tear through the town?

But she made it. She's relaxed and mercifully Ryan-free somewhere in the world, and all signs point to her having Emma close at hand. I don't believe Annie did it alone, though. She couldn't have. Someone had to pseudo-snatch little Emma and whisk her away to parts unknown while Annie busily played the concerned parent, searching here, there, and everywhere for her little girl.

Who did it? We'll find out this week, and for those who don't know, it certainly is a shocker in some ways, though in others, the identity of the Robin to Annie's Batman is just as obvious as the fact that Annie herself set the kidnapping scheme in motion.

In the meantime, I raise my glass once more to you, Mrs. Annie Lavery. I'm only sad that it won't last, because even though Ryan is dumber than the mannequins he dug out of the ground this past Friday (which, I'll admit, was a gripping scene), no one seems to one-up Pine Valley's Prince for too long.


-- David
---
EMAIL THE COLUMNIST
Send your thoughts to David.
Share this story with friends, family or the world.

PRINTABLE VERSION
View a printer friendly version of this article.

BLOG IT
Offer your own commentary in a personalized
soap
central
.com
blog.
---
Two Scoops is an opinion column. The views expressed are not designed to be indicative of the opinions of
soap
central
.com
/The AMC Pages or its advertisers. The Two Scoops section allows our Scoop staff to discuss what might happen, what has happened, and to take a look at the logistics of it all. They stand by their opinions and do not expect others to share the same view point.
• To make comments about the Two Scoops column or to chat with the Scoop staff, send Email to Dan.
• General comments can be sent to Two Scoops.