Who knew that Zach was a closet poet? Meanwhile, Kendall, who once published a book in record time, is unable to come up with anything more than a dirty limerick. Thank goodness Aidan was the one to go on the run with Kendall so that he could share with her the secret meanings behind postings on Internet message boards. I think I may need to hire Aidan to help me take a second look at some of our Soap Central forums to see what sort of top-secret messages are being exchanged.
But back to Zachtor Seuss, an interesting thought popped into my already-crowded brain. The episodes that are airing on All My Children now were crafted right around the time that the show's stars had to decide if they were moving to Los Angeles or not. Now, try to follow my train of thought here. The writers were probably told that Thorsten Kaye would not be continuing on as Zach - or at least that it was highly unlikely. Perhaps there is some desire by the network to keep Kaye in the ABC family, possibly sending him back to his old stomping grounds at One Life to Live. If I recall correctly, Patrick Thornhart, the role that Thorsten played over in Llanview, was an accomplished poet. I even think that ABC released a book of poetry into the real world to capitalize on the popularity of the character. So what if someone at ABC got the wacky idea to reveal that Zach Slater is really a Thornhart. I don't know how that would work, as I haven't gotten that far into the thought process. As I said, it's just a random idea wiggling around my brain. Since One Life to Live is moving to All My Children's studio in January, maybe the folks at AMC are going to leave Kaye behind as some sort of welcome gift for the OLTL people.
David wants to do the monster mash with Amanda. And he wants to do it the old-fashioned way -- with blackmail and threats. Jake's reaction when Amanda told him that they could soon be together was priceless. Amanda assured Jake that if she helped David have another baby, it would be done via artificial insemination. "I don't care if you do it through email," Jake retorted.
Long-time readers may remember how I loathe the character of Jake. Well, at least I did until about a year ago. Ricky Paull Goldin has somehow managed to take a character that I despised (and that's being polite) and make him tolerable. Jake still has moments of jackassery that get under my skin, but his devotion to Amanda is... amazing. There are men who walk out on their wives for far less than what Jake is putting up with right now. Just in case there was any doubt, it's quite clear that Jake loves Amanda dearly.
I take offense to David and Amanda's assertion that single children grow up to be crazy people. I'm an only child and I've learned that it's always the folks with siblings that go off the deep end. Well, at least that's what the soaps have taught me. It's evil twin, not even only child. But I was very impressed that someone at AMC was reading our Who's Who in Pine Valley profiles! In just one conversation, the show managed to mention Leo duPres and Tim Dillon. Who knew that the writers even remembered them?!
Not really impressed with Bailey's selection of baby daddy. Then again, I am sure that in most of the cases when a teenage girl ends up pregnant and alone, the father of the child isn't exactly a winner. That being said, how easy was it for Damon to talk Bailey into leaving her baby behind to go live it up at the ConFusion party? Being the ultra cool dude that he is, Damon didn't even need to go all out on a costume. He's much too fly for all that. I will admit that I misjudged Bailey. I didn't think she'd have the foresight to call a sitter for little Stuart. I honestly thought she'd be so mesmerized by the thought of bobbing for Damon's apples that she'd just leave the sleeping baby behind and run out for a night on the town.
I really hope it's not just me being overly sensitive, but I found the plot to "scare" Adam into confessing what he knew about the night Stuart was murdered absolutely despicable. Erica, Ryan, and Zach, knowing full well that Adam had a heart condition, decided that they'd dope him up with some of David's wacky pills and do whatever else they could to get to the truth. Obviously, Adam was still mourning the death of his brother and the plot seemed to me like rubbing salt in Adam's wound. Sure it made for a spooky Halloween episode -- and a great kickoff to November Sweeps -- but I found it all very mean.
First of all, where on earth did Zach get the Stuart vocal effects? Erica, Ryan, and Zach wanted to get to the truth because they all knew that it would free Kendall. Here's my issue with that. Kendall would probably never been jailed had she not been so stupid as to confess to a crime that she didn't know if she committed. Remember her lame, first attempt at running from the law when she unsuccessfully hid out at the Pine Valley Yacht Club?
I feel like All My Children has robbed me. How? I have yet to get the stellar performances that I know David Canary is capable of turning in. Aside from that one episode when Adam collapsed on the body of his dead brother, there's been nothing. I'm sure that there is another show or two in the near future where the five-time Emmy winner will get to flex his acting muscles and remind us why we love seeing him as part of the show. To me, it seems the show has allowed those muscles to atrophy in recent months. Stuart was Adam's twin brother, his conscience, his other half... I don't believe Adam has properly grieved. If he had, it might also have made the reveal that Adam killed Stuart more powerful. As it stands, it's just sort of blah.
There was an amusing exchange between Adam, Annie, Erica, and Ryan that made me chuckle last week. They two couples crossed paths at the Halloween party.
Erica (to Annie): I've been married to your Frankenstein.
Annie: Yes, and quite a few others.
Adam (to Erica): So you've decided to suck the blood from younger prey these days.
Ryan: Don't you know that age doesn't matter when you're immortal?
I will miss little Lucy Merriam's performances as Emma when the show moves. Whoever is cast as the new Emma has very big little shoes to fill. Monday's show (which featured scenes that originally aired the week before) had me once again clapping for the mischievous child. "If you marry Adam, I'll tell everyone the truth -- he killed his brother," the little blackmailer snarled. Get it, Emma!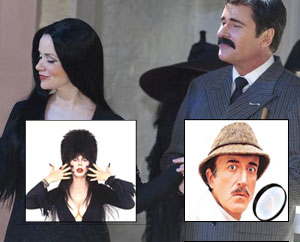 I thought the All My Children makeup and wardrobe departments did an incredible job with all of the Halloween costumes. Adam looked great as Frankenstein. There was something poetic in dressing Jamie Luner's Liza as Cruella deVille. Even something as "simple" as Jake's mummy looked amazing. There were only two costumes that fell flat for me: Tad and Krystal as Gomez and Morticia Addams. Until the show actually spelled out who they were, I thought that Krystal was late-night B-movie hostess Elvira and that Tad was Inspector Clouseau from the Pink Panther movies. For a complete photo gallery of the costumes, check out our recap for Friday, October 30's episode. You'll find all the costumes there!
In a follow-up to last week's column, thanks to everyone who wrote in about the Beth Ehlers firing. It seems that the majority of readers are disappointed by ABC's decision to release Beth from her contract. Even though the decision was deemed "mutual," I don't necessarily believe that Beth and AMC execs decided at the same moment that they should part ways. In news that may upset more of her fans, it appears that Beth's final episode as Taylor has already aired. Remember when Taylor was found unconscious on the bathroom floor? Yup. That was it. I sure hope she isn't still laying on the floor of the bathroom stall. My guess is that the janitor just mops around her and goes about his business.
Where is the proper write out? I know Ehlers wasn't around for that long, but this one was easy. Here are two ideas that I came up with in under 30 seconds: Taylor gets a waiver and is granted medical clearance to return to the Army or maybe Taylor is tapped for a job at the Pentagon.
On the alleged shocking twist that could be planned for the Stuart's death storyline, several of you had some really, really good ideas. My favorite forces us to rewind to about a year ago. Adam, according to Two Scoops reader Linda, learns that he is dying. He then meets with Erica and Stuart to come up with a way for Stuart to take over his life, presumable so that no one would know that Adam was dying (or dead). As the pressure gets too much for him to bear, Adam starts to crumble until everyone learns that "Adam" is really Stuart.
If you don't like that idea, here's one submitted by Kendall Hart Slater. There once was a man from Pigeon Hollow...

dan