Posted Thursday, September 18, 2008 11:19:37 AM
by
Dan J Kroll
When All My Children's Bianca Montgomery returns home to Pine Valley, she won't be coming alone. Apparently a lot has happened in the young woman's life since she moved to Paris in 2007. The most notable change is that she now has a new lady in her life, a woman by the name of Reese.
Now that Bianca is returning, clearly the show's new head writer, Charles Pratt, Jr., felt that Bianca needed to have someone special in her life. Rather than recast the role of former girlfriend Maggie -- actress Elizabeth Hendrickson is currently under contract to CBS's The Young and the Restless -- the writers have developed a new relationship for Bianca. The lucky lady's name is Reese Williams, described only as an architect that Bianca has been living with in Paris.
Reese will be played by Emmy-nominated actress Tamara Braun. Braun is best known to ABC soap fans as the second Carly Corinthos on General Hospital. However, the actress' most recent daytime gig took place across the dial as Ava on NBC's Days of our Lives. In addition to her daytime roles, Braun has guest starred on numerous primetime drama series.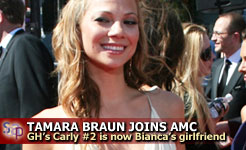 Since coming out in 2000, Bianca has been linked romantically to several people. During her time off-screen in a rehabilitation facility, Bianca developed a crush on young woman named Sarah. While Bianca was still very much in love with Sarah, Sarah had determined that she was "no longer gay" and made plans to marry a man.
Daytime was abuzz in 2003 when Bianca and then-girlfriend Lena Kundera shared the first lesbian kiss on the soaps. While Bianca and Lena were a favorite among fans, their relationship didn't make it. When actress Olga Sosnovska left All My Children for a series in the United Kingdom, Lena was sent back home to Poland to care for an ailing mother.
In April 2007, Bianca headed off to Europe to explore her feelings for Zoe, the first transgender character in dramatic daytime television history. However, when Bianca returned later that year, it was mentioned very-much-in-passing that Zoe was off somewhere being Zoe.
In between Lena and Zoe, Bianca dated and fell in love with the woman who may be her most popular partner to date: Maggie Stone. Fans of the couple, dubbed by the acronym BAM, lobbied the network for a happy ending for the couple. In 2005, Bianca and Maggie jetted off to Paris to explore their feelings for one another. Sometime during their off-screen time, Maggie was said to have cheated on Bianca and the couple's relationship did not survive.
Bianca had also previously shared a brief relationship with Maggie's twin sister, Frankie.
Braun makes her All My Children debut on October 30th.
---

RELATED STORY
Eden Riegel set to reprise role as AMC's Bianca.
---