As The World Turns Recaps: The week of October 13, 2008 on ATWT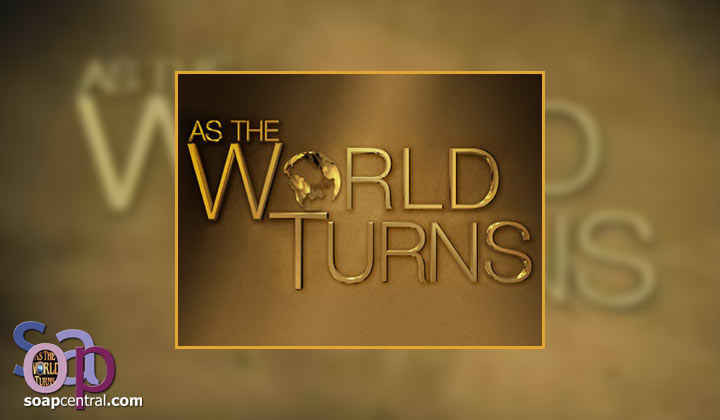 Monday, October 13, 2008
Noah told Luke about a student government meeting at Al's Diner that afternoon and asked him to go with him. Noah had heard complaints about the upcoming gay film festival. Dusty came in and attempted to talk with the boys, but Luke cut him off by telling him they were not interested in anything he had to say. Noah, however, told Dusty he preferred to speak for himself. Dusty continued an apology to Luke for causing problems between his parents, but Luke was unforgiving. Dusty left, and Luke was hurt that Noah appeared not to be on his side.
At the Oakdale Police Station, Margo had Lucinda's bank records and asked Dallas to look into several recent large bank transfers. They had all occurred around the time of Dusty's "death," and one in particular was to the account of an Ernest Ronan for a quarter of a million dollars. Dallas reminded Margo that Ronan was called "Eerie Ernie," and he was the funeral director in Oakdale who had taken charge of Dusty's "body." A second transfer was for three and a half million dollars to the account of a "Jonathan Burke" in Singapore. Margo remembered that Dusty had followed Lucy and Johnny there when he began his search. She also connected the name "Jonathan Burke" to Dusty, since his stepfather was named Burke Donovan. Furthermore, Lucinda's jet had left Oakdale the night of Dusty's "death" with a sole passenger bound for Singapore.
Lucinda came to Lily and Holden's house, and Holden reminded her that she was not welcome there. Lucinda asked him why he had informed Margo that she had given aid to Dusty, just as Lily joined them. Lily was surprised that Margo had questioned her mother, and Lucinda reiterated that Dusty's plan was already in place when he approached her for money. Lily asked her mother if she didn't think she deserved to go to jail for what she had done, but Lucinda was more concerned that she no longer had any family support. She promised to keep her distance and turned to go when the doorbell rang. It was Dallas Griffin with a warrant for Lucinda's arrest for obstruction of justice and conspiracy to commit fraud. Dallas cuffed Lucinda and read her rights. After they left, Lily grabbed her purse and ran out without saying a word to Holden.
At Al's Diner, Luke went to the student meeting alone and questioned his friend, Reg, why the school was considering pulling funding for the film festival at which Noah was curator. Reg said it was because the "gay thing" might offend potential donors. Brian, Luke's foundation director, came in and was upset that he had been fielding questions all morning about Luke's distributing foundation brochures in the film festival booth. Luke mentioned that the school might pull the festival's funding and requested that his foundation provide the funding the next year. Brian refused to consider that and told Luke if that happened, he would quit. After Brian left, Luke and Reg discussed how to save the festival. Reg told him that the "meathead" who was running for student body president would have the final vote on the funding. Luke asked who he was, and Reg pointed to Kevin, Luke's love from high school.
Dusty came back and found Noah as he was getting off work and inquired if he and Luke were together. Noah told him they were and then thanked him for some good advice long ago Dusty had given him about Luke. Dusty told him he was going to find Johnny or die trying. As Noah was leaving for the student meeting, Lily came in and accused Dusty of being at fault for Lucinda's arrest. She demanded that he get her mother out of trouble and asked him to go to the police station immediately. Lily was quick to remind him that he owed her.
At the police station, Margo had Lucinda in an interrogation room. She showed the bank records and asked why Lucinda had paid Ernest Ronan, the funeral director, so much money. Lucinda made up a story about how Ronan owned a horse farm near Chicago and the money was for the purchase of a nice colt. Next, Margo asked about the three and a half million dollars paid to "Jonathan Burke" in Singapore, and Lucinda claimed it was a land purchase. Margo already knew that "Burke" was the only passenger on Lucinda's jet to Singapore that night, so she reminded Lucinda of that.
Luke and Kevin spoke at the diner, and Kevin asked if he could count on Luke's vote. Luke did not answer directly, but instead brought up the gay film festival and asked if Kevin would vote to cut the funding. Noah came up and Luke introduced him to Kevin. After the two boys shook hands and Kevin walked off, Noah confided that Kevin had clammy hands. Reg asked what Kevin's reaction was to Luke's question and commented that Kevin had a deadly look on his face when Noah put his arm around Luke's shoulders.
Holden arrived at the police station and heard Margo as she told Dallas that Lucinda had asked for her lawyer. Holden requested that Margo let his mother-in-law go free just as Dusty walked in. Margo asked if he was ready to talk and requested that Dallas bring Lucinda out so Margo and Dusty could use the room. Holden was irritated by just the sight of Donovan, but he did talk to Lucinda.
In the interview room, Margo spelled out what she thought had happened the night of Dusty's "death." She knew Donovan had faked his own death and went looking for Johnny, then approached Lucinda for money and a plane ride to Singapore. Dusty swore he never contacted her again after that night. Ernest Ronan, the undertaker, administered the antidote to Dusty, hence the payment to him. Dusty reminded Margo that Evan Walsh had tried to kill him and asked where Margo was then. Margo considered everything and went outside and freed Lucinda, as well as telling Dusty he could go. She told him that she had done it partially out of respect for John Dixon, her father, who had also raised Dusty as a boy. Lucinda and Dusty went to Old Town for a chat. Lucinda still resented his involvement with Lily, but Dusty told her Lily had come to him for help in freeing her mother. He surmised that Lily would probably forgive her in time.
After the student meeting, the boys talked about how lame the whole event had been. Kevin had not even mentioned the film festival in his speech, and Luke was angry about the discrimination and censorship issues raised. Noah and Reg kidded Luke about being on his soapbox, but Luke took it seriously and said he might as well run for office himself. Finally, his friends realized that Luke was not joking. Luke and Noah went to the farm, and Noah wanted to know if Luke's foray into politics was in any way either a reconciliation or a retribution against Kevin. Luke assured his friend that his goal was to run against Kevin, beat him in the election, and make him cry like a little girl. He also said that he was doing it for Noah's sake, since Noah cared so much about the festival. They discussed Noah's relationship with Dusty and how Dusty had helped Noah through some tough times with Luke. Finally, Noah reluctantly mentioned that as he was leaving Dusty at the coffee shop, he had seen Lily looking for her former lover.
Holden went home and, after talking with Lily, he realized Lily had asked Dusty for help in freeing her mother. He was unhappy that she had gone to Dusty instead of to him, and Lily cautioned him not to turn it into something it was not. The doorbell rang, and it was Dusty. He told Lily that Lucinda was out of jail, and that made them even. Lily thought Dusty's remarks proved that her affair with him was over, but Holden voiced concerns that their reconciliation might not work.
Lucinda went to the foundation office and found a gloomy Brian hunched over his desk. She was ecstatic that Lily had gone to bat for her with Dusty, but Brian strongly overruled her calling her daughter. He explained how upset he was about Luke's involving the foundation with the film festival and told her about his confrontation with her grandson. He repeated his threat to walk out if Luke was taking the foundation down that route, but Lucinda pleaded that Luke needed Brian's guidance and expertise.
Tuesday, October 14, 2008
At the diner, Liberty asked her mother if she could skip an all-school overnight function to stay home and study for a big midterm exam. Janet agreed immediately, tipping off her daughter that her mother was in a deep funk about Jack's dumping her. Janet also messed up several orders from customers, bringing out Henry's sarcastic side. She spotted Jack outside the diner, but he bolted as soon as he saw her. Janet had a girl talk with Vienna and revealed that she had gone behind Jack's back to try to get Margo to give him back his job. Vienna offered Henry to Janet to use as a boyfriend to perhaps to get Jack back. She allowed that Europeans were more liberal on that subject, and she didn't mind. Henry gave Janet a big smooch, but in the end, Vienna decided the loaner idea was not so great.
Spencer and Brad visited Chinese restaurants as part of a survey for their new "Oakdale 411" show. The final one was Mr. Cho's place, and Spencer flattered Brad by telling him how wonderful he was at WOAK. Back at the station, Katie was curious as to why it took the crew so long to film the spot. Kim asked her how she liked the new show so far, but Katie had her misgivings. She told her boss she thought Spencer and Brad were not a good pair, and she doubted Spencer was tough enough for the job. Kim picked up on Katie's jealousy where Brad was concerned. Finally the wayward crew arrived with Spencer carrying some of Mr. Cho's sesame chicken just for Katie. Kim asked Katie to give the new girl a chance.
Carly helped Sage pack for the school overnight and reminded her that her father would pick up her and the boys when the bus returned the next day. Janet called Carly in a panic, but Carly reassured her that Janet's relationship with Jack was probably not really over.
Jack went to Java and Carly called to ask if he wanted to say goodbye to Sage. He went to Carly's, where Sage urged her father to keep her mother company that evening. Sage had heard from Parker that Jack had dumped Janet, and she didn't want him to be by himself. Jack clued into the fact that Carly was again interceding on Janet's behalf. After Sage left, Jack claimed to have several appointments that day, including one with a man who manufactured high-tech weapons and safety gear for special operations. Carly caught on immediately that Jack was just going to an adventure movie. Jack left and found his seat at the theater when suddenly Carly came in and sat beside him and helped herself to his popcorn. She accused him of hiding and then walked out. Jack followed and the two of them went to the reservoir. Carly remembered being there the last time with Holden when they broke off their affair. She talked about it with Jack, and he began talking about almost drowning several years earlier, and how Carly never gave up on looking for him. Carly claimed she could certainly resist that temptation with her newfound wisdom, and she shoved Jack into the water.
Jack and Carly went back to her house where Jack's getting out of his soggy clothes turned into an entirely different activity. The two of them progressed upstairs to the bedroom when the doorbell intervened. Carly grabbed a robe and went to the door to find Janet there returning her borrowed dress and bearing an apple pie. Janet made herself at home and went to the kitchen to get plates and forks and then settled in to talk about Jack. Carly excused herself and went upstairs to tell Jack what was going on below. When Carly returned to the living room, Janet guessed that she had someone upstairs and asked if it was Jack. Carly denied it, but Janet took off.
Katie ate most of the sesame chicken that Spencer had brought, but she began to feel sick. She ran for the restroom just when the first call went out for the live broadcast for "Oakdale Now." Katie came back but begged off from doing the show. Kim sent her home to rest, and Spencer found an intern to drive Katie home. After Katie left, Spencer volunteered to do whatever she could to help.
Liberty was home chilling on the couch when Katie arrived. Katie went straight to bed, but asked Liberty to turn on the television so she could watch Brad do their show. Katie was furious when she saw Spencer sitting in her seat discussing types and sexual attraction with Brad. When the show finished, the crew decided to go to Yo's for a beer, but Brad declined. He wanted to check on Katie, but Spencer convinced him that Katie was probably sleeping and Brad agreed to go have a beer with the group.
While the crew was drinking, Katie decided to go back to WOAK and check out the container of Chinese food. Surely Spencer had put something in there to make Katie become ill so that the "new girl" could move in more on Katie's territory. When Katie stood up, she passed out for a minute, so a concerned Liberty took her to the hospital. Liberty tried to reach her father by phone, but Brad was not answering. Katie asked her stepdaughter to go to the television station and bring back the food container, and Liberty set off.
Jack came downstairs at Carly's to hear her berating herself for lying to Janet yet again. Jack asked if that was really what they both wanted, and when he got no answer, he walked out.
Brad and Spencer returned to WOAK, and a savvy Kim reminded Brad that his show with his wife was his first priority. That reminded him of Katie and he checked his phone. He was horrified that he had missed so many messages from Liberty, and after learning Katie was in the hospital, he ran out. When he got to Memorial, he found Katie weak but able to communicate that she thought her Chinese food from Spencer had contained a special additive. Katie was blunt in saying that she thought Spencer wanted both Katie's job and her husband.
Liberty got to the station, and fortunately Kim was distracted by business, which gave Liberty a chance to search the trash. Katie called her there and was disappointed that the girl could not find any trace of the food container.
Jack ended up at the diner, and Janet served him a piece of pie. He told her that he intended to take a very long time to eat it. At home, Carly ate the pie that Janet had made and thought about Jack.
Wednesday, October 15, 2008
Casey and Alison had breakfast at the diner, and Alison kidded Casey about all the food he was putting away. He explained that was how he dealt with the depression that set in after Emily dumped him. Kim Hughes came in and asked to speak alone with Alison, outside. Kim tearfully told her that Chris was leaving that day for Africa, and she hoped that Alison could make her son change his mind. She had a sense of foreboding about Chris's departure and pleaded with Alison to help. Alison reluctantly agreed and then went back inside to tell Casey. Alison said she felt in some way responsible for Chris's ambivalence about her, so that was why she had agreed to see him. She thanked Casey for being her sounding board.
Chris checked out of the Lakeview, and Aaron saw him and wished him good riddance. Chris admitted he got no pleasure in telling Aaron that he had slept with his fiancée before his wedding, and Aaron recounted how he was willing to take Alison back, but she was still hung up on Chris.
At Fairwinds, Meg came downstairs to find two presents waiting and Paul lurking. He invited her to open the gifts, but Meg cautioned him that bribes would not work with her. She did open the boxes, however, and found two baby dolls, one a boy and the other a girl, and Paul promised to be an expert diaper changer by the time their child arrived. Meg was still annoyed that Paul had tricked Dusty by hiring Lucy and Johnny impersonators, and she felt her husband owed Dusty an apology. She reminded Paul how much Dusty had helped them financially, but Paul could only think of the Stenbeck money as rightfully his, and furthermore, Dusty had once loved Meg. He accused Meg of having a fixation on Dusty, which she denied and asked him once more to apologize. Paul left, and Dr. Bob Hughes arrived to give Meg a check up. He was concerned that her blood pressure and pulse rate were both too high and intimated that Paul's behavior was to blame for upsetting her. He could not understand why Paul had not told Meg when James had broken out of prison, and he suggested that they readmit Paul to the hospital for Meg's peace of mind and physical well being. Bob was interrupted by a call from Kim asking him to meet her and Chris at Java before their son left town.
Dusty and Emily kissed in his room at the Lakeview, and then Dusty asked her go check on Meg since Paul was watching her like a rabid dog. Emily refused to spy on Meg, but Dusty said he needed reassurance that she was all right. Emily refused to baby sit Dusty's ex, but then Dusty reminded her that Meg could lose her baby if things got too rough. Emily relented and agreed to check on her. As she left the elevator in the hotel lobby, Paul stepped in. Emily suddenly changed her mind, and said, "Forget it."
Chris went to Memorial to clean out his locker and his phone rang. It was Alison who agreed to meet him there at once. She arrived and her first question was for Morty, the Yorkie pup they shared. Chris explained he had found a great home for the dog with a pediatric nurse. Then he asked her if there was anything keeping him in Oakdale as he was hopeful she still had feelings for him. Ali told him she was there because of Kim's request, and when Chris offered to stay, she told him she could not be with anyone for a while. Chris said he could only stay if he could be with her, so the two said a poignant goodbye.
Paul knocked on Dusty's door, and Dusty immediately asked if Meg was all right. Paul asked why she wouldn't be, and Dusty replied because Paul was in the "psych ward frequent flyer" program. Paul said he was there to apologize at Meg's insistence, and Dusty burst out laughing. He told Paul that Meg could get her husband down there to apologize, but she couldn't make Dusty believe him. Paul threatened to kill Dusty who taunted him about his disingenuous apology.
Emily spotted Casey in the lobby of the Lakeview, and he accused her of dumping him because of Dusty. He wanted to know if Dusty could not find Johnny, did he want to have a baby with Emily? Then he cruelly reminded Emily that she had a tubal ligation, so that was out. Casey stalked off as Paul was entering the lobby. He took one look at Emily's face and invited her for a drink.
Bob and Kim waited for Chris at Java. Kim reiterated her concerns for Chris's physical safety in Africa, but Bob said they had to respect their son's decisions. Chris arrived, and Bob told him they would support whatever he chose to do and suggested the three of them meet next in Paris. Kim urged Chris to take care of himself, and they all hugged.
Alison was upset with Aaron for his telling Chris that she had refused to go back to her marriage because of him. They apologized to each other and agreed that their time together was over. Aaron went back to work, and Casey found Alison and they decided to do something irresponsible instead of going to school. They watched a video and then rode skate boards through Old Town.
Over their drink, Emily told Paul what Dusty had asked her do with Meg, and she admitted she still had feelings for him. Meg was Dusty's new project, and Paul realized he and Emily could help each other since he wanted to keep Meg, and Emily wanted Dusty. Emily reminded him that every time they had teamed up together, disaster had struck. "God help us," said Emily. She went back to Dusty's room and reported all was well with Meg and promised to keep her eyes and ears open. She and Dusty kissed.
Paul went home and reported that his apology to Dusty went well and assured Meg he had everything under control.
Thursday, October 16, 2008
Katie was still feeling shaky after a 24-hour bout with Mr. Cho's sesame chicken, so it was not difficult for Brad to persuade her to stay home another day. She felt even worse when Spencer McKay rang their doorbell and Katie announced to Brad that the "new girl" had come to finish her off. She hid while Brad opened the door and found Spencer bearing gifts for Katie: candy and sunflowers. Brad hustled Spencer out, and Katie told him she did not buy Spencer's "good friend" routine. She also remarked that Liberty had not been able to find the tainted food container in the trash at WOAK. Brad found it all hard to believe, but Katie challenged him by asking whom he believed, his loving wife or someone he had known for five minutes. Brad assured her he was on her side, and the doorbell rang again. It was Henry, so Brad asked him to stay with Katie while he made a quick trip to the studio. Katie told Henry she was sure Spencer was trying to kill her and explained about the Chinese food. Henry reminded her that he and Katie had done the same thing years earlier to Molly Conlon when Katie wanted Molly's air time. Katie begged Henry to drive her to the television station and finally badgered him into agreeing.
Carly got take-out food for her and Parker from Janet at the diner. Janet was grateful to her for letting her whine about Jack the other afternoon. Jack came in, and when Janet went to the kitchen to get some cookies for Carly's order, Carly asked him if he was truly moving on, and he agreed he was. Carly left, and Janet confessed to accusing Carly of harboring Jack in her bedroom. Janet laughed until Jack told her she was correct; he had been hiding in Carly's bedroom. He admitted he and Carly had started making love, and Janet realized she had interrupted them. She asked him directly if she had not shown up, if he would have slept with Carly. Jack hedged by saying he didn't know, and then explained that he and his ex-wife had always had a strong physical attraction. He also told Janet he loved being with her because he could trust her. Janet felt stupid for spilling everything to Carly and asked Jack to call when he figured out what he wanted. Jack walked out.
Carly went home and Parker told her his coach had called about a tee shirt design she was creating. She told him the design was upstairs in her bedside table, and he was welcome to get it. When Parker returned, he had his father's watch in his hands and questioned his mother if Jack had been in her bedroom recently. He wanted to know if Carly and Jack were hooking up again. Carly assured her son that they were not, but that sometimes Jack forgot that they no longer belonged together. She cautioned him not to get his hopes up, and Parker chose to go for a walk.
At WOAK, Spencer surprised Katie, who was busy snooping in the trash. Katie explained she had lost her pen, and Spencer volunteered to help her look. Brad arrived and was angry that Katie had not stayed at home to rest. Brad and Spencer began to work on their show, and she took Brad aside and told him she was getting a vibe that Katie did not want her around.
After Henry dropped Katie at WOAK, he went to Metro. Vienna chastised him for just leaving Katie there and concocted an adventure for the two of them to help Katie. She called the diner and asked Janet to take care of the cash receipts and deposit the funds so that she and Henry could go elsewhere. Janet agreed, so Henry and Vienna went to the Lakeview where Spencer McKay was staying. They broke into her room and began searching. They eventually found a large briefcase stashed under the bed and were trying to figure out how to open it when they heard the noise of someone coming in. Spencer opened her door to find Henry and Vienna lying on the bed in each other's arms. She was horrified, and the "embarrassed" couple jumped up and apologized before they fled.
Janet showed up at Carly's and confronted her about pretending to be her friend while Jack was waiting in her bed. She wanted to know what would make Carly want to hurt her so badly. Carly explained that she was trying to spare Janet's feelings, but Janet lost it. Neither of them could figure out how to get Jack out of her system. Carly felt she was not good for him, and Janet was. Janet realized that Carly was really out for herself and was tired of being used. She decided she was going to make her own decisions without Carly's knowing her business.
Parker rode his bike out to the farm to return Jack's watch. He asked his dad why he was hanging around Carly when he was supposed to be dating Liberty's mother. Carly walked in, and Parker made a hasty exit. Jack apologized for leaving his watch, and Carly told him he should start letting Janet be important to him. The two of them hugged, and Carly said they should stop before someone got really hurt. The question was, were they together or not? Neither would commit to an answer, so Carly declared they were not together, and Jack agreed.
Brad found Katie at home and accused her of being jealous of Spencer. He asked her if she thought Spencer or anyone else could steal him away from her. He reassured her that no one could accomplish that. He asked her to be nice to Spencer because he thought their new show would be a hit, and he knew he would like the extra pay. They began to kiss on the couch when the doorbell rang again. It was Spencer, in tears, telling them that their friends had broken into her hotel room. Both Brad and Katie denied sending Henry and Vienna, but neither could give a good explanation, either. Spencer cried she was sorry for whatever it was she had done to offend Katie. All Brad and Katie could offer was that Henry and Vienna were a bit of an odd couple, prone to unusual behavior.
Janet went to a bench in Old Town to dry her tears, and she realized when she opened her purse that she had forgotten to deposit the diner's cash receipts as she had promised Vienna. Suddenly, a man grabbed her from behind and dragged her several feet before punching her in the face, stealing her purse and ripping a ring from her finger.
Friday, October 17, 2008
Janet woke up the morning after she'd been mugged and found she had a black eye. She called Henry, who asked how she was and who told her they hadn't caught the mugger yet. Jack arrived at Brad and Katie's, wanting to talk to Janet. Janet tried to tell him to go away, but ultimately, she relented and let him in. He saw her eye and assumed she'd gone out the night before, upset about him, and had met another guy like before, someone who had hit her. Janet was surprised by his assumption but didn't correct him, instead telling him that she apparently liked bad boys, and that no one could live with the pressure of a perfect guy like Jack.
Jack went to Al's, where Henry was working alone. Henry could tell from their conversation that Jack didn't understand what had happened to Janet, so Henry told him the real story. Jack told Henry he'd put his foot in his mouth with Janet, and he asked if the cops had caught the mugger. Henry said no. Jack went to Yo's and asked the bartender if anyone had been in the night before spending money like it wasn't his. The bartender told him there had been a guy named Lester buying rounds, and that he had left with a hooker named Crystal.
Jack went to the Lakeview and asked the desk clerk where he could find Crystal. The desk clerk feigned ignorance, but Jack got physical with him, saying he knew the clerk had been helping the prostitute with customers. The desk clerk ended up giving Jack a key to room 1019. When Jack took the key and left, the clerk made a quick phone call to the police.
Jack burst into the hooker's room and found her with Lester. Jack manhandled Lester, saying he knew Lester had mugged someone the night before. Jack saw that Crystal was wearing Janet's ring, and she quickly gave it back to him, saying she'd had no idea where Lester had gotten it. As he dragged Lester off the elevator, Jack encountered Dallas, another officer, and the desk clerk in the lobby. The desk clerk said Jack was the man who'd accosted him, and Lester said, "Me, too!"
Jack told Dallas that Lester was the man who had mugged Janet. Dallas asked what that had to do with Jack. Jack said the man had Janet's ring and that he'd wanted to get the guy before he could leave town. Dallas said that didn't give Jack the right to manhandle the desk clerk, break into a hotel room, and abduct a guest, but he told the other officer to take Lester to the station and read him his rights. Jack showed Dallas Janet's ring, and Dallas asked the name of the woman to whom Lester had given the ring. Jack refused to say, telling Dallas it wasn't important. Dallas said Jack was acting like he was still a cop and the DA, too, and that he was ruining any chance Dallas had of making a case against Lester by trampling all over the evidence. Dallas said the DA would probably want to indict Jack, too, Jack asked Dallas to give him an hour, and he would bring Dallas a case. Dallas reluctantly agreed but said if it didn't work out, Jack had better have a job waiting for him as a PI.
Janet went to Al's even though Henry had given her the day off. She warned Henry not to mention Jack's name and even suggested it would be a good idea not to let any customers named "Jack" into the diner. Jack walked in shortly afterward, and Janet tried to avoid him. Jack told her that Henry had told him what had really happened to her, and he apologized for what he'd thought earlier. Janet brusquely accepted his apology and told him to be on his way. Jack told Janet he couldn't leave without her, because he would go to jail if she didn't go with him right away. Janet was confused, but Henry told her to go with Jack and fill him in on the "dirty details" later.
Janet walked into station wondering why she was there, saw Lester, and shouted, "That's the guy!" She ran at him, and Jack asked Dallas if that was enough of a positive ID for him. Dallas said yes and asked whether Jack had ever considered going into police work. Jack said he thought he and Dallas were going to become PI's together, but Dallas said he was serious.
Janet made a statement and signed it, and Dallas said the suspect would probably be advised to plead the case out. He also told Janet that they would return whatever money Lester hadn't spent yet, after the case was closed. Dallas told Jack not to go vigilante again and to figure out whether he was a cop or not. He thanked Janet for coming forward. Janet told Jack she wanted to go back to work and tell Henry he would get some of his money back after all. Jack suggested Janet call Henry instead.
Jack took Janet back to Brad and Katie's house and asked her why she hadn't called him right away when she'd been mugged. She said she'd had a meltdown with Carly and then had been careless with the wad of money. Jack said the mugging wasn't her fault, but he'd been stupid to make assumptions about how Janet had gotten hurt. He said after Henry told him what really happened, he'd been so angry with himself for his earlier assumptions that he'd gone after the mugger and done things he almost couldn't get out of. Jack asked Janet if her face hurt, and Janet said a little, so he kissed it and asked, "How's that?" Janet said, "The truth is, it hurts all over." Jack chuckled, and they kissed.
At the hospital, Meg came out of her doctor's office and ran into Lucinda. Lucinda cautioned Meg to get Paul to settle down, because the Worldwide board was unhappy with him, and he couldn't afford to make another mistake. Lucinda said in the current troubling economic times, companies didn't need much of a reason to worry about a CEO like Paul. Lucinda didn't think Paul was all that driven to run Worldwide anyway, and she said Meg should suggest he sell his shares, and then they could live off of that money. A nurse told Lucinda her doctor was ready to see her, so Lucinda told Meg goodbye, and Meg thanked her.
Emily met Paul in lobby of Lakeview and said she wanted to end their arrangement of helping each other, because she didn't want Dusty to ever find out she'd spied on him for Paul. Paul pointed out that Dusty had just entered the lobby. Paul covered by shouting at Emily to not go near Meg again. Dusty walked over and asked Paul what his problem was. Paul said Dusty was his problem and that Meg wasn't his business, so Dusty shouldn't send his girlfriend to spy on her anymore. Dusty said Meg was his friend, but Paul said it was twisted to send Emily to check up on her. Paul told Dusty, "You stay the hell away from my wife!" and he left.
Paul went home, where Meg asked if he was enjoying his work at Worldwide. Paul said it was more fun before the development deal went south. Meg said if Paul didn't like his job, he had options. She said her doctor had told her again to avoid stress, and she knew Paul was stressed by work. Paul said it sounded like Meg already had something in mind. Meg suggested that Paul quit so that he could be able to be around for more of the baby's firsts: first step, first words, etc. Paul admitted he would love to be able to spend more time with Meg, and he said he had always wanted to learn how to paint. Meg said the house could use a new coat of paint, and Paul laughed but said he thought this would be a good move for him.
Paul went to Worldwide and told Lucinda he wanted her to buy him out. Lucinda said she'd told Paul before that she wasn't interested in buying him out. Paul said that since then, the company had had 6 straight quarters of growth. Lucinda pointed out that the country was in the middle of a recession, but Paul said the company was poised to ride it out and to continue growing afterward. Lucinda said she would have to think about it, and Paul gave her an hour before he would call the overseas market in Shanghai and let them know his shares were for sale. Paul left, and Brian came in. Lucinda told Brian what Paul wanted, and Brian said his advice was not to do it.
Lucinda wondered why Brian would say such a thing. He asked why Lucinda would want to buy back the company now, and she said because she'd built it, and she wanted it to be a legacy, something she could give to Lily. Brian wondered if Lily would even want it. Lucinda said of course she would, but Brian pointed out that Lucinda was still making decisions for her family without any regard for their input.
Dusty and Emily sat down to eat at the Lakeview. Dusty apologized for putting Emily in the middle of things with Paul and Meg. Emily said the more Paul saw that Dusty cared about how Meg was, the crazier it made Paul, so she thought Dusty should back off if he really cared about Meg. Dusty agreed that Emily might be right.
Lucinda went to the Lakeview, found Dusty and Emily, and asked if she could speak to Dusty alone. Emily went upstairs. Lucinda told Dusty about Paul's offer and asked his opinion, because she wasn't sure she wanted the responsibility of running Worldwide again. Dusty said he had a solution: he would buy the shares instead. Lucinda said Paul would never sell to Dusty, and Dusty said Paul wouldn't have to know. He asked Lucinda if she would rather pick the new owner of Worldwide or let Paul do it.
Emily called Paul from Dusty's room on her cell phone and told him the scene he'd made with Dusty seemed to have paid off. She hung up when she heard the elevator, and Dusty came in. Dusty told Emily he was going to buy Worldwide. He explained he was going to use an offshore company of his to complete the transaction, and Emily should keep it to herself until the deal was done. Emily realized Dusty was doing this for Meg, and she pointed out that it didn't really show that Dusty was committed to staying out of Paul and Meg's lives.
At Fairwinds, Paul got a call and told Meg that Lucinda had passed on his offer but had found a multinational company to buy his shares instead. Their first offer was a lot higher than he had thought it would be. Meg was ecstatic to hear Paul had accepted the offer. She went upstairs to change clothes so they could go celebrate. Meanwhile, Emily called Paul, saying Dusty was in the shower but she had heard Paul was selling his shares of Worldwide. Paul said he just did, and she asked, "To an offshore company?" When Paul said yes, she said it was Dusty's company, and then she hung up. Paul threw his cell phone against the fireplace mantel, shattering it into pieces. Dusty walked out of the shower and told Emily he would need someone at Worldwide to help bring him up to speed, someone he could trust. Emily said if he wanted her to do that, she'd need a big raise. He said, "Done," and she said, "Stop talking and take me to bed, Boss." He did.