"Like sands through the hourglass, so are the days of our lives." Fans have heard those very words for fifty years, and, we don't know about everyone else, but they never grow old. Whether you're a new viewer or lifelong one, Macdonald Carey's timeless voice is like a warm "welcome home." And it's a shining reminder of why we love life in Salem.
Admittedly, the show ebbs and flows, but one thing remains true -- DAYS has a special place in our hearts despite the ups and downs. It's a magical hour-long escape. It's kept us on the edge of our seats. It's brought us to tears. It's made us laugh and cheer. It's made us root for love. It's brought us on grand adventures as well as captured those small, intimate moments between loved ones. And it's been a frustrating duty from time to time, too. But like sports fans who paint their faces, or tech junkies who wait in line for days for the latest gadget, this is our face paint -- this is our gadget -- and we can't begin to express our joy that we can exclaim, "Happy Fiftieth Anniversary, DAYS!"
We'd also like to take the time to sincerely thank everyone who works hard to bring DAYS alive each and every weekday. From the crafty creators who dreamed up life in Salem, to Ken Corday and the new writers who keep it going, to the producers and directors, to the illuminating stars of our show who shine so tirelessly bright and create more memorable performances in a year than some actors do in a lifetime, to the stylists and the set designers, to the people keep coffee flowing in the break rooms and who sweep up the stage at the end of the day, to sponsors and fellow fans who tune in, to soap champions like Dan J Kroll who rally fans and bring them together -- to all of them, we thank you. Our sincere appreciation of fifty years of fabulous can't be measured, but we're in for fifty more and wish the show continued success -- may the sands keep flowing through the hourglass all the days of our lives.
In keeping with tradition, your faithful DAYS Two Scoopers have compiled our annual anniversary column to give you even more reasons to love life in Salem this year -- though narrowing it down to fifty was hard as we could proudly and endlessly gush about each and every actor on the show (and the show in general)! So, grab some celebratory Champagne in one of those fancy gold-rimmed glasses always floating around Salem and watch DAYS because...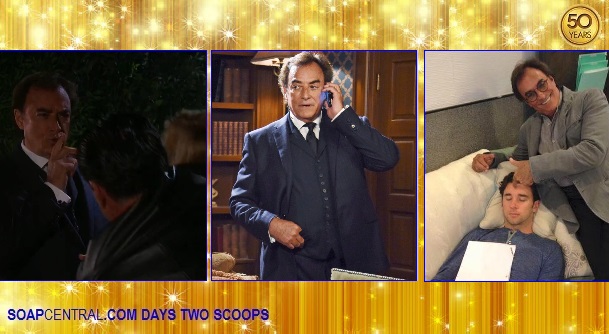 ... the man, the myth, the legendary Thaao Penghlis is back as dastardly Andre DiMera! If his chilling performances aren't enough to draw you in, do you really want creeptatsic Andre to haunt your dreams if you don't do his bidding? We thought not.
... fifty years later we still don't know which state Salem's in! You don't want to miss that reveal, or the bragging rights if it's your home state.
... Australia has already given us gifts like Olivia Newton John, Uggs, Hugh Jackman, koalas, Kylie Minogue, Vegemite, and two hunky Hemsworths, and now their lending us swoon-worthy Alexander Bruszt, (coming soon as Fynn). Be sure to thank our good neighbours in the Southern Hemisphere!
... plucky go-getter Lani is giving something to Abe that he hasn't had in a very, very long time -- a storyline! And we Abe lovers are doing a happy dance about that!
... we know that Kristin is not -- repeat, "NOT" -- really dead, and you'll want to be in Salem to welcome home her special brand of craziness when she triumphantly returns.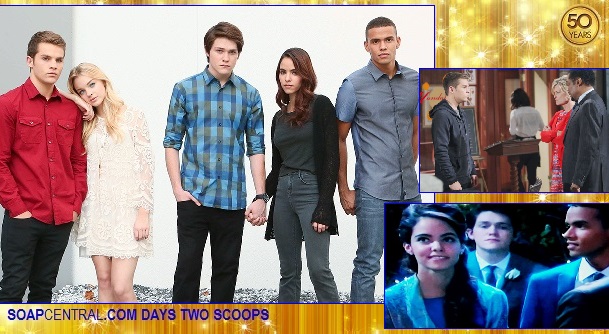 ... yesterday's youngsters -- no, literally, yesterday in some cases -- are today's teens, and you're eager to watch them lead the charge of the next generation. Plus, now we don't have to wait to see if Ciara grows up to be more "Hope Junior" or more "Princess Gina."
... Philip and Chloe are both on their way back to Salem, and we want to hear how their happy hours in Chicago have been going and if Philip's run into Morgan Hollingsworth.
... now that larger, more elaborate sets are back in play, you'll have more places to hide when the sand hits the hourglass. We call dibs on the secret passageways of the DiMera mansion!
...Theresa has 24/7 access to a fireplace poker. You don't want to get on her bad side by tuning out!
... DAYS won more Emmy Awards this year, and by the way things are looking, we'll be adding more to the mantel next year. We're talking about you, Lady DePaiva!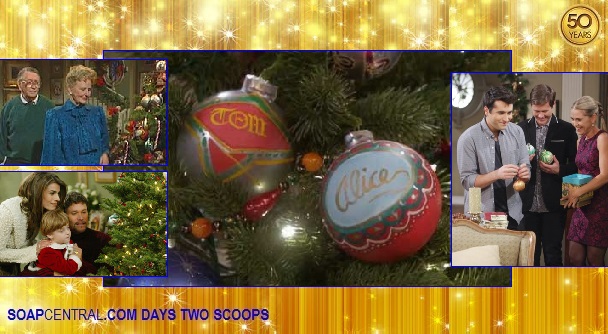 ... let's be honest here, you want a personalized ornament on the Horton Christmas tree just as much as we do.
... Melissa Reeves and Kassie DePaiva are pure magic as enemies Jennifer and Eve! We also love those moments when Melissa gets to show off her scene-stealing comedic chops. We're still chuckling over Jennifer's exuberance at Hope's bachelorette party!
... to figure out just what those lights are outside of Ben and Abigail's apartment and why they've migrated to Hope's house.
... someone may slip up and reveal the name or gender of Carrie and Austin's baby, who should now be anywhere between toddler and thirty in Salem time.
... seeing teenage-heartthrob-turned-manly-hunk Shawn-Douglas (Jason Cook) again brings us right back to those "Last Blast" days. Save a dance for us, Shawn-D!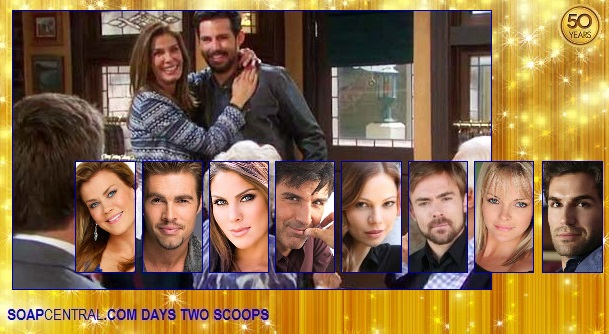 ... with DAYS's new direction, you never know who's going to walk through the door next. And, like us, you're excited to meet all the new faces as well as welcome home many familiar ones. We're totally counting down the days until Martha Madison and Tamara Braun return as Belle and Ava, too! #lovetheseladies
... you never know when we might get a touch of Rory's comedic relief, Zoe's sass, or Maxine's side-eye. All are spectacular.
... despite Jennifer and Abigail not liking his answer about J.J. joining the police force, you know Roman was jazzed that someone finally asked his opinion...on anything!
... Stefano may actually have more surprise kids than the Republicans do presidential candidates. That's impressive!
... we're more than happy to wait patiently if it means that Brady may sing to us Tate again!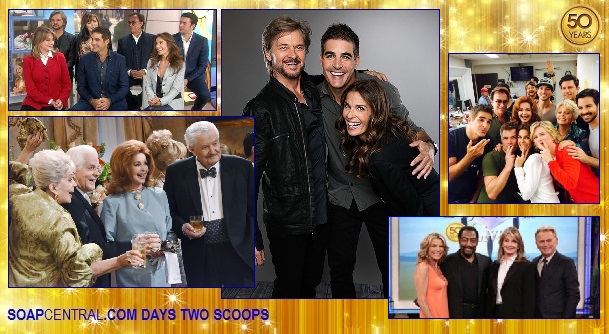 ... with all the epic on- and off-screen activities to celebrate regarding the fiftieth anniversary, you can tell the actors have a rejuvenated take on their roles -- DAYS stars are shining brighter than ever (and they were already pretty dazzling).
... we're sure it's just a rumor that Eric is medically unable to smile. But it wouldn't hurt to have video evidence, just in case.
... D.A. Justin may be a bit overzealous, but if it means we continue to get Justin/Abe/Roman/Rafe scenes, we'll forgive him.
... although DAYS needs another deadbeat dad storyline like Anne needs another wrap dress, we at least have daytime royalty A Martinez in the role, and as Martha Stewart would say, "That's a good thing!"
... to uncover if there's anything Rafe doesn't have a "guy" for.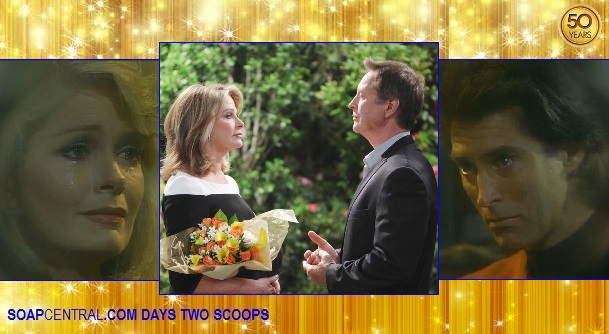 ... John's thirty days are almost up. Will Marlena give him the final rose?
... to see where Lucas wants us to meet him for bungee jumping and waffles.
... John is rocking the role of Paul's loving dad. Our hope for their next chat: appropriate places to hit on other guys. Our other hope: we see Paul more often and get a visit from the tremendous Tori!
... of the cuteness overload that is the way Parker giggles every time Daniel wraps him up in a huge bear hug.
... Aiden may not have turned out to be an upstanding guy, but Daniel Cosgrove delivered the good, the bad, and the ugly. In fact, looking back, Daniel and all his dimpled brilliantness kept us guessing from day one!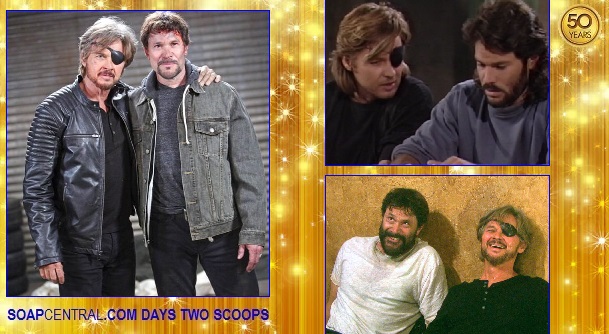 ... and no offense to Matt Damon and Ben Affleck, but cool cats Bo and Steve will always be the original bromance. We love that the boys are back in town!


... as successful as he is in business and leveling anyone with a perfectly snarky one-liner, Victor seems to fail miserably at selecting who gets to live under his roof. It's nice to see he does have a flaw!
... despite some of Adrienne's suspect behavior at times, Salem is just a better place with the glam Judi Evans in it!
... you never know when Caroline will treat us to another Grandpa Shawn sighting. Ghost or not, we love that these two get to share any kind of scene together!
... of the gooey feeling you can't help but get when Abigail goes to Aunt Kayla for her perfect blend of advice and support. Kate Mansi rocks the troubled, torn ingénue role, and Mary Beth Evans is still as captivating (and sweet) as the first time we fell in love with Kayla.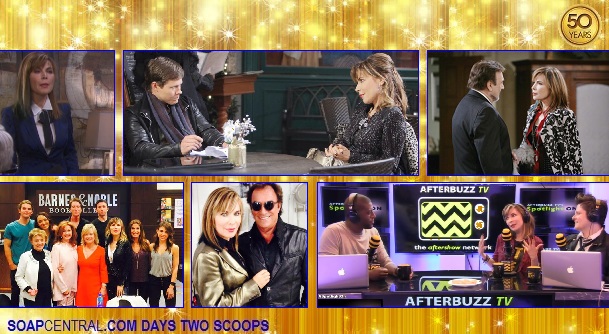 ... Lauren Koslow is just as fabulous outside of Salem as Kate is in Salem (and that's a lot of fabulousness). For a deliciously delightful interview with Lauren on AfterBuzz TV, click here!
... Gabi has been sprung from the clink, meaning Camila Banus is brightening our screens once again. In fact, she's so radiant, it seems like J.J. wants to bask in the glow (and we're totally on board with that)!
... Andre and Chad's nasty yet hilarious sibling rivalry is pretty epic (as are Thaao Penghlis and Billy Flynn's Tweets to one another)!
... not to be outdone by the boys, Jen Lilley and Meredith Scott Lynn's Theresa and Anne are funnier than a fat guy dancing to "Tootsie Roll."
... Doug and Julie will laugh right in the face of anyone who claims supercouples are dead!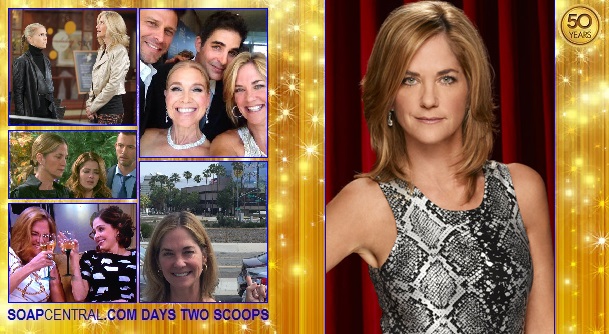 ... although the sand might be running out of the hourglass for Kassie DePaiva, she has been exceptional as Eve, a diehard defender for DAYS, and an all-around class act. We couldn't love this iconic lovely lady more if we tried!
... the transformation from dim but nice guy with a temper Ollie Bob Bubba Joe Rogers to the multilayered murderous Ben Weston is sure to snag the über-talented Robert Scott Wilson some Emmy attention. Just thinking about this guy's performances lately gives us chills!
... Arianne Zucker can make us laugh one minute and cry the next, which is why it's always hard to stay mad at Nicole.
... the graceful Suzanne Rogers makes us believe that optimism and one of Maggie's hugs can make everything better. Plus, one of these days, Maggie's just got to take us back to Chez Rouge!
... whether she's just visiting Salem or cheering from the sidelines, Alison Sweeney is still DAYS' golden girl and it's biggest champion ever. Viva la Team Sweeney!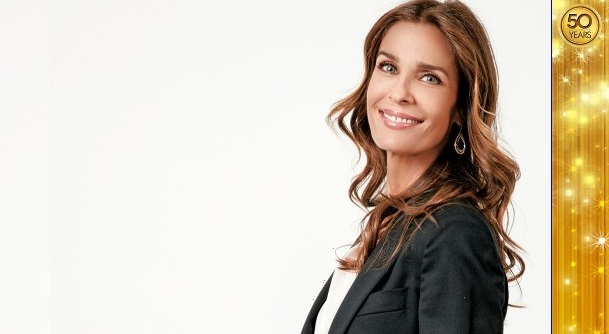 ... like Bo since 1983, we've continued to fall more in love with Hope each year thanks to the magnificent performances of the luminous and classy Kristian Alfonso.
... DAYS has the talented, charismatic Billy Flynn, and no other show can claim that!
... with his booming voice and commanding presence, Joseph Mascolo has made Stefano one of the most iconic villains in daytime history!
... Deidra Hall has been our leading lady since 1976, and that's rather brilliant. Marlena's journey from young professional to respected expert and matriarch has been seamless and graceful thanks to Deidra. Oh, and lady is funny, too! Who wins? DAYS fans! That's who.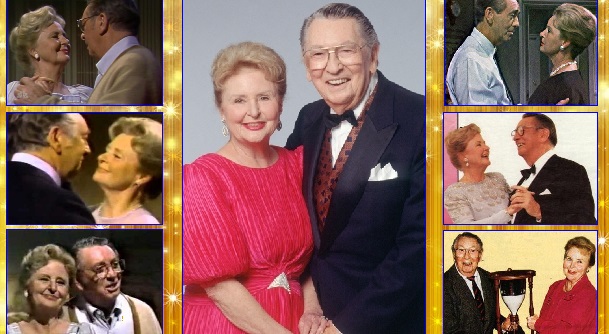 ... this is the house that Tom and Alice built, and we've all been welcomed in it for fifty years (and counting). True, the town and its residents have surely changed over the years, but we believe Tom and Alice would be happy about one thing -- the lives and loves of Salem keeps bringing all of us together each weekday. And you know how much they love togetherness and traditions!
That's our list, but we want to hear the reasons you keep coming back to Salem! Be sure to leave feedback below, Tweet us (Laurisa and Tony), or call our 24/7 caller feedback hotline at 267.341.7627 and voice your thoughts. Also be sure to raise one more glass of the good stuff to the amazing cast and crew of DAYS!
Share your reasons why you watch Days of our Lives in the Comments section below, on our message boards, or by submitting Feedback.

To stay up-to-date on the latest soap news, be sure to like us on Facebook and follow @soapcentral on Twitter.