Which Passions recast do you think is most important for the show?

Both Miguel and Fox. Both characters have strong ties to Harmony.
36%
Miguel. He's been off the canvas too long.
30%
Fox. He is too vital to disappear, so a recast was needed.
23%
Neither. I could honestly do without seeing either character in Harmony.
8%
I'm not really sure at this point. It depends on future storyline.
3%
Other
1%
Poll Posted: January 16, 2006
As previously reported by Soap Central, Passions has announced that it has finally cast an actor in the role of
Nicholas Foxworth Crane
. Though the show confirmed that the role had been recast back in December 2005, it was not until recently that a Passions spokesperson revealed the name of the actor that had landed the part.
In October 2005, Passions heartthrob
Justin Hartley
(
Fox Crane
) announced that he would exit the show when his contract expires in February 2006. The actor delivered the news during Passions' annual fan club event.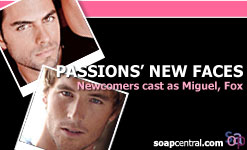 "I really need to get this out. I'm leaving the show," Hartley told fans gathered at the show's annual fan club weekend. "All I want to do is thank you for all your support. I met my wife (
Lindsay Hartley
,
Theresa Lopez-Fitzgerald
) and had a baby on the show."
Passions quickly indicated that the role of Fox Crane would be recast.
Newcomer Mark Cameron Wystrach assumes the role of Fox on February 14th. Though Soap Central did research Wystrach's acting portfolio, our search did not produce any previous acting experience for the actor.
Passions fans are now nervously waiting for word on Lindsay Hartley's status with the show. On Passions' NBC sister-soap,
Days of our Lives
, a real-life husband and wife team made separate decisions to leave the show - a matter of a few months apart. For more on that story,
please click here
.