NUMBER FOUR
A Year of Behind-the-Scenes Shuffles
Several soaps made big changes behind-the-scenes this year, moves that they hoped would revive falling ratings and pique viewer interest.
2000 ended with an announcement that General Hospital's executive producer Wendy Riche and head writer Robert Guza, Jr, would both be stepping down. Jill Farren Phelps was named the new EP and Megan McTavish filled the top scribe spot. Their arrival led GH to what some critics have called its worst year in recent memory. Dark plots and sci-fi storylines were scrapped and the show was a virtual no-show at the Emmys.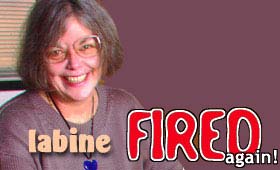 Guiding Light dismissed head writer Claire Labine for the second time in under a year. Her firing in 2000 didn't quite stick and Labine was given a second chance. However, in May the second time proved the final time and GL named Lloyd "Lucky" Gold to fill the head writer gig.
All My Children named Richard Culliton as its new head writer in June after Jean Passanante surprised many by announcing that she would join the writing team of As The World Turns.
In December, long-time veteran of The Young and the Restless, Edward Scott, was released as the show's executive producer. Just a week or so prior, Scott had celebrating 25 years with the show.
The year ended with Days Of Our Lives executive producer Ken Corday announcing that "creative differences" had led him to the decision to fire head writer and co-executive producer Tom Langan.
Read The StoryLabine out as GL head writer; Lucky in. [May 7, 2001]
Read The StoryPassanante leaves AMC head writer job for ATWT. [May 29, 2001]
Read The StoryAMC names Richard Culliton as head writer. [Jun 18, 2001]
Read The StoryY&R names new executive producer . [Dec 5, 2001]
Read The StoryDAYS head writer written out. [Dec 17, 2001]
---
NUMBER THREE
ATWT Sets Emmy Record For Most Wins
In the years leading up to the 2001 Daytime Emmys, As The World Turns was lucky to receive any nominations in the main categories. Those nominations were usually "reserved" for the fan popular General Hospital or top-ranked The Young and the Restless. So it came as a big surprise when the show raked in a whopping 25 nominations. All My Children placed second with 21 nominations.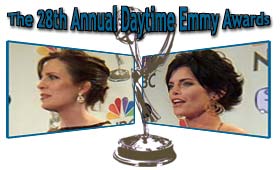 As is sometimes the case, the most-nominated can turn out to be the least-victorious. That was not the case this year as ATWT amassed eight Daytime Emmy wins - the most ever by a soap in a single year.
Head writer Hogan Sheffer and executive producer Christopher Goutman were both credited with turning the show around in the previous year - and both were rewarded. Sheffer and the ATWT writing team earned honors for Outstanding Writing and Goutman took honors as ATWT was named Outstanding Drama Series.
Read The StoryATWT leads Emmy noms with 25. [Mar 14, 2001]
Read The StoryATWT named best show, set Emmy win record. [May 18, 2001]
---
CONTINUE READING: PART FIVE OF THE YEAR'S TOP TEN NEWS STORIES
---