Turn your eye to the latest casting news on Soap Central and you will notice that a lot of big names soap opera actors like Sarah Brown, Rebecca Budig, Debbi Morgan, and Darnell Williams are returning to daytime. Sprinkle in a few primetime and movie actors like Shirley Jones and Mario Van Peebles and there is a sudden influx of talent to daytime television, a genre that many have labeled "dying." Believe it or not, this could be only the tip of the iceberg.
As the writers' strike moves into its fourth month, its impact is now being felt as far ahead as the Fall 2008 television season. The strike is also beginning to have an impact on movie production. With the writers on strike, the pilot season, where scripts are pitched to networks for a possible appearance on their fall schedule, has been nonexistent. The lack of scripts means that anything not already firmly scripted cannot be produced - new television shows and fresh episodes of old shows will simply not appear on the schedule in September. Even if the strike ended tomorrow, it is projected that the next season of new material would not start until the winter of 2008-2009.
The result is a lot of unemployed or underemployed actors. Soap operas, often shunned by performers as a "lesser" genre, have suddenly become a very attractive commodity. This is due, in part, to the fact that soaps are one of the few forms of entertainment still in active production. The soaps are being kept afloat by writers who have taken financial core ("fi-core") status with the striking Writers Guild of America, and so-called scab writers. As a result, the only fresh acting jobs in television may be in daytime drama.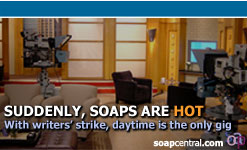 In an interview with The Knoxville News & Sentinel, Brian Frons, president, Daytime, Disney-ABC Television Group, explains ABC's recent acquisitions this way: "The strike actually helped us in terms of luring these actors back to the show. If you aren't an actor with a steady primetime gig, you probably won't find [work] until fall of '09. So I think that gives soap operas a chance (for actors) to find steady work."
In some regions, daytime dramas like The Young and the Restless and The Bold and the Beautiful achieve ratings similar to some successful primetime shows, because of niche populations such as large numbers of retirees. In other markets, soaps are struggling. In general, the soap audience has eroded by nearly 50% in the last decade or so.
The ability to take advantage of this opportunity to cast big name actors is a boon for soaps, but Frons cautions that stunt casting is not a long-term solution for the struggling soap industry. Viewers will not tune in simply because "they hear people from 20 years ago" are coming back to soaps, he explains. Storyline is what count -- and good storytelling is the only thing that will keep viewers. And the viewers are among many who look forward to the end of the writers' strike.
Read the complete letter written by striking WGA members.