As The World Turns Recaps: The week of September 10, 2001 on ATWT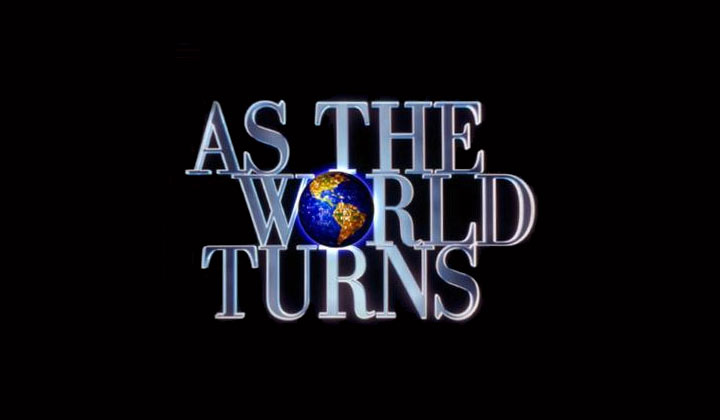 Monday, September 10, 2001
Bruno and Katie are stomping grapes when Simon angrily enters the bathroom. Katie informs him that she and Bruno have been "dating." Bruno leaves and Simon questions Katie about her grape-stomping partner. Katie reminds Simon that he always said their marriage wasn't real, so she thought it was fine to date. She spots Simon's wound and offers to replace the old dressing with a new one. When asked if Simon missed her, he responds that he did. Katie replies that they need to talk.
Rose and Mitzi catch up on New Jersey and the new dance routine the dancers are working on. Lucinda catches the women trying the routine in her living room and is not happy that they are trouncing on her carpet. Rose tries to calm Lucinda by asking about Lily, Holden and Luke, and Lucinda informs Rose that both Lily and Holden are together but Damian has taken Luke. Mitzi reminds Lucinda that today is Rose's birthday. Lucinda freaks out because it is Lily's birthday too, and tries to kick Mitzi out of her house.
Craig and Barbara meet in the judge's chambers to talk. Barbara tells Craig she married him because she wanted to be loved. Craig talks about how he can save BRO. He tells Barb how BRO needs more experienced people and more money. Craig explains that if he helps him get Worldwide, he will help her rebuild BRO.
Carly and Jack kiss passionately and Jack professes his love. Carly doubts his love and thinks he will be disappointed with her. Jack tells Carly he wants to bring her home to Oakdale. Carly responds that she doesn't want to go back to Oakdale before Chicago gives up on her.
Katie and Simon talk about how Simon charged Bruno, and how Simon feels "more than sisterly" to Katie. Simon explains to Katie that Bruno's intentions are not true. Katie is unsuccessful in making Simon jealous when Craig and Cass walk into the room. Craig gives Simon a check for $25,000 and informs him he is free to leave Oakdale. He informs Katie that he is not leaving so soon.
Craig and Paul discuss how Paul backed Lucinda at the WorldWide board meeting when Paul lunged at Craig and threatened to kill him.
After much indecision on Lucinda's part, she tells Mitzi that she indeed is welcome at her guesthouse. Rose tells Lucinda that she has always been loyal to her and will not go back to the stage. Paul arrives at Lucinda's and tells them that Craig had to give half of the shares to Barbara, and Lucinda thanks him.
Jack and Carly talk about how Jack giving her his pension isn't going to fix what's wrong with their relationship. Jack tells Carly that he found out directly from Craig that the kiss was initiated by Craig and that Carly had told him that she loves Jack. When Jack departs Carly's hotel room, she wonders when Craig will stop meddling with their lives.
Tuesday, September 11, 2001
Due to the horrible tragedies befalling our nation today, all soap operas were pre-empted today. Presumably all network programming will resume tomorrow with no episodes lost.
Soap Opera Central would like to extend our deepest, heart-felt sympathies to any and all persons affected by these horrific events.
Wednesday, September 12, 2001
Due to continuing news coverage of yesterday's attacks against The United States, all regular daytime network broadcasts have been put on hold. Therefore, no soaps will be shown today. It is unclear when programming will resume as normal. However, Soap Opera Central will remain on deck and provide complete coverage as soon as we are able.
Again, the thoughts and prayers of all those involved in Soap Opera Central -- our staffers and visitors -- go out to everyone touched by these horrors.
At this time, one may find comfort in the words of Agnes Nixon, a profilic soap opera scribe and creator of All My Children and One Life to Live.
Speaking of the "kinship of humankind under God," Nixon writes:

The great and the least
The weak and the strong
The rich and the poor
In sickness and health
In joy and sorrow
In tragedy and triumph
You are All My Children
Thursday, September 13, 2001
Due to continuing news coverage of the attacks against America, regular network programming has been pre-empted.
Friday, September 14, 2001
Due to continuing coverage of the attacks against America, all daytime programming has been pre-empted. It is anticipated that regular broadcasts will resume on Monday, September 17th with a rebroadcast of this past Monday's episode. All networks have pledged that there will be no lost episodes. By rebroadcasting Monday's episode, that will allow the shows to be back on the correct day for each broadcast. Stay tuned to Soap Opera Central for complete details.