Kevin Collins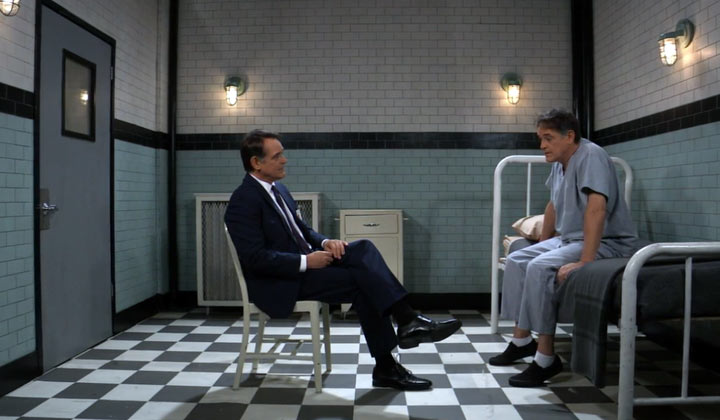 Anthony Stark
Psychiatrist at General Hospital
Author of General Homicide
Psychiatrist
Formerly Denver, Colorado
Formerly an unnamed psychiatric care facility
Lighthouse on Harborview Road
Single/Engaged to Laura Spencer [Engaged: Oct 31, 2017]
Eve Lambert (divorced; 2001)
Lucy Coe (married December 2001; divorced)
Victor Collins (father)
Melanie Chamberlain (mother)
Ryan Chamberlain (twin brother; deceased)
Livvie Locke (daughter; with Grace)
*On January 30, 2013 Kevin denied having a daughter named Livvie and claimed that Livvie was a part of Lucy's fantasy world
*On January 30, 2013 Kevin stated that he had taken the children and left Lucy
Grace Locke
Elizabeth Barrington (lovers)
Stalked and Kidnapped Felicia Jones after suffering a mental breakdown due to mental illness
With Eve, broke into a freezer where dead bodies were kept in Rome; charges were dropped
Tried to strangle Lucy
Beat up a prostitute
Arrested for kidnapping Lucy
Blackmailed Lucy into reuniting with him
Kidnapped Ian and tried to bury him behind a brick wall
Dr. Kevin Collins arrived in Port Charles in the early part of 1994. He came to town to help rehabilitate his identical twin brother, serial killer Ryan Chamberlain, who was in a mental hospital. Kevin felt that his brother was as much a victim as the women he killed and thought that he could help his brother get well with his own therapeutic methods. He had a hard time being accepted by the citizens of Port Charles because he looked identical to a man everyone feared and hated. Eventually, everyone came around, including Felicia Jones, who was terrorized by Ryan for almost two years. However, her fiancÚ, Mac Scorpio, was instantly suspicious and hostile to Kevin. Kevin visited his brother, Ryan, several times and thought he was making progress. However, he was unaware that Ryan was using him to escape the mental hospital.
One night, Kevin visited Ryan in his room alone. Ryan found out enough about Kevin to knock him out and impersonated him back in Port Charles. Kevin eventually managed to prove to authorities and hospital personnel that he was indeed Kevin and not Ryan. He raced to the church to stop Ryan from ruining Felicia's wedding to Mac. After that ordeal was over and Ryan was apprehended, Kevin saw him at the prison and confronted him. Kevin wiped his hands of Ryan again. However, Ryan wasn't through with Kevin. He managed to escape the prison and impersonate Kevin briefly in order to kidnap Felicia's baby at General Hospital. Kevin helped Mac and Felicia find Ryan and the baby in 1995. Ryan killed himself instead of being apprehended. Kevin still felt some guilt about Ryan's fate.
Starting in 1994, on a more romantic note, Kevin found himself befriending and counseling Lucy Coe. Lucy came to Kevin with a moral dilemma. He helped her as best as he could, but found himself attracted to her at the same time as he was exasperated with her. They started dating soon after. They got closer when Kevin found himself haunted by the death of his former lover, Grace. Kevin confided in Lucy that Grace had drowned in a car he was in and that he was to blame for her death. Lucy helped him work through the past and got him to see a psychiatrist. Kevin went under hypnosis and came to the conclusion that Grace was driving the car when it went into the lake and that he was unconscious in the car and couldn't save her in time, only himself.
Lucy moved in with Kevin and they started a strong, loving relationship. However, Kevin couldn't continue moving forward until he dealt with his whole history. In 1995, he helped a young man named Stone Cates with dyslexia, and then helped him out emotionally when Stone was diagnosed with AIDS. Kevin was profoundly affected by Stone's eventual death. He also found himself becoming very close friends with a former foe, Mac Scorpio. The two men buried the hatchet. They even dressed in drag to help expose a fraud, named Madame Mia.
However, by 1996, things began to unravel for him. Kevin found himself having blackouts, where he couldn't account for certain times of the day. He also started acting erratically while teaching a psychology class at PCU. Mac's niece, Robin, who was taking his class, noticed it and called him on it when he mistreated a student. Kevin started to lose more time he couldn't account for. He started stalking Felicia Jones like his brother Ryan had. He tricked her and kidnapped her. He held her captive at knifepoint at the summer home of his childhood, called Jasmine Island. Lucy found him and talked him into letting Felicia go.
Lucy talked to him and got him to tell her what happened to him and Ryan as children. It turned out that Kevin and Ryan's mother had been molesting Ryan, and Kevin found out when he was four years old by pretending to be his twin to see what his mother did with Ryan in the bathtub. Lucy stood by him after he was charged with kidnapping and stalking Felicia. Felicia was angry and pressed charges against him, but eventually dropped them when she realized he didn't intentionally try to hurt her. Kevin began treatment with Dr. Gail Baldwin and had his medical license suspended.
He decided to write a fictional murder mystery novel called General Homicide. The novel was a bestseller and the characters were based on people who worked at General Hospital that he knew. However, the book caught the attention of a real psychotic killer. The killer started copying the style of the murders and killed several doctors and nurses at GH. Kevin enlisted the help of his friend Mac, the Police Commissioner, to help solve the murders. Kevin ended up stabbed when he got close to solving the crimes. The killer turned out to be Greg Cooper, a doctor who was kicked out of his internship because the Quartermaines gave the intern position to Karen Wexler after Greg was found to be unstable, according to his files.
When things got back to normal, Kevin proposed to Lucy and she accepted. Lucy was also thrilled to learn she was pregnant. However, tragedy struck when, several months in her pregnancy, she miscarried. Their double wedding with Felicia and Mac also took a different turn when Kevin learned that Lucy had lied to him about her indirect involvement in the car accident that left Lucy's surrogate daughter, Serena, blind. Kevin called off the wedding to Lucy. He was in for a shock, however, when he went to tell Lucy he wanted her back and found her in Florida with Scott in a hotel room. He was devastated and turned to his friend, Dr. Eve Lambert for comfort.
Kevin found himself falling for Eve and they started dating. They eventually fell in love, and got married. They were happy for a while, until a new doctor named Ian Thornhart came to town and got Eve's attention. Kevin didn't realize that Eve was falling for Ian, because an explosion outside of a club was presumed to have "killed" Eve and Ian in a car. Kevin was devastated and leaned on his friend, Lucy, for support. Shortly before the explosion, Kevin had to deal with his past again, when his ex-lover Grace's sister, Rachel Locke, got a job at GH as a psychiatrist, and tried to get revenge on him by trying to ruin him. Kevin also was treating a young girl, named Livvie who Lucy met and tried to help. Kevin helped her through hypnosis to find out about recurring nightmares where she was drowning. Kevin started to see parallels between Livvie's dreams and his past history with Grace.
With Lucy's interference, Kevin learned that Livvie's biological mother was not Rachel, but Grace. Lucy used Kevin's hair as a sample for a DNA test to match with Livvie's hair sample. The DNA test proved that Kevin was Livvie's father. Kevin was happy with the news, since he was growing quite fond of Livvie as her therapist but found they had a deep connection from the get-go. Livvie's adjustment was rough, with Rachel losing her mind and ending up in a mental hospital, but Livvie eventually accepted Kevin as her father.
Kevin started leaning on Lucy more and more and they eventually became lovers again. Eve and Ian returned alive and well. Eve lost her memory for a time but eventually told Kevin she was in love with Ian. Kevin realized he still loved Lucy. He and Lucy got engaged again but dark forces, specifically vampire Caleb Morley, caused them to drift apart. Kevin found himself dealing with the unpredictable Lucy and her infidelity with Ian.
Kevin made another visit to Port Charles in 2013 after Alexis Davis contacted him with the news that Lucy had been taken to Ferncliff for psychiatric care after stabbing a police officer that she believed was a vampire. Upon Kevin's arrival, he announced that he and Lucy had parted ways years ago because she continued to live in her fantasy world in which she was a vampire slayer. Kevin paid Lucy a visit at Ferncliff and admitted that he still loved Lucy but she needed care that he was unable to provide.
After a discussion with Mac and Felicia, Kevin decided he needed to reach out to Lucy once again. He found Lucy as she and two other Ferncliff patients, Todd Manning and Heather Webber, while they were in the midst of an escape. Kevin begged Lucy to remain at Ferncliff so she could receive the help she needed and he promised to be by her side. While they spoke, Heather clobbered Kevin over the head with a flower pot and rendered him unconscious. When he awoke, he realized that his car was gone and so were Lucy, Todd, and Heather.
Kevin claimed to be done with Lucy after her escape from Ferncliff. She pursued her vampire theory and interfered with the law until the vampire, an escaped mental health patient named Stephen Clay, was killed. Lucy convinced Kevin that her vampire slayer days were in the past and they moved to Port Charles. He established his medical practice at General Hospital while Lucy planned the Nurses Ball and launched a Deception Spa.
Kevin worked long hours as he treated a variety of patients, including Connie Falconeri and Franco. He sensed that something was off with Lucy but he believed her claims that she was under stress from the Nurses Ball. Kevin realized that he had not made enough time for his wife and he vowed to make her and their marriage a priority. Soon after his proclamation, he learned that Lucy wanted to be with Scott and that she had been unfaithful. The affair was revealed publically on-stage at the Nurses Ball and Kevin was humiliated. Lucy begged for Kevin's forgiveness and asked him for another chance. He refused and announced his plans to divorce her.

Post a Comment

Share on Facebook

Tweet this

Submit Feedback