Lucas Jones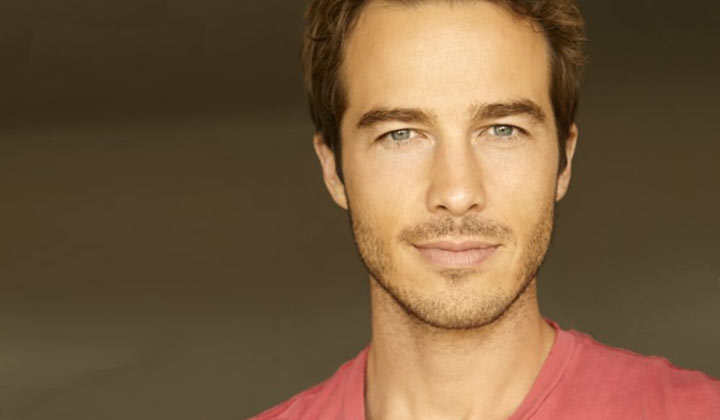 Kevin and Chuckie Gravino
1989 to 1994
Kevin and Christopher Graves
1990
Jay Sacane
1994 to 1996
Justin Cooper
1996 to 1998
Logan O'Brien
1998 to 2002
J. Evan Bonifant
2002
C.J. Thomason
2002 to 2003
Ryan Carnes
Ben Hogestyn
Born August 18, 1989
Birth year later revised to 1987
Physician at General Hospital
Former part-time waiter at Kelly's
Attended medical school
Student
657 Harbor View Road, Port Charles, New York
Formerly Seattle, Washington
Married to Brad Cooper [Engaged: May 4, 2015 (April 29, 2015 on the show); Married: June 13, 2016]
None
Julian Jerome (biological father)
Cheryl Stansbury (biological mother; deceased)
Anthony Jones (adoptive father; deceased)
Barbara Jean "Bobbie" Spencer (adoptive mother)
Barbara Jean "B.J." Jones (adoptive sister; deceased)
Samantha Morgan (biological half-sister)
Caroline "Carly" Corinthos Jacks (adoptive sister)
Unnamed child (biological half-brother; presumed deceased)
Victor Jerome (biological grandfather; deceased)
Tim Spencer (adoptive grandfather)
Lena Spencer (adoptive grandmother)
Olivia St. John (biological aunt)
Evan Jerome (biological uncle; deceased)
Ava Jerome (biological aunt)
Evan Jerome, Jr. (biological cousin)
Lauren "Kiki" Jerome (biological cousin)
Dino (biological half-uncle)
Tiffany Hill (biological aunt)
Andrew "Frisco" Jones (adoptive uncle)
Patricia Spencer (adoptive aunt; deceased)
Lucas Lorenzo "Luke" Spencer, Sr. (adoptive uncle)
Mariah "Maxie" Jones (adoptive cousin)
Georgianna Jones (adoptive cousin)
Lucas Lorenzo "Lucky" Spencer Jr. (adoptive cousin)
Lesley Lu "Lulu" Spencer (adoptive cousin)
Valerie Spencer (adoptive cousin)
Michael Corinthos III (adoptive nephew)
Morgan Stone Corinthos (adoptive nephew)
Josslyn Jacks (adoptive niece)
Daniel Edward Morgan (biological nephew)
Rocco Falconeri (adoptive cousin once removed)
None
Mariah "Maxie" Jones (kissed)
Georgianna "Georgie" Jones (kissed)
Brook Lynn Ashton (kissed)
Guy Tucker (dated)
Brad Cooper (lovers)
Felix Dubois (kissed)
Taking into police custody after assaulting Frank, a man that had previously assaulted him for being gay [Jan 20, 2006]
Diagnosed with juvenile diabetes [1990]
Drugged by Helena to blackmail Tony into helping her; he later recovered [2001]
Beaten for being gay by a man named Frank [Jan 17, 2006]
Shot in the chest by Luke Spencer's hired assassin and underwent surgery [May 21, 2014]
Was rendered comatose by an unknown assailant who injected him with drugs [May 2016]
Shot in the chest by an assassin [May 21, 2014]
Held hostage in a church full of people by Landon Dixon [Feb 19, 2016]
Injected with Derisifol by Heather Webber [May 25, 2016]
Phone number is 716.555.0194
Lucas was born to Cheryl Stansbury and presumed deceased mobster Julian Jerome but Cheryl had been told that her baby had died. In truth, Lucas was sold to Bobbie Spencer Jones, who was desperate to adopt a child after her planned legal adoption fell through at the last minute. Bobbie named the baby Lucas after her brother, Luke Spencer. She was unaware that Lucas was Cheryl's child.
In 1990, baby Lucas fell ill and was diagnosed with juvenile diabetes. Bobbie decided to investigate Lucas's biological family and turned up proof that Lucas was Cheryl's son. Bobbie kept the information to herself but Robert Scorpio learned the truth and planned to reunite Cheryl with her child. Bobbie tried to flee with Lucas but Robert stopped her. Tony was distraught over Bobbie's lies and took his daughter B.J. and left Bobbie. They later reconciled.
Lucas lived with his biological mother until she was killed in a car accident. Cheryl's will stated that he be raised by Tony and Bobbie but Cheryl's sister Tiffany Hill sought custody as well and a legal battle ensued. In the end, Bobbie and Tony were granted custody and Lucas referred to them as his parents.
As part of the Jones family, Lucas was devastated when his cousin Maxie was diagnosed with heart disease and required a heart transplant. Shortly after the diagnosis, Lucas's sister B.J. was rendered brain-dead in a school bus accident. Tony made the difficult decision to donate B.J.'s heart to Maxie, and Tony and Bobbie explained to Lucas that B.J. was going to live in Heaven. After B.J.'s death, his parents struggled to make their marriage work and Lucas eventually came to terms with their decision to divorce.
A few years later, Lucas became deathly ill after Helena Cassadine poisoned him with a deadly bio-toxin. Helena offered the cure to Tony in exchange for his assistance reviving her son Stavros Cassadine from his frozen state. Tony acquired the cure for Lucas and he made a full recovery while Luke shut down Helena's operations.
In 2002, Lucas was doing poorly in school. He confessed to Maxie and Georgie Jones that he had trouble concentrating when he tried to study. Georgie determined that Lucas had a learning disability. While working overtime to help Lucas with his studies, Georgie developed a crush on him. Unfortunately for Georgie, Lucas had developed a crush of his own on Maxie. Even though Maxie did not return his feelings, Lucas stood by her and helped restore her damaged reputation. Eventually Lucas decided to give his attention to Georgie but was concerned over her growing friendship with Dillon Quartermaine.
Lucas left town to attend boarding school and when he returned, he learned that Dillon and Georgie were a couple. Lucas met Brook Lynn Ashton and he appreciated her uniqueness and they grew closer as they helped Georgie and Dillon navigate their relationship. Brook Lynn and Lucas shared a kiss but their relationship never moved beyond friendship.
Later, Lucas revealed to his family and friends that he was gay. Bobbie struggled with the news whereas Tony gave his full support to his son. A few months later Tony died unexpectedly from an epidemic outbreak and Lucas mourned the loss of his father. After his father's death, Lucas moved to Seattle and Bobbie moved there as well a few years later.
Lucas returned to Port Charles to be with his mother after Carly went missing. He ran into his other sister Sam Morgan and his biological father Julian Jerome. Lucas was shocked to discover that Julian was alive and wondered why his mother had not told him. As Lucas digested the news, he met General Hospital lab technician Brad Cooper and Brad shared that though he had been raised by adoptive parents, his biological father was the former organized crime figure Kim Wu. Lucas was surprised by how much he and Brad had in common and they spent the night together. The next day, Lucas let Brad know that he was interested in pursuing what they might have despite Brad's attraction to a man named Felix.
When Brad's relationship with Felix failed to progress, Lucas and Brad decided to date. However, Lucas quickly ended his involvement with Brad after he learned his new beau had helped Britt Westbourne and her mother keep Lulu away from her biological son. Brad begged Lucas for another chance but Lucas refused to associate with someone that had caused his cousin so much pain. Felix was also disappointed in Brad's actions and Lucas and Felix bonded over their connection to Brad.
Lucas took Felix as his date to a family dinner hosted by his father Julian. At the gathering, Julian announced that he had left the mob and vowed to only participate in legitimate business. Shortly after the declaration, a man entered and shot Lucas in the chest. He was rushed to the hospital and underwent surgery while his family prayed that he would survive. When Lucas was released from the hospital, both Felix and Brad made their romantic intentions toward Lucas known as he recovered. Lucas eventually chose Brad.
While Lucas explored a relationship with Brad, he put his medical degree to use and accepted a position as a doctor at General Hospital. Meanwhile, his connection to Brad deepened and both men were caught off-guard by the depth of their feelings for one another. When Brad spontaneously proposed marriage at the Nurses Ball, Lucas accepted.
Lucas wanted to set a wedding date and start planning a big wedding, but Brad wanted a quiet affair at City Hall because his adoptive parents didn't approve of Brad's lifestyle.
Brad continued to drag his feet about getting married, which concerned Lucas. Eventually, Brad made the shocking confession that he was married. Lucas felt betrayed because he and Brad had been together over a year, and Brad had never mentioned a previous marriage. Morgan advised his uncle to hear Brad out before jumping to conclusions.
According to Brad, he hadn't married for love. Before Brad could reveal his spouse's name, Rosalie Martinez spotted Brad. She was startled to see him in Port Charles. Lucas was curious how Brad and Rosalie knew each other, so Brad admitted that Rosalie was his wife. Brad explained that he'd remain married to Rosalie to ensure that neither of them could ever be compelled to testify against the other because marriage was the only thing keeping both Brad and Rosalie out of Pentonville. Lucas wanted answers, but Brad refused to make Lucas an accessory or to risk Lucas' physical safety.
Rosalie stated that she didn't want to be married to Brad any more than Brad wanted to be married to her. Lucas accepted the situation and said he would keep Brad's secret as long as they worked together to get out from underneath it. Lucas and Brad called off their wedding.
Meanwhile, Lucas' relationship with his father remained rocky. After Sonny was shot, Lucas paid Julian a visit in jail to ask if Julian had been responsible for the shooting. Julian denied any involvement and claimed that he'd been arrested because Olivia Falconeri had seen Julian on the piers just before the shooting. Lucas was disgusted because he felt that his father had lied about leaving the mob.
Around the same time, Brad took steps to end his marriage to Rosalie by hiring Alexis. Brad promised to do whatever was necessary so he could spend eternity with Lucas. At the hospital, Sonny and his neurosurgeon, Dr. Mayes, locked horns. Lucas reached out to a good friend, Dr. Griffin Munro, to take over as Sonny's doctor. Lucas also gave his father a second chance and attended Julian and Alexis' wedding.
Brad surprised Lucas with documents showing that Brad's divorce from Rosalie had been finalized. Moments later, Lucas served as best man for Julian. As soon as Julian and Alexis had been pronounced husband and wife, the wedding was shattered when Landon Dixon burst into the church and fired a warning shot. He informed the guests that they were his hostages. Sonny saved the day by disarming Dixon and holding him at gunpoint until the police arrested the gunman.
Afterwards, Lucas paid his father a visit, but Kristina was home alone. She seized the opportunity to tell him that she was sexually confused and explained the details of her relationship with a professor at school. Lucas offered her understanding and some advice until Julian arrived. Lucas happily announced that he and Brad had set a wedding date in May.
Lucas suggested that he and Brad get married during the Nurses Ball. Brad appeared skeptical, but Lucas reminded him that they would have come full circle because they had become engaged at the Nurses Ball the previous year. Lucas said it was the perfect solution, since money was tight because of Brad's divorce from Rosalie. Lucas pointed out that family and friends would be present, and the food and decorations would already be in place. Lucas was overjoyed when Brad agreed.
Lucy loved the idea of Lucas and Brad getting married at the Nurses Ball, and she readily agreed when they asked her to officiate the wedding. Lucas and Brad decided to keep the wedding a secret and made Lucy promise not to tell anyone. Julian was flattered when Lucas asked him to be the best man. However, Julian suggested that Lucas get someone else because Julian's name had been linked to Carlos' murder, and Julian didn't want to steal the spotlight on Lucas and Brad's special day. Lucas decided to ask his sister Sam to be his "best person." She happily agreed.
At the Nurses Ball, Bobbie thanked Lucas for spending time with her before his wedding. Lucas confessed he had a case of nerves about the wedding. Bobbie, Lucas, and Brad toasted with Champagne, and Bobbie wished them a lifetime of joy. Bobbie suddenly fainted, and Lucas took her to the hospital. Once Bobbie was settled in, Lucas left to return to the Nurses Ball to get married, but he realized that he'd forgotten his keys and popped back into his mother's hospital room just as a serial killer, who had been murdering patients, was about to strike. Lucas raced to save his mother from certain death, but he was injected with a deadly dose of Derisifol.
Lucas slipped into a coma and was put on life support. Brad wouldn't leave Lucas' side. He pleaded with Lucas to wake up or squeeze his hand if Lucas could hear him. To Brad's astonishment, he felt a slight movement in Lucas' hand. A short time later, Lucas opened his eyes.
After the church refused to marry Lucas and Brad because of the church's stance on homosexuality, Julian offered his home for the ceremony. Family and close friends gathered at Alexis and Julian's home for the nuptials. The wedding was interrupted when the police arrived with a warrant to search Julian's home. Determined not to let anything stop them, Lucas and Brad were married while the police searched the house.
The wedding was a turning point for Julian and Alexis, as Julian refused to help his wife when she was arrested for a murder he had committed. After Julian was stabbed and recovering in the hospital, Lucas confronted his father about trying to kill Alexis. Lucas washed his hands of his father and walked away without a backward glance.
At the Floating Rib, Sam asked when Lucas and Brad intended to have children. Lucas admitted he didn't want to start a family because he knew Julian would want to be involved in his grandchild's life, and Lucas wanted no part of it. Sam pulled out a photo of the front of a Chinese restaurant. Sam claimed the Chinese characters translated to "Good Taste," but Lucas corrected her and said that although he wasn't proficient in Chinese, he'd been able to translate the symbols to read "Reincarnation."
At the hospital, Lucas saw Brad and Finn, who looked like they were having a heated exchange. Once Finn left, Lucas asked what Brad and Finn had been talking about, because it had sounded as if Brad had been blackmailing Finn. Brad claimed Lucas had misheard. Lucas was wary but accepted Brad's explanation.
Julian approached Lucas, but Lucas wanted nothing to do with him. Julian pleaded with Lucas for a moment of his time. He had a note for Lucas, telling Lucas everything that he wanted his son to know. Lucas questioned the timing of the letter.

Post a Comment

Share on Facebook

Tweet this

Submit Feedback