Passions Recaps: The week of June 14, 2004 on PS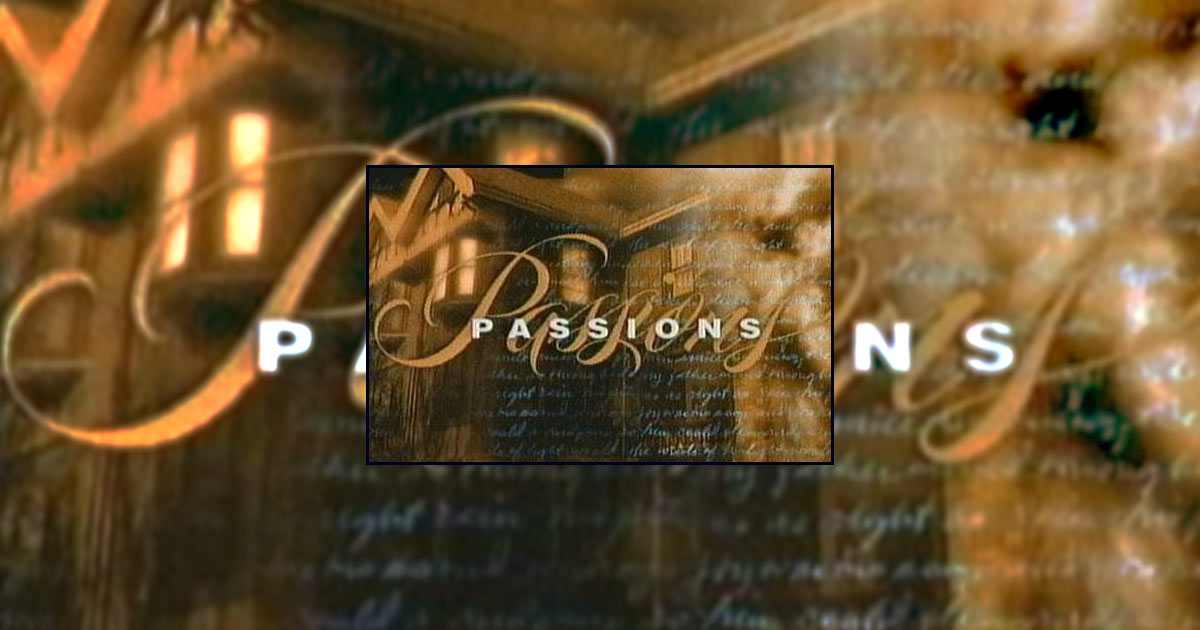 Monday, June 14, 2004
TC and Sam stop fighting and decide to shake hands. Meanwhile, Eve and Ivy tie one on and get drunk as they commiserate over Liz's ability to destroy both their lives and happiness. The booze emboldens them, however, as they vow to come up with a plan to derail Liz's hateful plans in a hurry.
Even being in jail doesn't discourage Luis from the notion that it's only a matter of time before he and Sheridan will live happily ever after together. Meanwhile, Sheridan is praying for the same thing to happen. The two recall happier days together and wish upon the same star for fate to bring them together.
After facing off with the assassin, Martin and Katherine work to figure out what to do now that Alistair has found them. While Antonio makes plans to move away with Sheridan, his wife is haunted by feelings for Luis.
Tuesday, June 15, 2004
During a chance encounter, Ivy and Julian bond and begin to form a friendship.
At the retirement home, Liz befriends Eve's crotchety Aunt Irma, who flips out in a rage whenever her niece's name is mentioned. Liz is confident she's found the key to exposing Eve's past.
After learning she'll never be able to have more children, Kay lashes out at Miguel. Meanwhile, Tabitha gives Charity a major guilt trip to make her stay away from Miguel.
Sheridan and Luis are finally reunited! A fuming Antonio refuses to accept it.
Wednesday, June 16, 2004
Whitney tries to cheer up a depressed Theresa, but the two friends end up arguing.
Julian comforts Eve and promises not to let his father stand in the way of finding their son.
Sheridan and Luis continue to celebrate their love, while an enraged Antonio watches. Pilar and Hank try to reason with him, but later, Antonio contemplates suicide.
Thursday, June 17, 2004
Theresa feels that nothing is going her way. She moons over her troubled relationship with Ethan and is feeling very sorry for herself. Whitney tries to talk some sense into her, but only winds up getting her angry. The two good friends end up fighting.
Julian makes Eve a big promise. He comforts her and says there is nothing and no one that will keep them from finding their son -- not even his father, Alistair. Meanwhile, Alistair is back to his old tricks again. He convinces Antonio not to give up on Sheridan even if that means killing Luis.
Sheridan and Luis profess their love for one another and can't believe they are actually together again. Antonio is disgusted when he sees them together and full of anger. Pilar and Hank try to reason with him but later, Antonio contemplates suicide.
Friday, June 18, 2004
Liz knows that if she can bring Aunt Irma to Harmony, she can get her to tell TC everything he needs to know to dump Eve for good. She begins to spirit the old lady away. Meanwhile, as Julian comforts Eve and holds her in his arms, TC opens the door to his wife's office.
Katherine thinks that she and Martin did the wrong thing by leaving Harmony, but Martin reminds her that they had no choice but to leave. Katherine and Martin can't deny their frustration and anger over how Alistair has hurt their children the way he has.
Antonio lashes out at Luis accusing him of brainwashing Sheridan. Meanwhile, Sheridan is tired of being pushed around and stands up to Alistair. Katherine and Martin find the mystery man and are stunned when he tells them he was expecting them.