Hey everybody, Reggie is feeling under the weather and will not be able to write his Two Scoops column this week. So I wanted to drop in and offer some thoughts on a few things so that you'd all have something new to read this week.
Last week, As the World Turns moved into fourth place on Soap Central's ratings system. The show pushed One Life to Live down to fifth place. I am assuming that the sudden interest in the show had more to do with the behind-the-scenes casting shuffles than it did with the actual action on the show.
If you've missed the news, Austin Peck has been released from his role as Brad Snyder. The news is very surprising because Peck has been wildly popular with fans. In 2008, Soap Central readers voted Peck "Outstanding Newcomer" in the Dankies. So what happened? Is the show pruning its cast to save money or is this just a standard storyline decision? While I will not go into it because I do not believe that it is appropriate to gossip about private matters, there are claims elsewhere online that Peck's ouster had nothing to do with saving money or storyline.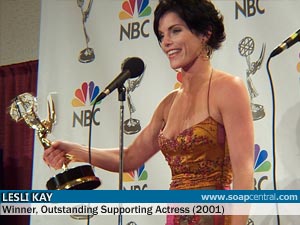 Elsewhere, Lesli Kay is coming back as Molly McKinnon. It's been more than five years since Kay last appeared on As the World Turns. If you remember, in 2004 the actress wanted to move to the West Coast to be closer to her family. The show let her out of her contact and Kay went on to join the cast of General Hospital. Molly was recast, but seeing Christina Chambers as Molly just didn't work for me. It apparently didn't work for other viewers either because the actress was cut just a few months later.
So why bring Kay back to the show now? I should also note that Kay will also continue working on The Bold and the Beautiful, where she's been for the past three years. I haven't quite figured out why two shows have agreed to share an actress like this because it's never been done before. Anyway, that's beside the point. There had been speculation that Molly might be involved in the Holden "death" storyline. Molly and Holden do share a past, so I guess that could make sense. Molly also has, um, "befriended" a bunch of other male Oakdale residents, so it's possible that the writers are looking to shake up some romantic pairings.
Speaking of Holden, last week the news of Holden's death started to make its way around Oakdale. Did you honestly believe that he's really, truly, most sincerely dead? I always wonder if soaps would be seen as more "credible" if they killed people and let them stay dead. Last week, we also found out that James Stenbeck somehow cheated death yet again. James Stenbeck has risen more times than a man with a Viagra addiction.
Poor segue here, folks, but I take, um, liberty with Liberty and her skanky little ways. I don't want to see teenagers hopping in and out of bed. Oh boy, I sound like my grandmother. Just to make sure I am not becoming a fogey, let me review. Liberty saw Parker hugging some unknown girl and she decided that the best thing to do was to hop in bed with some unknown boy... without protection. Later, Liberty learned that the unknown girl Parker had been hugging was -- drumroll! -- his cousin who had just lost her father. Oops! Since this is a soap, you know she's going to end up pregnant.
Well, Oakdale fans, that's going to wrap up my special pop-in appearance. I hope that you'll join me here on Soap Central all this week as I bring you the latest news from the Daytime Emmys. I'll be out in Los Angeles getting behind-the-scenes gossip and interviews with your favorite stars. Don't forget that Maura West, Julie Pinson, Van Hansis, and Meredith Hagner are all nominated for Daytime Emmys so be sure to tune into the telecast on August 30 to root them on!
dan
Founder, Soap Central
Send your thoughts to Dan J Kroll.
Two Scoops is an opinion column. The views expressed are not designed to be indicative of the opinions of
/ATWT Online or its advertisers. The Two Scoops section allows our Scoop staff to discuss what might happen, what has happened, and to take a look at the logistics of it all. They stand by their opinions and do not expect others to share the same view point.
• To make comments about the Two Scoops column or to chat with the Scoop staff, send Email to Jennifer or to Reggie.
• General comments can be sent to Two Scoops.