Rocco Falconeri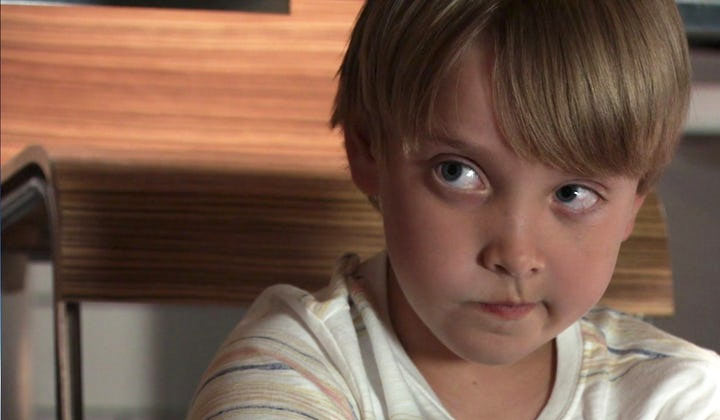 Nolan and Michael Webb
Diego and Mateo (last name unknown)
2013 to 2014
Liam and Oliver Friedy
2014 to 2015
Charles and Ethan Losie
Mason Tannous
O'Neill Monahan
Born onscreen September 9, 2013
Benjamin "Ben" Westbourne (birthname)
Cesar Faison II (name used by Liesl Obrecht when she kidnapped him on Mar 24, 2014 to Apr 8, 2014)
"Roc" (nickname given by Dante)
Student
Falconeri House #1237, Port Charles, New York
Formerly, 682 Paulson, Loft #4B, Port Charles, New York
Single/Never Been Married
None
Dante Falconeri (father)
Lulu Falconeri (mother)
Sonny Corinthos (paternal grandfather)
Olivia Falconeri (paternal grandmother)
Luke Spencer (maternal grandfather)
Laura Webber (maternal grandmother)
Mike Corbin (paternal great-grandfather)
Adela Corinthos Woods (paternal great-grandmother; deceased)
Talia Garibaldi Falconeri (paternal great-grandmother)
Tim Spencer (maternal great-grandfather; deceased)
Lena Eckert Spencer (maternal great-grandmother; deceased)
Gordon Grey (maternal great-grandfather; deceased)
Rick Webber (maternal great-grandfather; via adoption; deceased)
Lesley Williams Webber (maternal great-grandmother)
Walter Williams (maternal great-great-grandfather; deceased)
Lars Webber (maternal great-great-grandfather; via adoption; deceased)
Helene Webber (maternal great-great-grandmother; via adoption; deceased)
Charlotte Cassadine (maternal sister)
Leo Falconeri (paternal uncle)
Lila McCall (paternal aunt; deceased)
Morgan Corinthos (paternal uncle; deceased)
Michael Corinthos III (paternal uncle; via adoption)
Avery Jerome Corinthos (paternal aunt)
Nikolas Cassadine (maternal uncle; deceased)
Lucky Spencer (maternal uncle)
Ethan Lovett (maternal uncle)
Ric Lansing (paternal great-uncle)
Courtney Matthews (paternal great-aunt; deceased)
Vito Falconeri (paternal great-uncle)
Vinnie Falconeri (paternal great-uncle)
Phil Falconeri (paternal great-uncle)
Cosimo Falconeri (paternal great-uncle)
Bobbie Spencer (maternal great-aunt)
Patricia Spencer (maternal great-aunt; deceased)
Aiden Spencer (maternal cousin)
Spencer Cassadine (maternal cousin)
Valerie Spencer (maternal second cousin)
None
None
None
Conceived through invitro fertilization [Dec 17, 2012]
Frozen embryo stolen and implanted in Britt Westbourne [Dec 2012]
Born with fluid in his lungs [Sep 9, 2013]
Rash; diagnosed with latex-fruit syndrome [Feb 3, 2014]
Ear infection [Apr 23, 2014]
Had a cold [Feb 25, 2015]
Fever and a cold [Dec 10, 2015]
Complained of not feeling well [Jan 14, 2016]
Had a cold [Jul 19, 2019]
In late October 2012, Dante and Lulu Falconeri were crushed when they learned that Lulu was unable to carry a child to term, and her options were limited to extracting her few remaining eggs, fertilizing them, then finding a surrogate to carry Dante and Lulu's embryo to term.
Rocco was one of three frozen embryos that Dante and Lulu Falconeri had created in the hopes of starting a family. Lulu's best friend, Maxie Jones, had agreed to be the surrogate, leaving two remaining embryos. Dr. Britt Westbourne, Lulu's gynecologist, helped herself to one of the embryos in a desperate attempt to win back Dr. Patrick Drake by claiming that she was pregnant with his child.
On June 7, 2013, Britt felt the baby kick for the first time. She slowly began to bond with the unborn child, but Patrick had not been inspired to rekindle things with Britt, and he threatened to sue for custody. Desperate, Britt announced that Brad Cooper, not Patrick Drake, was the father of her baby. According to Britt, Brad had agreed to be a sperm donor because she'd been desperate to become a mother.
On September 9, Britt unexpectedly went into labor and gave birth to a baby boy that she named Benjamin Westbourne. The baby was born on Spoon Island, but he had to be rushed to the hospital when it was determined that he had fluid on the lungs. "Ben" recovered, but people quickly noticed that "Ben" looked nothing like his Asian father.
As Christmas approached, Britt had found romance with Prince Nikolas Cassadine, and she confided to him that Brad was not the "Ben's" father. She claimed that she had used an anonymous sperm donor to conceive her child. Britt knew that Nikolas would never forgive her for stealing his sister's frozen embryo, especially since it had been revealed that Maxie Jones had miscarried Dante and Lulu's child.
Adding to Lulu's heartbreak was the revelation that the baby that Maxie had given birth to was in truth Maxie and Damien Spinelli's child. Dante and Lulu had been forced to hand over their "daughter" to her rightful father, Spinelli. Britt loved "Ben," and she convinced herself that she was his mother in every way that mattered. However, the lie started to unravel when "Ben" had an allergic reaction that was revealed to be a result of latex-fruit syndrome -- just like Dante Falconeri. Nurse Elizabeth Webber became suspicious, and she decided to run a DNA test.
On February 17, 2014, Nikolas proposed marriage to Britt, but she turned him down because she knew that she couldn't marry him without telling him the truth about "Ben." She confessed that Dante was "Ben's" father, but she quickly lost her courage and claimed that she hadn't known at the time of her insemination that her mother, Dr. Liesl Obrecht, had stolen a sample of Dante's sperm. Nikolas assured Britt that they would explain everything to Dante and Lulu, and they would find a way to work out a custody arrangement.
Britt continued to be plagued by guilt, so Brad advised her to write a letter of apology to Lulu confessing everything then burn it. Britt decided to write the letter, but she accidently grabbed the wrong envelope. Later, Liz found the confession, and she quickly shared it with Lulu. At the same time, Dante's mother, Olivia Falconeri, had noticed her newfound grandson's strong resemblance to Lulu. Unfortunately, Liesl realized that Britt was about to lose "Ben," so she abducted the child.
Britt was arrested for stealing the embryos, so she offered to help the police track down her mother and rescue "Ben." To everyone's surprise, Diane argued that Britt hadn't broken any laws by taking Dante and Lulu's frozen embryo because the law hadn't caught up to science. At worst, Diane explained, Britt had committed larceny. A short time later, Diane secured a court order for Britt's release.
However, Liesl had reached out to her daughter to let Britt know where to find "Ben." Britt shocked everyone by turning against her mother. Britt returned "Ben" to his parents, and Dante and Lulu were finally reunited with their son on April 8. Lulu offered Britt an opportunity to say goodbye to "Ben" because Lulu appreciated that Britt had grown to love the baby. Britt promised "Ben" that Dante and Lulu would take better care of him than she had, and she vowed that she would always love him.
Dante and Lulu took their son home. They decided to name him Rocco because it had been the name that they had picked when they had thought that Maxie had been pregnant with their child. Rocco easily transitioned into his new home because his parents, grandparents, and extended family showered him with love and attention. As Rocco grew older, he developed a love for baseball like his father.
In 2017, Rocco was delighted to learn that he had a sister named Charlotte. Like Rocco, Charlotte had been conceived through unconventional means. Charlotte had been raised to believe that the surrogate who had carried her had been her mother, and she had bonded with her father's new wife, so Charlotte was reluctant to give Lulu a chance. However, Charlotte was quick to bond with Rocco, and Rocco played a key role in helping Charlotte get past her reservations about their mother.
In time, Charlotte grew close to both her brother, mother, and her stepfather, but their happiness would not to last. In June 2018, Dante took an undercover assignment for the World Security Bureau. Dante briefly returned home in March 2019, but the trauma from his undercover assignment had left both physical and psychological scars. Dante decided to seek treatment with the WSB for his post-traumatic stress.
Dante's extended absence took a toll on Rocco. On July 23, Lulu's boss, Peter August, agreed to watch Rocco to give Lulu a night out with her best friend Maxie. Rocco had asked Peter to read him a story then picked the book that he wanted Peter to read. It was a sad tale that Peter decided to end on a happy note, but Rocco called Peter out on it because Rocco knew that the story had been about a father who didn't know how to be a father. Rocco wondered if that had driven his father away. Rocco confided to Peter that he was angry at Dante for staying away. Peter empathized because he'd grown up without a mother, but he assured Rocco that Rocco was not to blame for Dante's choices.

Post a Comment

Share on Facebook

Tweet this

Submit Feedback