As The World Turns Recaps: The week of October 8, 2007 on ATWT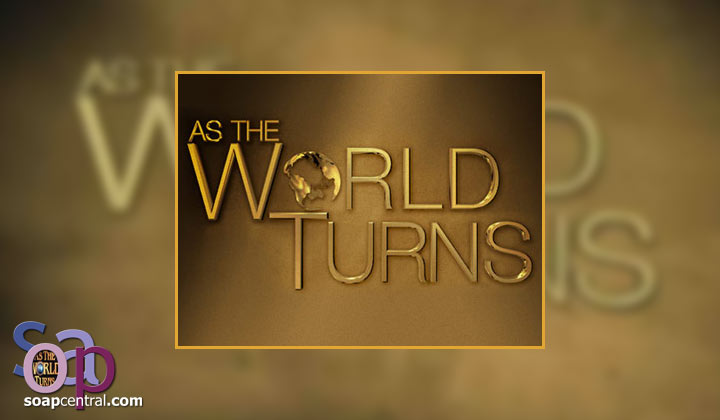 Monday, October 8, 2007
In the Emergency Room Dusty is being questioned by the police. He tells them that Colonel Mayer must have drugged his scotch, shot him and put him in the trunk of his car. Dusty told them that he knows Colonel Mayer was the one that killed Cheri Love.
Margo arrives and questions him. He tells her the whole story with him and the Colonel. Margo was very upset he didn't tell her what he had found out Cheri's death. He told her that once she had charged him- she wouldn't have believed him. She told him that she wasn't out to get him- that the case was on going, but Dusty told her it didn't look like it. She brought up how Dusty shot Craig- but he pointed out that when he shot Craig he confessed- and he had told her he didn't shoot Cheri. Unmoved, Margo tells him that he better hope that Mayer doesn't hurt anyone else before they find him.
Holden and Lily frantically race to where Winston, Noah and Luke are camping. Lily and Holden find the campsite, but Luke is nowhere in site. Lily wonders where he is and Holden replies "We don't know; thanks to you!" They continue calling for Luke around the campsite. In the woods Winston is about to shoot Luke, but just then Noah joins him. Winston stops and watches them. Noah wants to kiss Luke, but Luke stops him because he worries that Winston will see them. Winston is enraged by their closeness raises the gun and fires- but the gun jams. He reloads and follows Luke. They meet face to face on the trail. Winston raises his gun to shoot but Luke rushes towards him and they struggle. Noah runs over and tries to stop his father, but Winston pushes him out of the way. Holden and Lily are now there, and Holden struggles with Winston who gets the gun back and fires it as everyone is horrified. Holden wrestles him to the ground, but lets him go when Lily calls for him. Luke is lying on the ground unconscious. Lily tells Holden that he is bleeding. Holden calls for help on his cell phone. Noah asks his father what he did; Winston tells him he was protecting him from being what Luke is. They argue and Winston runs away with the gun in hand.
At the hospital Bob tells Lily and Holden that Luke is in surgery and because of the seriousness, it will be a while. He leaves. Lily tells Holden to tell her everything is going to be alright, but an angry Holden tells her he can't do that.
Margo arrived at the hospital and talked to Noah. Noah tells her he didn't know his father was capable of this. Margo asked him if there was someone he could call, but Noah told her "not anymore." Margo mentioned Dusty and told Lily he was going to be ok. "Thank god!" she exclaimed. Holden sarcastically agreed.
Before going to the station with Margo, Noah tells Lily he had no idea this would happen. She tells him that she knows and he leaves.
Lily goes to Holden and tells him that Noah had no idea, but he said "but you did." She tries to explain, but Holden won't hear it. He told her that she knew that Winston was a killer but said nothing. Lily asked him if he was saying she was responsible for what happened, but Holden left saying he had to get some air.
At the Oakdale PD, Katie gives Jack the papers for the house for him to sign and is frustrated with his lack of attentiveness. He then tells her he can't do this. He tells Katie that he feels he is dumping everything on her. He then told Katie that Carly's disease is progressing faster than they thought it would and that he needs to be with her; to watch out for her so she can spend as much quality time with the kids as she can. He apologized to her but she told him that she understands and that right now they need to not worry about getting things for the house. She told him that she will spend more time helping him, help Carly.
Margo told Jack that he doesn't need to be at work. Jack tells her that he feels telling Katie that he is going to spend more time with Carly without discussing it with her first was a mistake. He tells Margo how great Katie has been through this whole thing. She told him that he is trying to be everything to everyone. Margo told him that he needs to stick to his promise to Carly, but make time for Katie too. She also reminded him that he needs to take care of himself.
In Old Town Katie confides in Brad over coffee. She tells him that she wants to help out in anyway she can and plans on going to Carly's today to see if she can take JJ for the day. She asks Brad if he would come with her. Brad asks her if she is scared to see Carly alone. Katie said no; she was terrified.
At home Carly helps JJ with a school project. Carly's hands start to shake when she tries to cut some paper and JJ asks if she is alright. She told him it's not his job to take care of her. Carly told JJ how important it is that she be able to do things like help with the project. Things are going fine, but when JJ brings her some water he sees her wincing in pain and taking her pain medicine. JJ is clearly concerned and tells her how he feels, but the the doorbell rings- it's Katie and Brad. JJ asks what they were doing there. Carly scolds JJ for being so blunt and invites them in. Katie tells JJ that she has a surprise for him at the studio, but JJ reacts angrily saying that he wants to stay there with his mom. He storms out of the room.
Outside Katie is on the phone with the studio while Brad tells Carly to get JJ to go with him and Katie, but Carly tells him the she can't make him do something he doesn't want to. Brad tells her that life needs to go on for JJ and it would be good for him to go. Carly tells Brad that Katie could at least wait until she is dead before taking her son from her. Brad tells her he understands where she is coming from, but this is for JJ. Carly softens a little asking Brad what the surprise is. Katie came back in and apologized to Carly, but there is someone coming to the studio that JJ would love to meet; Phil Simms. Carly says that JJ loves him. She told Katie how thoughtful she was to do this and went to go get JJ.
At the Oakdale Now studio JJ meets Super Bowl XXI MVP Phil Simms. He is thrilled! They prepare to have a picture taken and Mr. Simms invites Katie to be in it. She stands next to JJ and puts her arm around him- but he becomes upset. He yells at her to not touch him and he runs off.
Katie went to JJ. He told her that he didn't want to go- he wanted to stay home with his mom. Katie told him that both she and Carly thought it was a good idea. JJ told her that she was just pretending to like him; that she was waiting for Carly to die so she can be with his dad.
Jack arrives at Carly's. He knocks but there is no answer. She is on the floor leaning on the couch, but is awake. He wants to call the Doctor, but she says no. While she is freshening up Jack finds the DVDs she made for each of them. He plays the one labeled for him. On the DVD Carly tells Jack how much she loves him and that she is happy that he is with Katie. She wants him to be really happy and that's all she wants. Shaken, Jack turns it off. Carly, who was watching behind him reiterates what she said; "I want you to be happy- really happy." He tells her he doesn't know what to say. Carly tells him that there are things that she still needs to say to him. Uncomfortable, he tries to leave, but she stops him. She tells him that she lived her life like she had a million chances. But now she was out of chances, no more do-overs. He told her that the way she lived her life made her exciting; it made him love her. She told that she meant what she said- she wants him to be happy with Katie- but there was just one more thing that would mean the world to her; one more chance for him to hold her, just one more time to feel the way she felt when he kissed her- just one more chance.
Tuesday, October 9, 2007
After asking Jack to kiss her one last time, he begins to speak, but Carly stops him. She backs off and apologizes, telling him she is scared, but Jack interrupts her with a kiss. After kissing, each back away and are silent. They say nothing, but look into each other's eyes as he helps get her comfortable on the couch.
Carly starts to speak, but Jack tells her to rest. He goes to leave, but Carly tells him to wait. She thanks him for everything. He leaves but sits outside her house looking conflicted. He goes to go the door. Inside Carly is replaying their kiss and senses him outside the door. She opens the door, but he isn't there.
The doorbell rings; it's Brad. They are talking, when JJ comes home. She wants to know how it went at the studio. He hangs his head saying it was just ok. Brad tells him to finish up with his school project in the kitchen. Brad filled Carly in on what happened with Katie and JJ. Carly says that Katie is acting like she owns JJ and she doesn't blame him for being upset, but Brad tells her that she needs to let go of her anger. She tells Brad that she knows that Jack still loves her- and she feels it stronger than she ever did before; but it's too late now to do anything about it.
She said that she thinks she is getting what she deserves. She feels it is divine justice that she and Jack spent so much time denying how they felt and now they have no time left. Brad tells her he doesn't care about that- he just doesn't want her to die. She says that but for the dying part it would almost be worth it.
At WOAK JJ is telling Katie that he thinks she is waiting for Carly to die so she can be with Jack. Katie tells him that it's not true. She points out that she and Carly were once friends, but JJ doesn't believe her. A hurt Katie tells JJ how much she cares for all of them, but JJ tells her that if she really cared about Jack she would let him go be with the person he really loves.
Katie tells JJ that he is right; Jack does still love Carly, but that he is in love with her. JJ tells her that she just wishes this was true but she was wrong. Just then Brad intercepts and tells JJ that even though he has a lot to deal with, he is out of line. Brad tries to tell Katie that this isn't about her and that JJ doesn't hate her. Katie tries to defend JJ, but an upset Brad tells her that he shouldn't be treating her like this and goes to talk to him.
In the WOAK office Brad tells JJ that what is happening to Carly really stinks, but this isn't how to handle it. He told him that Katie is trying to make an awful situation more bearable for him, but JJ tells Brad that she can't and should stop trying. Brad tells him that Katie really cares for him. JJ says "whatever" but Brad tells him that if he wants to take shots at someone; take them at him. JJ gets his anger out hitting Brad but soon is sobbing in his arms.
JJ and Brad came out of the office and JJ apologized to Katie and went out to the car. Katie hugged Brad. She thanked him for helping with JJ. She told him that lately he has really been there for her. Brad told her it was no big deal. Katie told him it was nice to see another side of him. She smiled at him as she left.
Katie arrives back at the room at The Lakeview and Jack is already there waiting for her. She starts telling him about what happened, but Jack is preoccupied. She asks him if something happened at Carly's. He tells her something did. He tells Katie how he found Carly on the floor and that Carly had asked him to kiss her. Katie is shocked, but tells him that she isn't upset, but rather embarrassed for him and assumes that he told her no- but he tells her that he did kiss Carly and it was a real kiss. Jack knows Katie is upset but tells her it was just one kiss. Katie tries to brush it off, saying that she doesn't blame Carly. She goes to give Jack a kiss, but backs away when she sees his face. She asks him if the kiss meant something, but Jack said that he doesn't know. He tells her he is feeling things that were supposed to be gone and admits that he has feelings for Carly. He tells her that he gave up on Carly a long time ago, but when he found her on the floor everything came flooding back. He wants to save her, but can't. He admits that doesn't know if he kissed her to help Carly forget she is sick, or to make himself feel better. Katie tells Jack that if he still has feelings for Carly, where does that leave her?
In Old Town Rosanna leaves Paul a voice message. She turns and literally runs right into Craig. He comments on her and Paul's upcoming wedding and asks her where Paul is. She tells Craig that Paul must be with Barbara telling her about their wedding. Craig says they should all celebrate, but Rosanna said that Meg still carried a torch for Paul. Craig disputes this and says that he trusts Meg. Rosanna told him that he should trust her since there was no way Paul would do anything with her now. Craig asks her that if she is so confident about Paul, why doesn't she give Montgomery Enterprises back to him. But Rosanna told him that it is too soon and Paul would become suspicious. She told him that until Meg becomes pregnant she won't give him back the company. She tells him that she is sure Meg is honorable enough to not cheat on the father of her child, but Craig asks Rosanna if she is sure that Paul won't chase a married woman. Rosanna told Craig that there was only room for one married woman in his life; her.
At the cabin Meg and Paul embrace after making love. Meg suddenly tries to leave saying that she shouldn't be there, but Paul grabs her, they kiss and she is easily convinced to stay. Paul tells her how beautiful she and tells her about the moment he fell in love with her and tells her he loves her. He tells her that he tried not to- tried to hate her, but couldn't. He told her that he gives up. He laments the things he said to her, but after fighting so hard to get back to her and finding her with Craig was really difficult. Meg told him that she had no place to go- when she thought she had lost him- she lost herself. Paul told her that he hopes they can get past it, because he now sees that it doesn't matter if she is married to Craig; she belongs with him. He said that Craig will finally know what it feels like to lose. Meg abruptly left the bed leaving a puzzled Paul. She tells Paul that she is leaving because he can't let it go; Craig.
Paul pleads with Meg to talk to him, but she refuses. She tells him that he only wants her so Craig can't have her. Paul tells her that she is leaving not because she is scared by how much he hates Craig, but because she is scared of how much he loves her.
Paul tells her that he knows Craig doesn't love her or touch her the way he does but she is safe because her heart is already taken. Meg angrily tells him that his heart is also taken- by Rosanna. She tells him that if he loved her he wouldn't have asked Rosanna to marry him and she can't afford to love someone who would do that. She leaves the cabin.
An angry Paul storms into Al's looking for Meg, but instead finds Rosanna. She tells him that she is surprised to see him and that she had been trying to reach him for hours. He tells her that his phone didn't ring. Rosanna tells him that he was with Meg; wasn't he? Paul denies this. Rosanna apologizes and tells him that she saw Meg earlier and told her that she was only with Craig because Paul didn't want her and she told her about their wedding date. Paul said that he was glad she told her. Rosanna said she had to drop a package for Carly off to Jack at the station so Paul said he would go with her. As they go to leave she notices a leaf in Paul's collar. They both nervously act as if it's nothing.
In Old Town Craig meets up with Meg and gives her a gift he just bought for her; a negligee. Putting it away, Meg tells him it's an inappropriate gift to open in Old Town. Craig suggests they go home so she can put it on, but Meg is less than thrilled. Craig then tells her that they aren't going anywhere until she tells him what's wrong. He affectionately touches her head but she pulls in away in pain. She tells him that she went for a walk in the woods and was hit over the head by someone. Upset, Craig wants to know who did this. He insists that they go to the police and won't take no for an answer.
At the Oakdale police station Craig tells officers that his wife was attacked and he wants to file a report. Paul overhears and wants to know what happened; he has a cabin in those woods and has a right to know. Meg leaves to freshen up before giving her statement. Craig tells Paul to go home to Rosanna. In the hall Meg asks Paul what he is doing. She tells him that they are over and that if he brings up what happened to her or Craig, he will be very sorry. She goes back into the station. Rosanna joins Paul after leaving the package for Jack and is ready to go. They happily kiss and leave as Meg watches through the door.
Wednesday, October 10, 2007
Luke is settled into his hospital room as Dr. Bob explains to Lily and Holden that he is stable, but they are not sure yet the extent of damages from his injury. Lily goes into Luke's room and checks in on him before leaving the hospital for a few minutes to talk to Holden. Once she and the nurse are out of his room Colonel Mayer sneaks in and looms over Luke's bed and begins to fiddle with his I.V. when the nurse walks in and tells him to leave the room unless he is family. Away from the hospital, Lily has met up with Holden at Al's Diner and questions whether Holden believes she intentionally withheld information knowing that Luke might be hurt. Holden tells Lily she should have told him that Colonel Mayer was a potential threat, but he knows she wouldn't knowingly put Luke in danger. When Lily begins to cry, Holden starts to reach out to support her, but pulls back. Holden says he will be a "united front" in front of Luke because he needs them, but that their fight is not over. Lily leaves to go back to the hospital while Holden pays his check.
Back at the hospital, the Colonel is outside of Luke's room in the hall and finds a syringe on a cart. When the nurse leaves again he goes back in and stands over Luke holding the syringe. Luke wakes up and sees the Colonel standing over his bed with the needle as Lily walks in and screams at the Colonel to get away from her son. She fights with him over the needle and as she starts to lose Dusty bursts in and grabs the Colonel and tells Lily to get out. Dusty knocks the Colonel out as Lily arrives with the police and the Colonel is arrested. Dr. Bob enters the room to find out what happens and sends Lily and Dusty out so he can check Luke and make sure he is o.k. Out in the hall Lily cries in Dusty's arms as Holden appears and witnesses the two. He rushes over and asks Lily what is going on and she explains. Dr. Bob comes out and tells everyone that Luke is disoriented, but fine and wants to see his mom and Holden. Inside they find Luke wondering why he is in the hospital. Lily asks him to recount what he remembers and he recalls the fishing trip and asks if Noah is o.k. Lily and Holden explain to Luke about the Colonel attacking him and Cheri being Noah's mom. Luke is concerned for Noah and asks to go and see him, but Lily and Holden explain he needs rest. Luke agrees saying that he must be tired because he feels numb and really can't feel his legs. Concerned over what Luke has said Lily immediately seeks out Dr. Bob.
Noah is interrogated by Margo at the police station and he explains his father would never hurt anyone and that something must be wrong with him. Margo shows Noah a picture of Cheri and asks him if he knows who she is. Margo is called out on a phone call and Noah stares at the picture and wonders why Margo is questioning him about a dead hooker. When Margo returns she explains that the woman in the photo is named Charlene Wilson and she was Noah's mother. Noah is shocked by the news and at first doesn't believe Margo. She quickly convinces him that Cheri was his mom and that Dusty wasn't not her killer, but his father was.
After his arrest at the hospital, Colonel Mayer is brought to the station where Noah confronts him about the true identity of his mother. The Colonel says it was the right thing to do and that Cheri didn't deserve to be his mother. Dusty arrives at the station and overhears their conversation. He tries to explain to Noah that he killed Cheri and tried to kill Luke to protect him and turn him into a "strong and decent man." Dusty watches as Noah walks out on his father and Margo orders the Colonel booked for Cheri's murder. Dusty goes to find Noah who apologizes for what his father did and Dusty reassures him he is not responsible for what his dad did. Dusty asks if he has anywhere to go or anyone to talk to and encourages him to go see Luke because Luke needs him.
At the hospital Noah arrives in time to see Dr. Bob asking Luke to move his legs, but Luke is unable to move and begins to wonder loudly what is wrong with him.
Carly calls to say good night to Sage and reminds her to say her prayers. Talking to Sage inspires Carly to get down on her knees and ask God for a long healthy life with Jack and her children. Carly tries to bargain with God to save her for Jack and the kids and asks God shows her to show her a sign through a bible verse that will tell her whether she will live or die. She reads a verse about love and not being able to see it and becomes frustrated and asks for a concrete sign just as the phone rings. The call is from her doctor who tells her he needs to see her right away and will drop by with some news. The doctor arrives at Carly's house and informs her that she may not have a lesion at all, but an abscess that may prove to not be deadly. He explains the headaches and dizziness are caused by the abscess and that he is certain that she was misdiagnosed. He reassures her that she can be treated with antibiotics and in a couple of weeks she will be fine. Carly is overjoyed with the news and looks to the heavens and says a simple "Thank you."
Back at their hotel room Katie asks Jack what the kiss between him and Carly really meant. Katie cries over Jacks betrayal as he tries to justify that kissing Carly didn't mean anything because he will be with Katie for the rest of his life, but he can't deny that he still loves Carly. Katie questions if losing Carly will leave her filling an empty space in Jack's life and she leaves the room in tears. Jack tells Katie he loves her and he will try to make everything easier, but he can't change how he feels about Carly. Katie offers to get Carly help so she and Jack can have a little more time together and Jack tells her that Carly needs him. Katie tells him she doesn't want him to turn his back on Carly and she knows he needs to be with Carly, but she can't watch him always go to Carly and asks him to move out. She explains that she understands that Carly and the kids need him, but that she can't put herself through imagining what he and Carly are doing and it will be easier if she isn't waiting, counting the minutes, until he is home. She begs him to put her first in this situation and he agrees and leaves.
Jack arrives at Carly's house after leaving Katie and she begins to tell him about her good news, but Jack thinks Carly is acting a little crazy and seems flushed so he asks her to calm down and takes her temperature. Once Carly is seated she asks Jack why he is back and learns that Jack told Katie about the kiss and that she has asked Jack for time apart. Jack leaves to get Carly some water and she smiles to the heavens. Carly apologizes that her illness came between him and Katie, but Jack explains it wasn't the illness, but his feelings for Carly that came between him and Katie. Jack asks Carly to tell him about her good news and she tells him she will let him know later. Jack rubs Carly's shoulders and tells her he will help her through this all she needs to do is ask. Carly tells Jack to stay with her and he accepts, saying he has no where else to be.
Katie goes to the lounge after Jack's departure and runs into Henry. She tells him everything and Henry tries to console her, but Katie explains she can't wait for Carly to die so that Jack will love her. Henry walks Katie back to her room and tries to cheer her up, but once alone in her room she looks sadly at her ring.
Thursday, October 11, 2007
Barbara urges Will not to use Ali as a donor, as Ali informs Gwen that her eggs are mature. Sofie tells Gwen they should steer clear of each other. Barbara and Will argue about Alison's suitability as a donor. Aaron tells Sofie that he and Alison are over, as Alison admits to Gwen she thinks Aaron would be happier with Sofie. In front of Barbara, Gwen says Alison's eggs are ready. Noah wants to talk to Dusty about his mother. Noah is angry his mother abandoned him. Maddie tells Noah he's hurting Luke by staying away from him. Maddie is upset to see that Noah is drinking, and he kisses her. Bob informs Lily and Holden that there's a chance Luke will never walk again. Luke falls out of bed, and Holden reveals what Bob said. Luke says he wants to be alone, but asks about Noah. After talking to the nurse about Luke's physical therapy, Holden turns to find Dusty there. Holden confronts Dusty and decks him just as Lily enters.
Friday, October 12, 2007
Maddie pushes Noah away and tells him he belongs with Luke, not her. Noah thinks if he had just stayed with Maddie, everything would have been fine, but Maddie tells him that wouldn't have been right for him, and they can't go back there now. She tells him that pretending to be straight won't help him or Luke, and he apologizes for coming on to her and leaves.
After Holden knocks Dusty down at the hospital, Lily tells him if he wants to be mad at someone, be mad at the psychopath who wanted to hurt Luke just because he's gay. Dusty leaves. Lily asks Holden what they can do about the fact that they are barely speaking while their son is in so much trouble. Holden says he doesn't know how to stop history from repeating itself, that they always seem to be sitting at someone's bedside in the hospital. He says he doesn't blame her for that, but he doesn't want to keep going over the same ground. He goes in to see Luke.
Lucinda finds Dusty sitting on "her" bench in Old Town and joins him. She tells him she's on her way to the hospital and is worried about Luke; he tells her she should worry about Lily, too, because her husband's not being very supportive. Lucinda realizes Dusty's been punched in the face and that it was Holden who did it; Dusty tells her that Lily will fill her in, and he leaves. Lucinda arrives at the hospital and hugs Lily outside in the hallway. She offers to get a top specialist for Luke, but Lily says she doesn't know how Holden would feel about that, and she says they are having a hard time agreeing on anything right now. When she tells Lucinda how critical Holden has been of her lately, Lucinda responds, "He's a Snyder, dear --- they're always holier than thou!" But she says that's who Lily married and who she fell in love with, and Lily says she still loves him but feels like they're caught in a vicious cycle with Luke in the middle. Lucinda tells Lily not to blame herself for what has happened, and after Burt, the physical therapist, walks up, Lucinda goes to get coffee for everyone. Burt and Lily go into Luke's room, where he introduces himself to Luke, who is less than enthusiastic. Burt asks Holden and Lily to give him a minute with Luke, so they leave. Holden says he's going to Al's to get coffee, and Lily tells him Lucinda's here and just went to get some coffee for them, but he says he'll go anyway because he needs to get out of there for a while. He leaves, and Burt comes out and tells Lily that they'll need to work on Luke's attitude and that Lily is his secret weapon. Lily goes back into Luke's room and tries to bolster his spirits, but he says things don't work out for him, citing Noah as an example, asking "Where is he now?" Lily leaves and finds Holden still at Al's, where she tells him that she thinks they do need to call Noah, but Holden's not having any of it, saying Noah is the cause of Luke's problems. He brushes her off and leaves. Back at the hospital, he runs into Lucinda, but when he realizes she wants to talk to him about Lily, he tries to brush her off, too. Lucinda is persistent and goes after him, finally catching up to him and telling him she knows they are all exhausted and worried, but he needs to try to talk to his wife. He says Lily knew Colonel Mayer might have killed his wife but didn't say anything, and Lucinda says Lily is Luke's mother and would never intentionally let any harm come to him. Holden asks how many times he's supposed to forgive her, and Lucinda says if he loves her, then as many as it takes.
At Al's, Lily tries to call Noah anyway, but he won't pick up his phone. She then runs into Dusty and asks him to find Noah for her and get him to come to the hospital. Dusty goes to the Lakeview, where he finds Noah, who has been given a suitcase with his father's belongings in it. He tells Dusty he doesn't want it and just wants to get as far away from Oakdale as possible. Dusty says he doesn't seem like the type to run out on a friend who needs him, and he tells him Lily thinks Luke really needs to see him now. He encourages Noah to not be a coward and to prove his dad wrong, and in the end, he gets Noah to go to the hospital with him. Lily thanks him for coming, and she and Dusty leave Noah in the room with Luke, who's dozing. When Luke awakens and sees Noah, he reaches for him and holds his hand. Lily thanks Dusty and hugs him, just as Holden walks up. Dusty quickly leaves, and Lily tells Holden that Dusty brought Noah to the hospital.
Katie arrives at WOAK late for work, and she and Brad talk about their interview with author Emily Giffen, which neither one has really prepared for, but when Katie asks what Ms. Giffen's books are about, Brad tells her she writes about getting back together with your lost love. As they do the interview, the author says falling in love with your best friend can be wonderful, but if you give your best friend your heart, you'll never get it back. Katie excuses herself and leaves the set, so Brad finishes the interview alone. After the author leaves, Katie thanks Brad. Her cell phone rings, and when she hears it's Jack, she hangs up after telling him she's in the middle of an interview. She then tells Brad that Jack kissed Carly, and when Brad points out it's not like he's jumping into bed with Carly, Katie says it's not like he's jumping into bed with her, either. Brad says he'll talk to Jack, but Katie says no and leaves the room.
Later, the realtor comes to see Katie at WOAK and tells her she needs to do something today if she wants that house, because other people are interested in it, too. She tells Katie that having a house together can help make a new marriage seem more permanent, and Katie brightens at the thought of that.
Carly comes downstairs after waking up from a nap, and Jack tells her the kids are at a football game at the high school. She is on the verge of telling him that she's not dying after all when the phone rings. Jack answers, and it's Dr. Evers, who asks Carly how she's feeling. With Jack out of the room, Carly tells the doctor she's feeling better now that she's not taking medication she doesn't actually need, and he apologizes for putting her through that. He asks if she can come in to see him in an hour so he can run a few more tests to be sure the abscess isn't growing and to pinpoint the source of her infection. Carly agrees and hangs up; Jack comes back in and sees her bottle of pills in the wastebasket. He asks her why she threw them away, and Carly says she didn't, that they must have fallen, and that she'll take one now. He gives her a pill, but she only pretends to take it. She tells Jack the doctor wants to run some more tests, so he says he'll drive her to the hospital. She says she can take a cab and that he should get back to Katie, but Jack tells her he's where he wants to be right now. He takes her to the hospital, and the doctor privately tells Carly that he just wants the tests to confirm what he already knows, that she doesn't have a lesion after all, saying he doesn't blame her for not taking his word for it right away. As they leave the room, Jack sees the doctor and thanks him for everything he's done, then tells Carly he won't let her go through the chemo alone. The doctor tries to tell him Carly won't be having the chemo after all, but he is paged and has to leave; he tells Carly he'll call her with her test results. Jack wonders why they're still running tests, and Carly says so that they won't treat her for the wrong things. Just then, Jack's cell phone rings, and it's Brad, who tells him he should be home with his wife right now, except that he and his wife don't actually have a home. Jack asks if Katie knows Brad is calling, and he says no, so Jack tells him to mind his own business and hangs up. Jack takes Carly home, where he pleads with her to have the chemo, but Carly says there's something he doesn't know, that she doesn't need the chemo after all. Jack doesn't understand, and Carly says she's doing better on the medications they've given her, so Jack asks how much time she has. Carly says she doesn't know how much time she has, but she doesn't want this to end, their time together. Jack asks if he can move in with her, and he holds her tightly as he tells her he wants every minute he can get with her.
Brad goes to the hospital looking for Jack and Carly, but they've already left. He runs into Dr. Evers, though, and reintroduces himself, asking if Carly started her chemo today. Dr. Evers says he supposes Carly hasn't had a chance to tell everyone the good news yet, and when Brad asks what that means, he tells him that she doesn't have a lesion after all, but instead has a condition that's very curable.