Port Charles Recaps: The week of August 3, 1998 on PC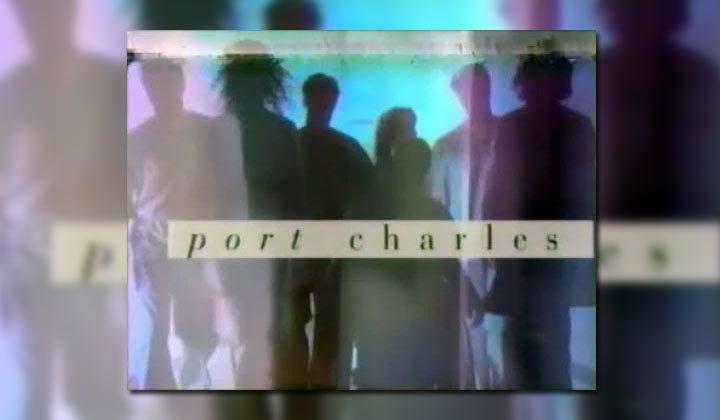 Monday, August 3, 1998
Mike enters Matt's apartment with a flashlight and finds him unconscious. He calls 911 and the paramedics (Frank of course) bring him to GH. Ellen starts treatment. Matt is conscious and speaking - he and Ellen get mushy.
Kevin told Garcia he wants to go back on the air to catch the killer. Garcia doesn't go for it and leaves. Victor opines that Garcia may be right. Kevin gets mad and asks if they are supposed to wait until the killer hits someone else - perhaps Lucy. Victor points out that he's worried about Lucy, Kevin says it's means nothing. Later, Victor shows Kevin some phone devices. One blocks phone tracing, another cracks the block. He got all the equipment via the internet. Kevin wonders why he bought the block. Victor tells him they threw it in for only 10 dollars.
Courtney attempts to be nice to Mary. Mary is very cold. She says that Joe quitting college and chasing Courtney to Europe was the worst mistake he ever made. Courtney apologizes. Mary doesn't soften and walks away. Karen overhears and just puts Mary's behaviour down to no woman being good enough for her boys. Courtney warns Karen to be cautious of Mary - she may seem accepting on the outside, but will try to undermine Karen and Joe's relationship.
Joe told his less than happy Mom about his engagement. He points out that she's harder on Karen than the other interns. She damns her with faint praise, and brought up Karen's unsavory past. Joe defends her as having no support as a child. She then brought up Karen's "seducing" Joe into playing hooky and Karen's divorce. Joe told her that her attitude gives him no choice but to elope. Mary tries to get Joe to reconsider - Karen comes up and nixes Vegas as a wedding spot. Joe told Mary that they'll get married with or without her blessing. Karen told her she doesn't want to get married without her blessing. Joe and Karen tell Mary how committed they are to each other. Mary relents and told them congratulations, but asked them not to rush anything - to not let the marriage get their careers off-track. Joe gets paged and leaves, and so does Mary. Courtney comes up and reminds her to watch Mary.
Mike is showing Alejandro around Matt's place. Mike thought it was faulty wiring, but Alejandro thinks it was another murder attempt as Matt's character is electrocuted in General Homicide. Mike leaves to go back to GH, while Garcia picks up the button from the bathroom floor. Mike told Matt that his injury wasn't an accident. Meanwhile, Garcia shows the button to Kevin and Victor - Victor announces that it's Kevin. Kevin says it must have been planted. Garcia concurs - he can't see Kevin doing electrical work in a cashmere jacket. He also has changed his mind about using Kevin as bait for the killer.
Tuesday, August 4
Kevin went back to the radio station for another live show. Victor records the transmission from the lighthouse. Kevin gets a bunch of freak calls, and eventually the killer calls. He reminds the audience that he promised that someone else would die soon. Kevin told him that no one else has died. The killer brought up Matt's "accident" and claims responsibility. Kevin asks him why he's been killing all these people, trying to lure some information out of him. The killer responds by bringing up Kevin's past, including Ryan. Garcia gets a trace and told Kevin to keep him on the line until they pick him up. Kevin asks him why he picked General Homicide to copycat. The killer says that he's not copying anything and that he knows all about Kevin's dark side. He hangs up.
Matt told Frank that his "accident" was no accident--someone rigged the light to electrocute him. When Frank points out the similarities to the way Matt was killed in General Homicide, Matt told him that he thinks Chris was behind it. Later, Frank confronts Chris about Matt's suspicions. Chris denies any wrong-doing and asks Frank about his role in the killings. They argue and Chris reminds him where he gets his DL56.
Matt told his suspicions about Frank and Chris to Mike. Matt, Mike and Ellen listen to Kevin on the radio. Matt suggests looking for Chris and Frank immediately to see if either one is on the phone. Ellen and Mike take off looking for them, but come back empty handed. Neither Chris nor Frank can be found.
Garcia arrives at the pay phone and finds it empty, the cord swinging in the breeze. He orders fingerprint samples to be taken and for everyone to scour the area. A deputy arrives. Guess who I found right down the street? he says. It's Victor!
Wednesday, August 5, 1998
Today's recap was provided by Michelle Browning.
Victor traces the call from the killer to a pay phone. He is already there when the police arrive. Suspecting him, they bring him to the police station for questioning. Kevin went back on the radio to try to get the killer to call again, proving Victor's innocence. Lucy comes to the police station to lend her support to Victor. Kevin told Garcia to have his men follow their suspects and if one of them calls they can catch him/her. The attempt fails when the killer doesn't call.
Victor calls Mary with his one call from jail to assure her of his innocence. Joe warns Mary to be careful around Victor. Joe asks Mary for his grandmother's wedding ring to give to Karen. Mary told him she doesn't have time to look for it but she will later. Later at the hospital he asks her for the ring and she told him it will take her a while to find the key to the safe deposit box where the ring is kept.
Kevin and Lucy talk later at the police station. She told him she was so upset after their argument she forgot to give his ring back She says " so, I..I guess you want it back then?" Kevin looks down but doesn't say anything. Lucy told him "the happiest day of my life was when you gave me this ring and the saddest day of my life is giving it back". She takes the ring off, lays it on the table, and walks out. Kevin picks up the ring and walks out into the hall where Garcia stands with Victor. Kevin apologizes to Victor because the plan didn't work. With tears in his eyes Victor told Kevin " you did your best, that's something I love best about you". He is then arrested for the murders.
We then see the answering machine at Kevin's house as the killer calls. He told Kevin he heard him on the radio but couldn't call because Kevin had him followed. He says he considered Kevin a worthy adversary but Kevin continues to underestimate him. He says it won't happen again.
Thursday, August 6, 1998
by
Garcia releases Victor from custody after Kevin plays the message he received from the General Homicide killer. Eve enjoys taunting Lucy about her broken engagement, then hints that she's going to take full advantage of the newly cleared path to Kevin's heart. Chris claims he never received the page when Ellen wonders why she couldn't find him during the serial killer's last appearance on the radio. A worried Mike convinces Matt and Ellen to use a friend's cabin up at Pleasure Point for a few days of rest and relaxation. Later, Mike looks into the possibility that either Chris or Frank rigged Matt's light switch to deliver a shock. Lucy is troubled to see what appears to be a tender moment between Kevin and Eve. Kevin and Garcia decide to set up another trap for the murderer. Snooping through Eve's mailbox at the nurses' station, Lucy finds a key and a map with directions to Pleasure Point and quickly jumps to an erroneous conclusion that Eve and Kevin are going up to the cabin together.
Friday, August 7, 1998
by
Frank told Julie that the police have been watching the house for hours. When Chris reports that the cops are also following him, Frank fears that word has leaked out about his addiction to DL-56. Meanwhile, Kevin reminds Garcia his men must make it patently obvious that they're giving up their surveillance in order to lure the serial killer out into the open. Operating under the mistaken impression that Eve is hoping to seduce Kevin at Pleasure Point, Lucy decides to head her enemy off at the pass. Back at General Hospital, Matt explains to a disappointed Ellen why he'll have to follow her up to the cabin later that night. Kevin broadcasts another appeal to the General Homicide murderer. Frank confronts the detective on his tail, then challenges the man to try and keep up with him. When the serial killer phones the lighthouse, Victor begins to trace the call while Kevin tries to keep the person talking. Lucy rigs a nasty surprise for Eve at the cabin but catches Ellen in her trap instead. Garcia conducts a search of the Scanlon house and finds another piece of evidence which seems to incriminate Julie.