alt="Photo""> The Year In Review

SOC Visitors Vote For the 10 Biggest Stories Of 2001
by
Dan J Kroll

Posted Wednesday, January 02, 2002 12:49:42 PM

GUIDING LIGHT
New Writer Cleans House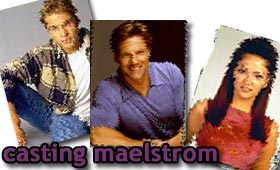 June 2001 -- When head writer Lloyd "Lucky" Gold took over in May, Guiding Light fans expected a lot of changes to their ailing show -- but not many expected that Gold would clean house.
In June, it was announced that three stars were on their way out. Paula Garces (Pilar Santos) and Ryan Brown (Billy Lewis III) were already out of sight, but the third, Mark Dobies (Noah Chase) had not yet bid farewell to Springfield. The news of Dobies' ouster upset fans, but in the end his farewell paved the way for Reva and Josh to find their way back to one another.
As the year progressed, news broke that Terrell Tilford (David Grant) and Victoria G. Platt (Victoria Spaulding) would also leave the show.
Read The StoryGarces, Brown and Dobies all on the way out. [Jun 25, 2001]
Read The StoryPlatt, Tilford will also leave GL. [Aug 6, 2001]
---
ONE LIFE TO LIVE
SOC Uncovers Jessica Baby Swap Storyline
August 2001 -- In a year when tabloid magazines often outpaced traditional news outlets in uncovering news stories, Soap Opera Central shined with several big exclusives.
Perhaps none scored higher than the reveal of One Life to Live's plans to develop a storyline that Jessica Buchanan was not really Viki's biological daughter.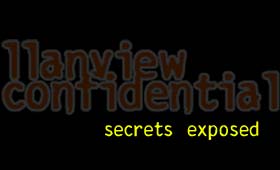 The expose drew the ire of OLTL executive producer Gary Tomlin, who was also quick to point out that some of the details of our story were not entirely on-the-mark; several aspects of the storyline were redrawn between the time that the storyline idea was thought up and the time the storyline hit the airwaves.
The storyline may have been the year's best. Soaps are rewriting history all the time and developingback stories to shock its viewers. However, OLTL did more than just change history. The show expertly crafted a storyline with characters that fans truly cared about. Actress Erin Torpey (Jessica Buchanan) has been with OLTL since 1990 and viewers had literally seen her grow up. That long-term bond the audience had with Torpey made the storyline even more powerful.
Read The StorySOC exposes OLTL mega-storyline. [Aug 13, 2001]
---
PASSIONS
Passions Book Is a Best Seller [Tie]
Passions Spinoffs Planned [Tie]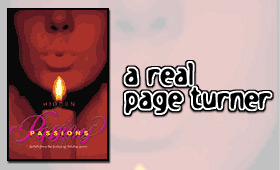 January and July 2001 -- Though Passions, television's newest daytime soap, is just a shade over two years of age, its popularity continues to grow.
In January, the book "Hidden Passions: Secrets from the Diaries of Tabitha Lenox." Within a few weeks, the book had made the New York Times' Best Seller List.
In July, Passions' creator and head writer James E Reilly announced plans to develop two Passions spinoffs, one for the Saturday morning teen crowd, as well as a primetime tele-movie based upon the soap.
Read The StoryPassions book to be released. [Jan 22nd, 2001]
Read The StoryHidden Passions a best seller. [Feb 26, 2001]
Read The StoryReilly plans Passions spinoffs. [Jul 30, 2001]
---
PORT CHARLES/font>
Vampires Put New Bite Into Port Charles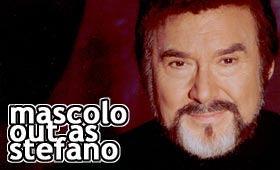 June 2001 --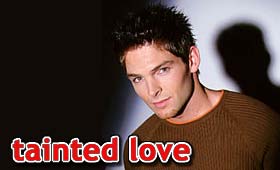 Television viewers have more choices now than ever before. Some cable outlets carry hundreds of channels and the number of programming choices a viewer can tune into at a given time continues to grow. Capturing the attention of television viewers is increasingly difficult.
Port Charles' decision to introduce shorter, faster moving storylines may very well have been the biggest story of 2000. In 2001, the show also made a surprise move - introducing vampires into its storylines.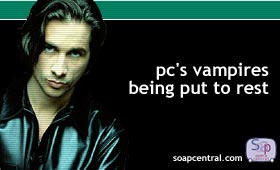 When "Tainted Love" debuted in June, PC's writers tickled viewers with ideas that Michael Morley and his evil "brother" Caleb might be symbolic of God and the devil. It would later be revealed that Caleb was actually a vampire. Moreover, Michael and Caleb were also the same person.
NBC's Passions had already used supernatural storylines quite readily, Days of our Lives featured a demonic possession in the 90s and General Hospital brought back a character from the dead by thawing him out. Something about Port Charles' vampires, however, seemed more believable and certainly less campy than any of the other programs' attempts.
Read The StoryPC introduces vampires in "Tainted Love." [Jun 4, 2001]
Read The StoryVampires continue in "Tempted." [Sep 3rd, 2001]
Read The StoryPC will not continue vampire saga in '02 [Dec 3rd, 2001]
---
THE YOUNG AND THE RESTLESS
Scott Leaves Y&R -- Then Returns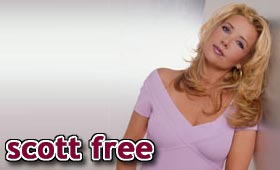 July 2001 -- Long-time Y&R veteran Melody Thomas Scott (Nikki Newman) stunned viewers of The Young and the Restless when she reportedly cleaned out her dressing room and stormed away from the Y&R studios.
Fans were upset that Scott had left, but many said that they understood that the actress was probably upset about not having any meaty storylines for quite some time.
Less than a month later, CBS issued a statement that Scott was remaining with the show. Sure enough, Scott return to active duty on the program later in the summer.
Read The StoryBrown clears out Y&R dressing room. [Jul 30, 2001]
Read The StoryCBS says Scott is staying. [Aug 13, 2001]
---
MAKING HEADLINES: SOAP OPERA NEWS, UPDATES, AND HEADLINES