Oliver Jones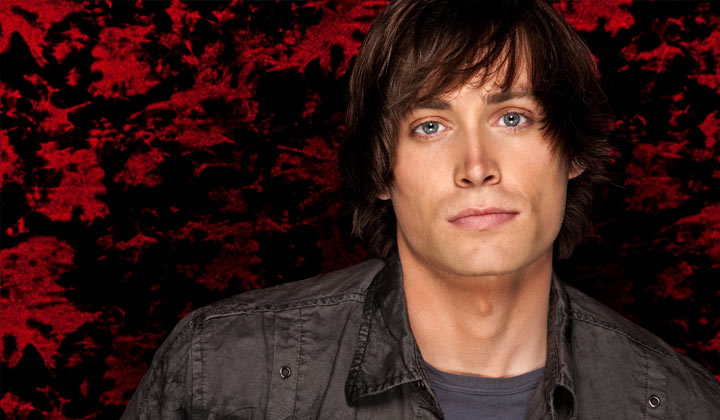 Former photographer at Forrester Creations
Former music supervisor for Forrester Creations media
Formerly a DJ at Insomnia
Unknown
Formerly a beach house in Malibu, CA (owned by Taylor Hayes)
Formerly a beach house owned by Owen Knight
Single (assumed)
None (assumed)
Agnes Jones (sister)
Whipple Jones, Jr. (uncle)
Joy Jones (aunt)
Whipple "Whip" Jones, III (cousin)
Whipple Jones, Sr. (great-uncle)
None (assumed)
Hope Logan (dated; not consummated)
Steffy Forrester (kissed)
Brooke Logan (mistaken identity sex)
Maya Avant (kissed)
Aly Forrester (dated; not consummated)
Had sex with a masked Brooke Logan, thinking she was her daughter Hope Logan [2010]
Worked with Amber to break up Liam Cooper and Hope Logan [2010-2011]
Kissed Maya Avant while she was engaged to Carter Walton [2014]
Punched by Ridge Forrester [2010]
Thrown from a horse at Medieval Times [2014]
Oliver Jones was the cousin of PR whiz Whipple Jones III, and brother of Agnes Jones (AKA Sandy Sommers), who was raped years before; Oliver was Aggie's source of strength. Oliver joined her in Los Angeles and met adversaries Hope Logan and Steffy Forrester while working as a DJ at the Insomnia Café. Though he kissed Steffy when she teased him in sexy lingerie, Oliver fell in love with Hope. Oliver accidentally videotaped Hope's half-sister, Bridget Forrester, and Owen Knight cheating on their respective spouses; knowing Steffy wanted to hurt the Logans, Oliver gently refused to give her the video and talked her out of her scheme to use it.
Oliver tapped his music connections and got reggaeton artist Daddy Yankee to perform at Hope's graduation party, where guests wore identical costumes and masks. Thinking Hope had whispered "I'm ready" in regard to his taking her virginity, Oliver mistakenly made love to Hope's similarly-dressed mother, Brooke Logan. Oliver was blackmailed into dating Steffy when she found out, and he was humiliated when a video of his "mask boink" with Brooke went viral. Oliver lost Hope, who couldn't get the image of her boyfriend and her mother out of her head; Oliver was grateful that Brooke's husband, Ridge Forrester, let Oliver keep his newfound job at Forrester Creations, though Oliver still found Ridge's fist in his face for sleeping with his wife.
Pining for Hope, Oliver befriended Amber Moore, who worked for rival fashion house Jackie M. Oliver created a promotional video featuring Forrester designs, which Amber stole and delivered to the competition; Oliver forgave Amber and gave her a place to stay when she was fired. Oliver and Amber got drunk and had sex, after which she announced she was pregnant. Learning that Amber had also slept with Hope's new boyfriend, Liam Cooper, Oliver worked with Amber to come between Liam and Hope and win Hope back. Oliver was pressured by Liam's powerful father, Bill Spencer, Jr., to do the same thing.
Oliver was there for Hope as she and Liam repeatedly broke up and got back together deciding what was best for Liam's baby. Oliver asked Hope to marry him, but just as she was about to accept, Liam arrived and announced that Amber had given birth to an African-American baby; the father was really Marcus Walton Forrester. Afterwards, Oliver was only occasionally seen working photo shoots or fashions shows; he never fell out of love with Hope, even getting a tattoo of the Chinese symbol necklace he had once given her. Eventually, Oliver roomed with Steffy's brother, Thomas Forrester, and modelled sleepwear for a benefit fashion event. Oliver then traveled to Genoa City, Wisconsin, where he photographed Summer Newman for Jabot Cosmetics and caught up with old friend Tyler Michaelson.
Waiting for a stuck elevator, Oliver chatted with Forrester model Maya Avant, then kissed her, despite her being engaged to Carter Walton. After nearly getting sacked because Ridge felt Oliver's slant was too youthful, Oliver worried about his job security and began seeing young Aly Forrester, telling Maya he would "put up" with Aly if it meant staying employed. Aly ran off after she heard a recording Maya made of Oliver's declaration, but by then Oliver had developed real feelings for Aly and surprised her and their friends, Pam Douglas and Charlie Webber, by replacing a horseman at a Renaissance reenactment and jousting with another "knight" to prove his devotion.
Oliver stood by Aly, who was haunted by psychiatrist Taylor Hayes accidentally killing Aly's mother, Darla Einstein, with her car; Oliver convinced Aly to hear Taylor's apology when Taylor resumed a relationship with Aly's father, Thorne Forrester. After Thorne and Taylor said they owed him, Oliver turned his attention to his job, which was again under fire, this time due to the tyranny of Hope's brother, Rick Forrester, who had become CEO. Oliver suffered through having to snap Maya without pay but refused to help his equally harassed co-workers boot Rick. Oliver also kept his mouth shut when Maya's sister, Nicole Avant, didn't show a talent for modeling.
Oliver worried for Aly when she regressed and accused him of ogling a scantily-clad Steffy. While overseas on assignment in Milan, the emotionally unstable Aly died following a confrontation with Steffy; Oliver was last seen at Aly's memorial. Months later, Oliver was said to have taken leave from Forrester, and his photographer position went to Zende Forrester Dominguez.

Post a Comment

Share on Facebook

Tweet this

Submit Feedback