Passions Recaps: The week of December 24, 2007 on PS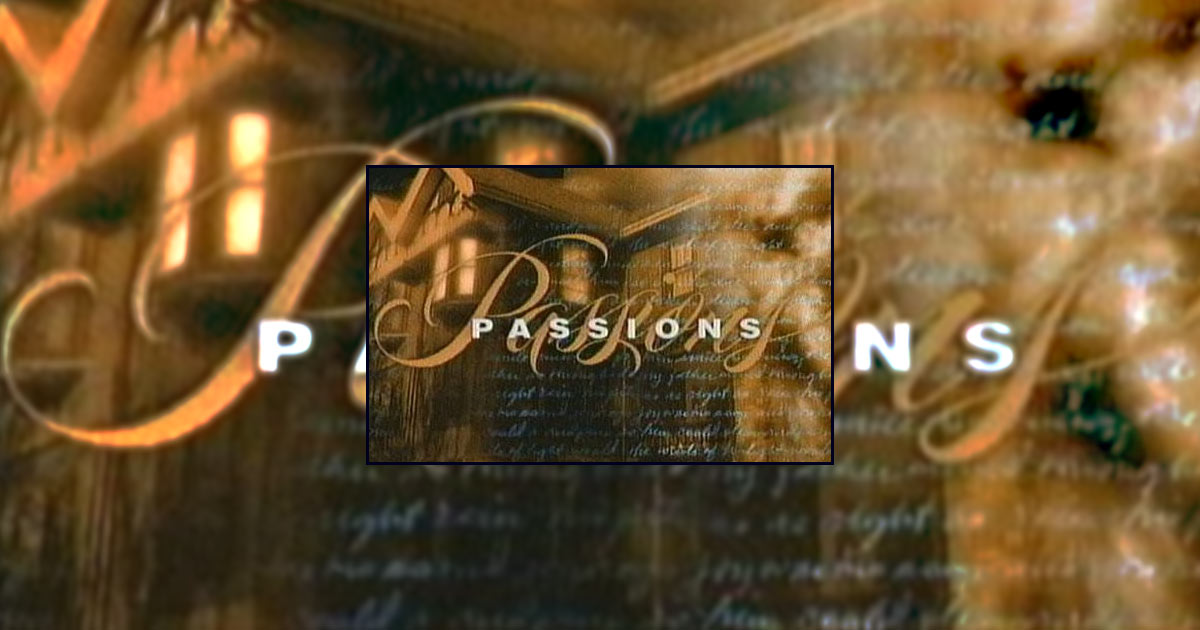 Monday, December 24, 2007
Esme continues to get passionate with Santa, but she can't help but being worried since all the men with whom she has been intimate, met their demise. Santa doesn't think that anyone is that hateful enough to want to hurt him, but someone lurks in the dark watching Esme and Santa. After their first romp, Esme decides to make some drinks. While Esme and Santa continue their passion, the mystery lurker slips something in Santa's drink. Santa takes a sip and starts choking. Esme is shocked. She can't believe that Santa died because of her. Despite the death of Esme's lovers, she just can't be without a man.
Noah gives a very special gift to Paloma. He gives her a blueprint for a house for them to raise their kids. Paloma is overjoyed and kisses Noah.
Tabitha and Kay spies from the magic bowl on Luis making love to Pretty. This is all due to Tabitha's magic. Fancy walks in on them and gives up on Luis for good. She tells him that she will never forgive him. Sheridan walks in the door and Fancy tells her that Luis is cheating on her with her own sister. Luis tries to go after Fancy, but Sheridan stops him because she wants him to search for Marty. After all of Tabitha's mayhem, she wonders why Endora has not yet returned home to her. Kay tells her that she does not think that doing evil will bring Endora back. Tabitha reflects back on what Timmy told her, and she shares her encounter with Kay. Kay is alarmed that Tabitha has gone against Timmy's wishes, so she convinces Tabitha to try doing good to see if that will bring Endora back. Tabitha contemplates whether doing good will bring Endora back, so she seeks help from the magic bowl. Back at Sheridan's cottage, Luis promises to do everything in his power to find Marty, but he can't do anything for Marty right now, so he runs after Fancy. Pretty accuses Sheridan of using Marty to get to Luis, but she lost. Sheridan tells Pretty that she guarantees Fancy will never have Luis. Fancy ends up at church for Christmas service, so she asks God to help her with Luis. Luis is standing behind her, and he tells her that he loves her. Back at Tabitha's house, Kay worries that Fancy will never get back together with Luis, so Tabitha cast a spell on Fancy. She then kisses Luis and tells him that she loves him. Tabitha wonders if all this goodness is really worth it because it will certainly hurt her reputation. She gives up and leaves the room with Kay in tow. Upon their return, they see Endora and Miguel in the living room. Miguel has no idea where he has been and how he has gotten back here, but he is happy to be home nonetheless. It's a happy day at Tabitha's house indeed. A Martimmy appears, and Tabitha thanks Timmy for helping to bring Endora back to her. Meanwhile, Sheridan wishes for Marty's return. She walks outside and sees a shooting star. She remarks that she will not be fooled by the Christmas star this time around. Sheridan walks back inside thinking that her wishes will never be granted, but to her surprise, Marty appears and wishes her a Merry Christmas. With tears in her eyes, Sheridan embraces Marty.
While at Christmas mass, Theresa wishes that she could tell Ethan the truth. Pilar reminds her that she cannot tell Ethan the truth because they will die. What difference does it make because Theresa already feels like she is dying. She tells Pilar that she has to tell Ethan the truth, but Pilar sends her to confession instead. Meanwhile, Ethan is telling Gwen that he can't believe that Theresa is not there for him at such a low point in his life. He decides to go to confession. Ethan tells the priest how selfish Theresa has been. Theresa also goes to confession, but Ethan is already there confessing. She overhears a portion of what Ethan tells the priest, and it leads her to tears. Ethan also tells the priest that despite Theresa's behavior, she is the one in his heart and that they are destined for each other. He does not want to lose her and wants to figure out why Theresa is behaving so strangely. Ethan returns from confession to sit with Gwen in the pews. He tells her that he wishes that he could spend Christmas with the woman he loves. Theresa spies on Ethan and Gwen and thinks that she has lost Ethan to Gwen for good. The Christmas Miracle Theresa hopes for does not come true, but she has another miracle; Little Ethan's fever broke, and he is going to be just fine. Ethan and Gwen also get a Christmas miracle; Jonathan's body is accepting the liver. They both embrace, and Theresa witnesses it. She thinks that it's too late for her and Ethan and concludes that he is back together with Gwen.
Tuesday, December 25, 2007
Due to the Christmas holiday, today's episodes of all your favorite soaps were pre-empted for various holiday programming. This pre-emption was anticipated and there will be no "lost" episodes as a result. Programming will resume on Wednesday, December 26th.
On behalf of everyone involved in Soap Central, I'd like to take the time to wish you and your family a very happy and healthy Christmas holiday. For our friends of other faiths and in other countries, we invite you share in the spirit of the holiday season as your celebrate holidays and festivals of your own.
Dan J Kroll
Founder, Soap Central
Wednesday, December 26, 2007
A tentative Theresa goes to see Ethan and the baby, happy to hear Jonathan is okay. Ethan is distant, wondering where Theresa has been when they needed her. Unable to admit she was with a recovering Little Ethan, she can only say she had things to do and Ethan wonders what could be more important than him and his ill son. Theresa tells Pilar she feels trapped, fearing her dishonesty will cost her the man she loves.
Luis is thrilled to learn Marty is finally home. Fancy makes it clear to Pretty that she and Luis are back together and that Pretty needs to give up on her fantasy of ever being with Luis. Pretty taunts Fancy with the bond that Luis and Sheridan share and stuns her sister with the news about Marty. Fancy is hurt that Luis never told her about their search for his son and can't help but notice the closeness of Luis and Sheridan with their son. Marty is frightened when he meets Pretty and sees her scar.
Kay surprises Pilar, Sam and Ivy with Miguel's return and covers when he has difficulty answering the question of where he's been. Kay points out to Tabitha that Timmy was right - doing good worked and it brought Endora and Miguel home again. Tabitha has to agree but later is stunned when she gets a message from Dark Side. She had better stay away from the Good Side or evil will take Endora from her again - this time forever. Kay and Miguel enjoy being together again and make plans for their future with their daughter.
Thursday, December 27, 2007
As Endora tells Tabitha of how Miguel saved her from the depths of hell, Kay and Miguel barricade themselves in the bedroom and catch up on all the lovemaking they missed. Kay fears Miguel is losing his mind when he struggles to regain his memory.
Theresa worries that by being with Little Ethan while he recovers, Ethan will think she doesn't care about Jonathan. Ivy tries to convince Ethan that Theresa has another man in her life who means more to her than Ethan!
Gwen has second thoughts about hurting Theresa after her rival selflessly saved Jonathan's life. She wants to tell Ethan everything.
Friday, December 28, 2007
Passions no longer airs on Fridays. The show airs Monday through Thursday, with catch-me-up marathons on the weekends.