As The World Turns Recaps: The week of August 1, 2005 on ATWT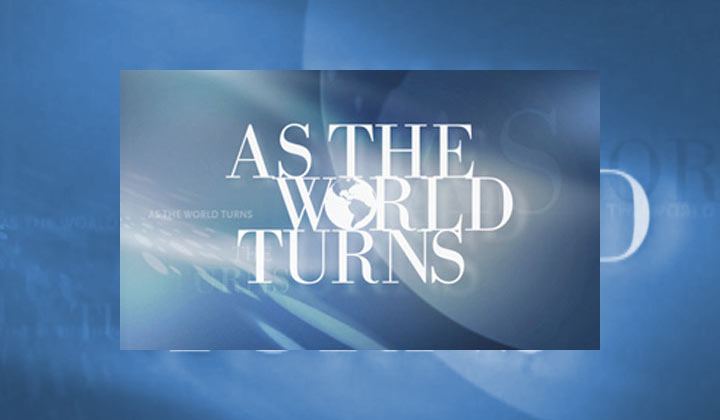 Monday, August 1, 2005
Lily is ready for bed when Luke calls and asks for permission to sleep over at a friend's house. She is startled by a tap on her upstairs bedroom window, and there is Keith. They fall onto Lily's bed and make love.
While waiting tables at Al's Diner, Gwen sees the headline in the paper about Rosanna's coma and begins wondering about the welfare of the baby she thinks is hers. Will promises to find out what has happened to the baby, so he goes to the police station to ask Hal. Hal tells Will that the baby is at Carly and Jack's, and Will tells Hal and Paul that he was not the biological father of Gwen's baby. Both men tell Will that they are proud of him for helping Gwen. Will returns to Al's and tells Gwen that the baby is safe, but Gwen is still uneasy.
At the Lakeview, Dusty tries to reassure Jennifer, promising to stay with her until Craig has been found. Jennifer takes Dusty's hand, gazes into his eyes, and thanks him.
Craig has appeared at Carly's house demanding to see his baby. Carly tries twice to call Jack, but Craig catches her both times, although the second time Jack's mobile phone did ring once. Craig picks the baby up and opens the front door to find Margo standing there with her gun pointed at him. Craig insists that Margo would not shoot her own brother, but Jack appears with his gun drawn. Before Margo takes him off to jail, Craig tells the baby goodbye and promises to come back. When Hal calls Dusty to let him know that Craig is in custody, Dusty takes Jennifer to the station to see for herself that Craig is safely locked up. Jennifer, Dusty, and Paul all hope that Craig is gone for good.
At home, Carly clings to Jack, terrified in the aftermath of her experience with Craig. When she sits down with the baby, Carly has another frightening flashback about her childhood incident.
Tuesday, August 2, 2005
After recalling Iris and herself as a ten-year-old girl, Carly decides she has no choice but to pursue the truth about what really happened all those years ago. But, Jack surprises her when he suggests with all she is going through, perhaps the best idea for everyone is to find another home for Rosanna's baby. Later, Carly goes to see Iris demanding to know what role she played in hurting Iris's baby. Finally Iris relents, giving her side of the story until Carly, in a series of flashbacks, starts to remember herself and comes to the realization that Iris thinks Carly killed her baby. Meanwhile, Kim, who has found more information regarding the baby incident, counsels Jack to come clean about Carly's involvement. Kim warns that although it will be tough, Jack and Carly will only be able to get through it together. Will realizes Gwen's still having major misgivings about giving her baby up, especially now that the couple she planned to give it to has fallen by the wayside. Will sings Jack's praises, but Gwen won't be satisfied until she goes to Milltown and sees for herself. Will goes with her but the nurse slams the door in their faces. Lily and Keith's romantic all-nighter is unexpectedly interrupted by Faith, then Sierra, who's surprised Lily would risk her kids walking in on Lily with her lover. But, Lily insists Faith loves Keith and wasn't bothered by him being here. Sierra then suggests that they be there for Lucinda, who is receiving important news about her condition today. Meanwhile, Lucinda shares her latest pathology report with Meg, and both women are pleased it's positive news. Meg reminds Lucinda she will still need to undergo chemo, and practices yoga to help her relax. Sierra and Lily arrive but Lucinda insists on going to see her doctor without them.
Wednesday, August 3, 2005
Maddie tried to talk Henry into letting her stay and live with him but Henry would not budge and told her she was still going home. Henry brought Maddie to Katie's to apologize for her behavior the other day when she slammed the door on Mike's face. While at Katie's Maddie saw how much Henry was still in love with Katie so when Katie and Henry went upstairs she put Katie's slipper in the middle of the stairs. Henry slipped on the slipper and falls down the steps hurting himself in the process.
Will gave Celia a bracelet he bought for her that he had engraved with the words "Love Will." Celia seemed a little freaked out by the gift and leaves. On her way out she called Sierra and told her she needed some advice.
Carly was screaming at Iris when Jack showed up and pulled Carly off of her. Iris than told Carly that Jack knew everything; Jack told Carly he would tell her everything so they left. Once they arrived home Jack told Carly he saw the sealed police reports and that the reports did indicate that Carly was involved in the disappearance of Iris's baby. Carly believed that she did in fact murder her baby brother but Jack said there was no conclusive evidence pointing Carly to the crime. Jack tried to convince Carly that she could never hurt any child and put Sampson in her arms. Carly vows to make up for whatever she may have done in her past. Jack and Carly feed Sampson as Gwen looked on through the window.
Paul was at the police station bothering Hal because he wanted answers about how Rosanna was doing in Switzerland. Emily showed up to talk to Hal about Daniel when Paul blew her off to try to get some answers about Rosanna. Once Paul left Hal told Emily she deserved better than Paul and that Paul was only using her as his live in mistress. Emily told Hal that she would sign the divorce papers but Hal surprised her when he said maybe they should put off the divorce. Emily told Hal she was fine with Paul's feelings for Rosanna and that she was going to stick by him. Meanwhile, Phyllis brought over a box of Rosanna's things for Paul including the foot print of the baby. Paul went through the box but did not notice the foot print.
Thursday, August 4, 2005
Keith and Lily were sharing a glass of wine and a quiet evening together. The phone rang and Lily was informed by the Oakdale PD that Luke was brought in. When Lily arrived the officer told her that they made a sweep of a downtown bar because kids under 21 were there. Luke was not considered drunk so it was up to Lily to determine what happened next. Luke could go home with Lily or he could stay and sleep it off. Lily and Keith took him home where Lily took away his privileges. When he left, Keith told Lily that Luke was hiding something from her. Keith tried to tell Lily that Luke was asserting himself and was searching for independence. He stopped Lily from going up to Luke's room. When Keith tried to pick up where they left off Lily stopped him and said she needed to go see her mother. Once they left, Luke tried to leave but was stopped by Keith. Luke told Keith to mind his own business. Keith said he cared about Luke and would do anything to protect him. Keith said he needed to teach Luke a lesson and led him away.
Henry was lying on the floor and couldn't get up after his fall. His back was hurting. Katie wanted to call a doctor but Henry said he was uninsured so Katie made him comfortable by placing a pillow under his head. Maddie wanted to know how she was going to take care of him but Katie said they weren't going anywhere. Henry continued to cry out in pain and Maddie smiled because her plan was working. Maddie was supposed to catch a plane later that night but Katie asked if she would change her plans until Henry was better. Maddie acted very concerned and smiled to herself when Katie turned her back. Henry knew Maddie was the one who set the trap and told her that she wasn't staying. Katie came back in the room with an ice pack for Henry then excused herself to call Mike. Katie asked Mike to come over because she really needed him.
Barbara and Jennifer were at the Valley Inn looking at the dinner menu. Jennifer told her mother she wasn't hungry but Barbara insisted that Jennifer needed to keep up her strength. As they continued to decide what to eat Dusty walked in. Dusty decided to rescue Jennifer and diverted Barbara's attention so he could get Jennifer out. Dusty took Jennifer to Yo's where she ate readily. As they ate, Mike came in and Dusty excused himself to take a phone call. Jennifer asked what Mike wanted. Mike told Jennifer he would always be there for her no matter how she felt about him. Jennifer wanted to know what Katie would think of that statement. Mike said that he didn't know because he and Katie weren't together. Mike tried to mend the fences with Jennifer but she told him that there was nothing he could do to make it right. Dusty came back and Jennifer told Mike to leave. Jennifer wanted a distraction so Dusty pulled out a proposal for her to look at. She opened the folder and suddenly broke down.
Paul was going through a box of Rosanna's things and quickly put the box away when Emily walked in. Emily wanted to know what Paul was hiding. Paul tried to cover but Emily called him a liar. Paul finally told Emily what he was looking at. As he was talking, Emily was hearing Hal's voice telling her about Paul's obsession with Rosanna. Paul opened up and shared with Emily his concerns about Rosanna's last words. Emily asked Paul to let her help him find out what really happened to Rosanna. Paul told Emily that he thought Rosanna wanted to get back together with him. Emily asked Paul if he heard her say it or if he wanted to hear it. They were interrupted by Barbara who was looking for Jennifer. Paul became quite upset with Barbara after she snubbed Emily. Paul asked her to either apologize to Emily or get the hell out. Barbara wouldn't apologize and left abruptly. Emily thanked him. Paul told her that he didn't think he would ever be over Rosanna and gave Emily the choice to leave or stay. Emily chose to stay.
Friday, August 5, 2005
Lily calls Holden and leaves him a message, telling him that Luke's in trouble and now she doesn't know where he is, but then she finds a message from Keith saying that Luke is with him, so she adds a "never mind" to her message to Holden and hangs up. She tries to reach Keith on his cell phone but gets no answer.
Keith takes Luke flying in his plane, and they bond while Keith tells Luke that up in the air, everyone's a kid again. He promises to teach Luke how to fly if he stays away from the booze and from the friends he's been drinking with; Luke agrees. After they land, they go to Al's Diner to have coffee, and Lily finds them there. When Keith tells her he's told Luke that he'll teach him to fly if he straightens up his act, Lily says, "Over my dead body!"
Mike goes to Katie's cottage to help her with Henry. He manages to lift Henry onto the couch but insists on calling Bob Hughes. Dr. Bob comes over and tells Henry that he's bruised his back pretty badly and should stay put for 48 hours, then have an MRI and reevaluate. After Dr. Bob leaves, Henry tries to do the same, but Katie insists that he needs to stay put, and Mike and Maddie agree. Katie sets up a little table for Henry, who asks for his martini shaker and ice, but Mike nixes that idea because of the pain pills Dr. Bob has just prescribed for Henry. Henry sends Maddie off to get his prescription filled, and she pauses outside the cottage, where she has another of her fantasies about how things ought to be; in this one, Henry knocks Mike down, and Henry and Katie declare their undying love for one another. Henry apologizes to Mike for his sister's behavior; Mike tells him it's understandable, then he goes outside to talk to Katie. Maddie returns, and Katie tells Mike that Maddie has met her match in Katie but doesn't know it yet. Henry tells Maddie that she needs to stop playing match-maker, but she says somebody's got to. Outside, Mike tells Katie he'll come back in the morning so that he can help Henry take a shower. As he leaves, Katie tells herself that "it's a start" and goes back inside.
Jennifer goes to Paul's apartment and breaks down, telling him she doesn't know how to get back to a normal life now. Paul is little comfort, telling Jenn that it's for the best that her baby died, because otherwise Craig would have hounded Jenn and the baby for the rest of their lives. Jennifer is shocked and offended that Paul would say such a thing, then she sees that Paul has been going through some of Rosanna's personal things, and she realizes that he is grieving his loss of Rosanna. Paul blames Craig for everything and says that he wants to be sensitive to the anguish of every day because it helps him stay motivated, although he doesn't answer Jennifer when she asks "To do what?" Jennifer sees the baby's footprint in Rosanna's box. At first, they assume it's Cabot's footprint, but Jennifer notices that it was taken at Memorial Hospital, and since Cabot wasn't born there, it must be the footprint of the baby that Rosanna and Craig adopted. After Jennifer leaves, Paul says that's what Rosanna was telling him: wrong foot.
Gwen shows up at Carly's house and tells Carly who she is, saying she wants to see her son. Carly tells Gwen that the baby is her sister's boy, not Gwen's, but Gwen says she's the birth mother and wants to see him. Carly bristles and tells Gwen that Rosanna had said the birth mother insisted she wanted nothing to do with the child, and Gwen says that was before Rosanna was injured and Craig was arrested, and that since she knows nothing about Carly and Jack, she wants to see how the baby is. Carly says if Gwen wants to check them out, she can do it later, after Carly's had a chance to contact a lawyer. Carly offers to set up a visit for another time after talking to her husband, but Gwen insists she call Jack right now to see what he says. Carly goes into the kitchen to call Jack, and in the meantime, the nurse brings the baby downstairs. Remembering Gwen from her previous visit, she asks if Gwen has spoken with Carly yet, and Gwen says yes, and that Carly has said it was fine for her to see the baby. The nurse then lets Gwen hold the baby, and she goes upstairs to get a pacifier. Gwen tells the baby that she's his mother and that he's too perfect to have come from her. Carly walks in and shouts at Gwen, asking her what she thinks she's doing with the baby. The nurse comes back and apologizes, saying she thought Carly had told Gwen it was okay for her to see the baby; Carly says that's a lie, and that Gwen needs to leave immediately. Gwen refuses to leave, telling Carly that she's a mean, hateful woman and that she doesn't deserve to raise her son. Gwen tells Carly that she plans to fight to get her baby back.