Passions Recaps: The week of May 3, 2004 on PS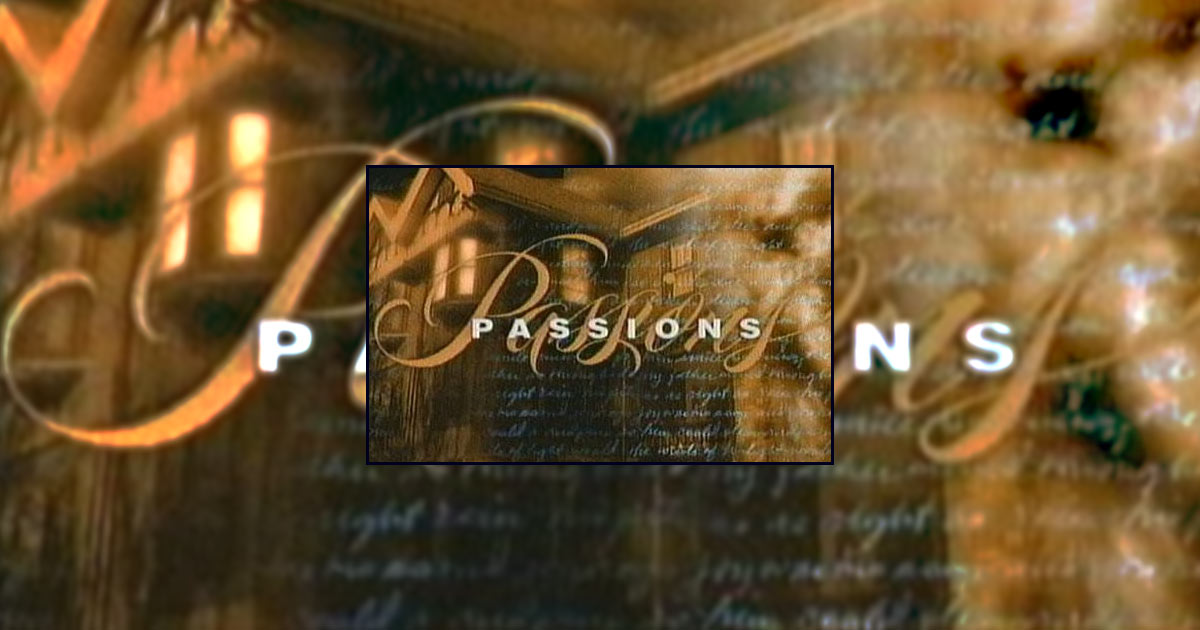 Monday, May 3, 2004
Theresa demands Little Ethan back, but Gwen refuses to give in to her blackmail.
When Whitney learns Luis will expose the Crane secrets at the Founders' Day Dance, she worries about her father's reaction to her mother and Julian's affair. Meanwhile, Julian and Eve nearly make love. Julian confesses to Eve about the night of TC's accident. TC explains to Liz the mystery of what's in his shed.
Tuesday, May 4, 2004
Hoping to impress a famous designer at the Founders' Day Dance, an excited Charity sews up a dress she sketched. However, she's unaware Kay has altered the measurements. Meanwhile, Kay gets a magical makeover.
TC anticipates the Cranes being brought down after learning Luis has decoded the CD-ROMs. Eve and Julian start to make love but are interrupted by TC.
A devastated Theresa loses her leverage against Gwen, but she plots to ensure she'll still get Little Ethan back.
Wednesday, May 5, 2004
Charity is horrified to see how her dress turned out, but Ivy has a plan to help her. Tabitha worries when she hears rumblings from her "friends in the basement."
At the Seascape, Beth realizes all the Crane secrets, including how Alistair helped her kidnap Sheridan, are on a computer and attempts to delete them. A reluctant Antonio agrees when Sheridan insists on going to the dance to get some answers, but he is determined they leave for St. Lisa's right after the party.
Theresa secretly arranges a last-minute business trip for Gwen so she can carry out her devious new plan. The stress from worrying over Theresa's latest scheme puts a strain on Pilar's health.
Thursday, May 6, 2004
Giddy about the information she learned from the CD-ROMs, Liz looks forward to Eve's downfall. Eve prays TC won't kill Julian once the truth comes out. Julian forces Rebecca to show her true colors to everyone at the dance.
Alistair threatens Beth into going to the dance and helping him get his CD-ROMs back. Luis hopes he will be reunited with Sheridan once he exposes Alistair's schemes. Antonio remains skeptical that Luis can prove anything.
Theresa prepares to execute her plan but Pilar presents her with a temporary roadblock.
Friday, May 7, 2004
Tabitha sees all the positive feelings at the dance and is concerned that love will win out over darkness if Luis gets his way and exposes the Cranes as liars and felons.
Kay steals Charity's thunder at the Founders' Day Dance when the dress she is wearing charms the fashion designer Charlie Lapson.
Sam tries to tell Ivy that he is so over Grace and wants them to be together. He wants them to make a commitment to each other. Rebecca is further humiliated. Antonio is feeling threatened as Sheridan begins to suspect Luis might have been telling the truth, after all. Eve braces herself for problems with TC over Julian.
Luis starts to make his charges against Alistair based on the contents of the CD-ROMs on the room's monitors. While all of Harmony's citizens are shocked, they are waiting for the proof to back up his claims. Julian is prepared for jail but Alistair will not give up without a fight and works with Beth to stop him.