Y&R Two Scoops: Two Scoops Archives for 2016
The Young and the Restless opinion columns from 2016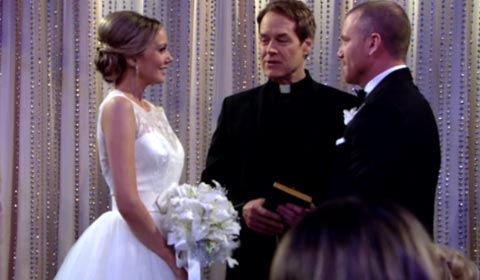 January 4, 2016
If Billy had wished for a horse, he might have escaped that beating. Victor has horses, so he wished for a quickly rebuilt Newman Towers. Abby and Ashley wished for a spectacular wedding and got it, even though Ashley fainted. Noah wished for Marissa, but his hopes were dashed. Adam told Luca that he wished to betray Victor, but will he? Find out in this week's Two Scoops.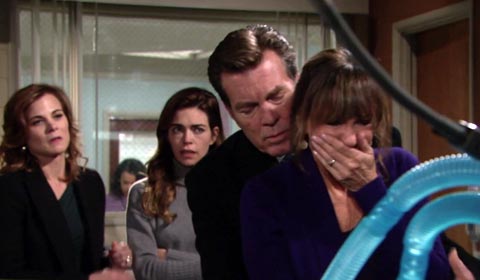 January 11, 2016
Billy hovered between life and death after Noah backed over him in the parking garage. Will Billy's new calling as a parking block deprive the Abbotts and Victoria of Billy's "big heart?" And will the deceitful Marisa's worldly influence convert Noah into a younger version of his diabolical grandad? To thwart those temptations, divert your attention to Two Scoops, while we keep our New Year's resolutions.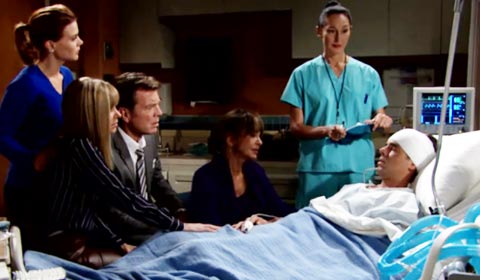 January 18, 2016
Jack pulled the plug, but Billy refused to cop out -- unlike Dylan, who joined Paul at the GCPD. After a dire warning from Marisa, Chelsea went to the cops to report Adam missing, and Victor got a ransom demand. Hilary and Neil copped more than a feel, and Devon was burned by the afterglow. All this plus Boone rates the newest Billy on his first day's performance.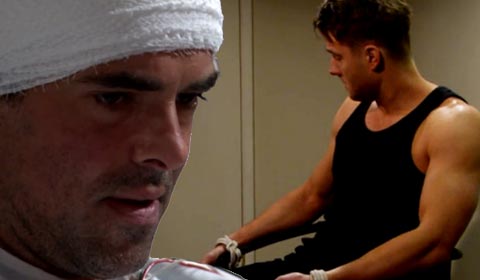 January 25, 2016
Not only is Adam the master of illusion, he can disappear into thin air at a moment's notice. Was he aided in his vanishing act by a brightly dressed, beautiful assistant -- or by a lady much more sinister? And could "hacker buddy" Natalie somehow be related to Chloe? Buckle up for another potential Newman/Abbott feud as you peruse through Two Scoops.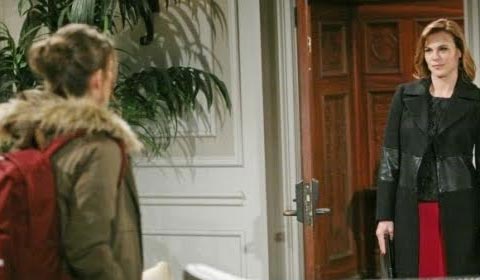 February 1, 2016
Phyllis has the fire to take on Victor, but does she have the balls? Adam tried unsuccessfully to lie to Chelsea, who was fired up about his secret agenda. Will Hilary ricochet to Devon now that Neil has forced her to face reality? Will Adam finally trust Victor and vice versa? Will Sage's crazy act expose Dr. Anderson? Boone tells all in this week's Two Scoops.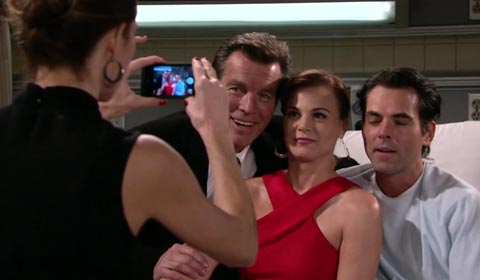 February 8, 2016
Phyllis and Billy have upped the ante and raised the stakes in the Internet security project shuffle. Have Victor and Adam stacked the deck to put Red's and Billy Boy's love lives at risk? And has Nick's bluff in an attempt to flush out the oh-so-desperate Sandy placed Sage in peril? Grab the chips (and dip) for another high hand of Two Scoops.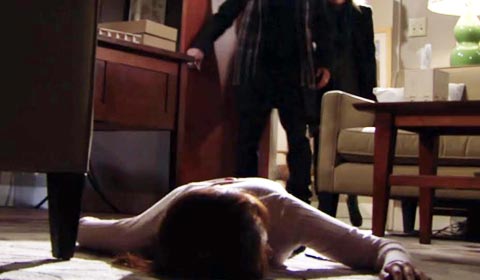 February 15, 2016
The wicked doc is dead. Paul thinks Patty Cake did it. Dylan and Nick still have questions. Sage is having nightmares while Sharon remains blissfully ignorant about Sully's identity. Victor is bugged in more ways than one. Hilary is now on team Devon. Neil hit the skids while Lily and Cane secretly hit the sheets. Read all about it in this week's edition of Two Scoops!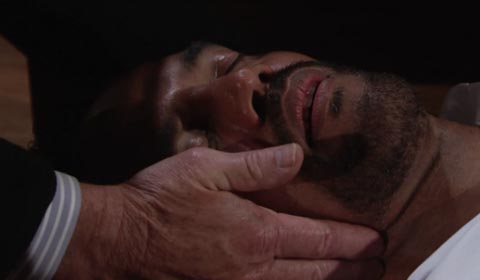 February 22, 2016
It was Valentine's Day in Genoa City and love was in the air. Did a certain angel playing Cupid pluck the (heart) strings of her harp to romantically advise her earthbound father? Victor made finally made his grandson face the music. And has Neil drunkenly tap-danced too close to the edge in trying to make up for past wrongs? Read Two Scoops, while we, once again, remember our darling Delia.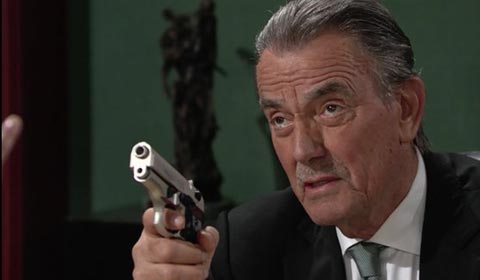 February 29, 2016
These days (okay, most days), it seems like everyone hates Victor. Except Victoria. And Summer. And this week's Two Scoops columnist. Brace yourselves, readers, because he's about to try to defend the most hated man in Genoa City!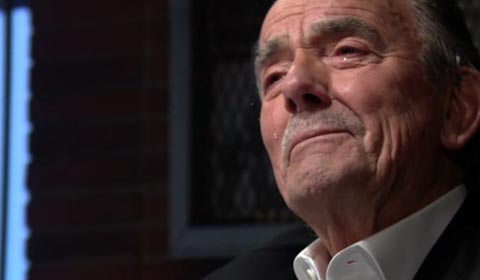 March 7, 2016
Victor's world finally came crashing down around him. Will he lose the love and support of his wife and his entire family? And even more important (to him), will Victor have to face the loss of the beloved company he holds so near and dear to his heart and that he has treasured above all else? Read Two Scoops as we also wonder, where have all the good men gone?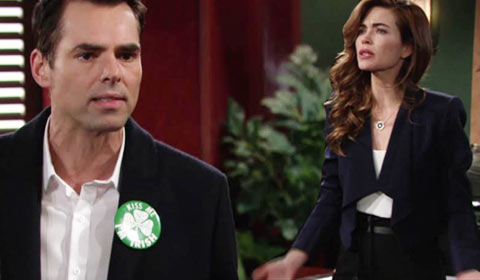 March 14, 2016
Victoria gave Billy the kiss off, but will he give up? Victor gave Victoria the cold shoulder and called Adam, who refused Victor's offer, but will Victor's mystery illness force Adam and Victoria to work together and give Darth Victor a get out of jail free card? Is Max another bad seed? Will Abby miscarry? Will Devon wise up? Boone spills all at this week's Soapaholics Anonymous meeting.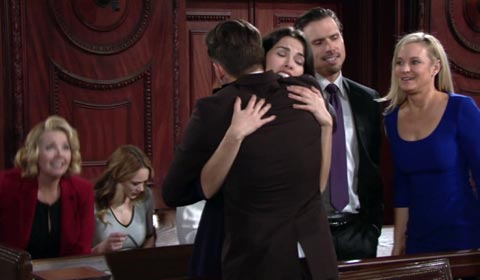 March 21, 2016
Noah accepted responsibility in court, and his freedom became a slam-dunk -- until he rebounded to a life sentence with the deceitful Marisa. Has Elise's letting Noah off the hook shot her credibility as a judge? Did Jack foul out once he leapt off the runaway train of revenge, also known as Phyllis and Billy? No dribbling allowed, as we march madly through Two Scoops.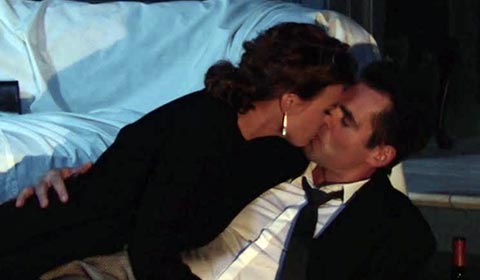 March 28, 2016
Billy and Phyllis shared a warm fire, wine, and a kiss that looked more like a beginning than either was willing to admit. Victor used Luca's testimony to expose Michael's plan to convict Victor, after which Victor became his own attorney. Will dueling divas Hilary and Ashley be as much fun as Jill and Katherine were? Find out in this week's Two Scoops.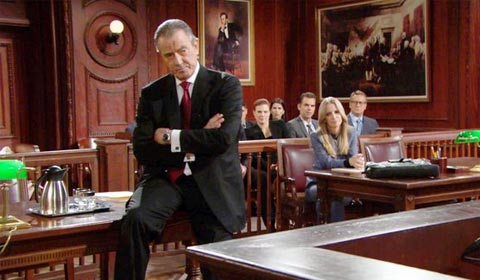 April 4, 2016
Victor's trial proved to be a joke, but not in the laughing, ha-ha kind of way. Seriously, is it possible for anyone to ever have a fair trial in Genoa City? Since Nikki turned to drink, and Phyllis to Billy for comfort, who will wind up having the most regrets in the end? Hey, there's no fooling around (well, okay, maybe a little) in Two Scoops.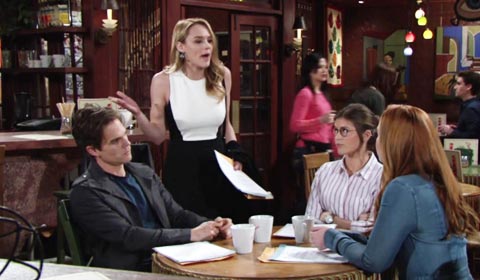 April 11, 2016
Nick jumped to conclusions about Adam faster than Superman could leap a tall building. Victor got stabbed in his sleep, but instead of being scared, he decided to get even. Summer was discontent when she received a summons to testify about PassKey. Michael feasted on sour grapes and pondered the consequences of his ill-fated decision to sabotage Victor's case. Get the lowdown in this week's Two Scoops!
April 18, 2016
Between Victoria and Phyllis, Billy didn't seem to know if he was coming or going. Did his deposition -- or his even new motorcycle -- help to clear the muddy waters of his intentions? With the "resourceful" Ian acting as the self-appointed guardian angel over "The Moustache," should Victor be even more on his guard against not only the guards but also Ian? Refresh yourself with a sip of Jack's sweet tea as you read Two Scoops.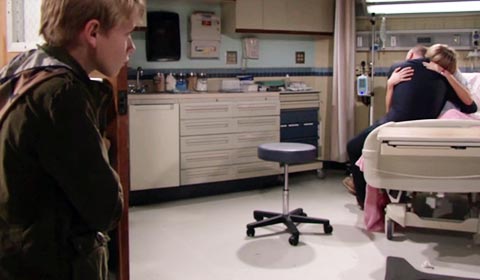 April 25, 2016
Tragedy struck in Genoa City as Abby took a tumble that caused maximum damage to the baby. Nikki got drunk and had an accident of her own. Sage and Sharon teamed up to get answers about Nurse Stevens while Adam tried to get answers out of Victor. Billy and Victoria started the eternal mating dance yet again. All this and more in this week's Two Scoops!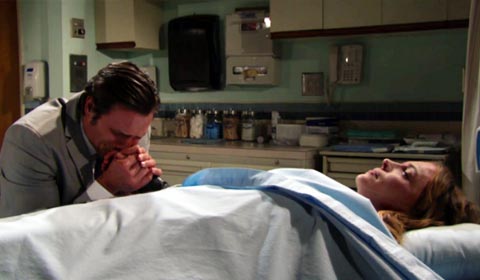 May 2, 2016
Sharon and Sage showed shock over the secret son switcheroo. Who was sacrificed for the sake of sweeps? After his actions caused Abby's miscarriage, should Max do his best Michael Jackson impression of "You know I'm bad, I'm bad," (minus the single, white glove and moonwalk)? Let's all toast with a brand, new, shiny Two Scoops to go with Kevin's flashy suit and his sporty 1968 Corvette Stingray.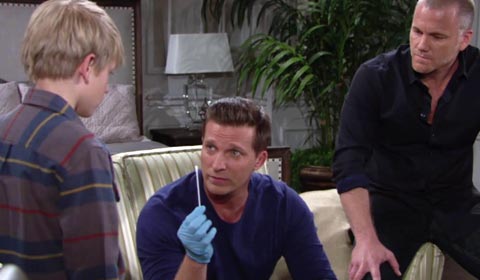 May 9, 2016
Bad boy Max took off again, and Abby took heat from Ben about her accusations. More than one person accused Hilary of using blackmail to get her way. Billy and Phyllis kissed again, though Phyllis tried to resist the attraction. Victoria went slumming and named herself 'Torie' as she escaped work stress with a handsome bartender. Check it out in this week's Two Scoops.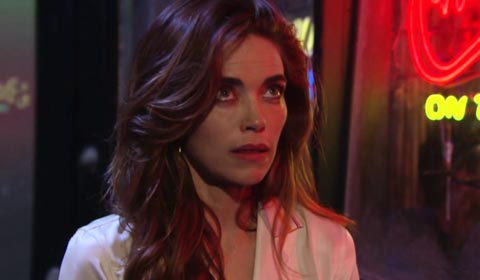 May 16, 2016
Victoria met her next possible suitor in a bar. Could Travis be fair game in a soapy competition of musical chairs? Max confessed to wanting Abby's baby to die! Will Ben finally, really, truly accept the fact that his son desperately needs help? And Phyllis and Billy give into their passion and do the dirty deed. Oh, yes, the time has come for talk of betrayal, deceit, and quirky Simon-isms in Two Scoops.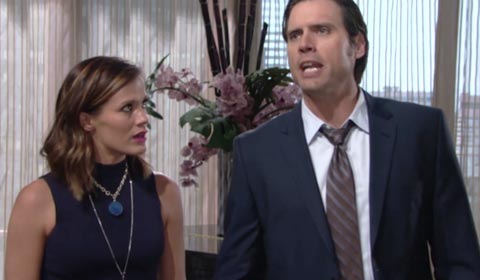 May 23, 2016
Nick jumped to the conclusion that Adam was a murderer while Victor concluded that Dr. Gates would welcome his kisses. Sharon deluded herself that she could continue to hide Sully's true identity. Abby's perky optimism glued her marriage together, but Hilary's tête-à-têtes with Jack might damage hers. Murder, romance, corporate intrigue, adultery, blackmail -- just a typical week in Genoa City. Check out this week's Two Scoops.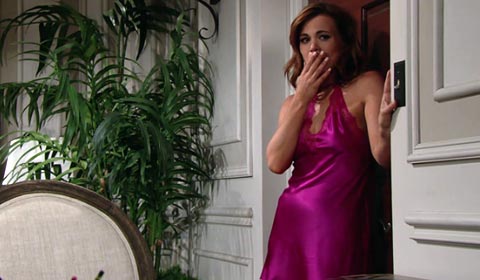 May 30, 2016
Phyllis and Billy were unable to keep their hands (or lips) off each other. Could their smoldering passion flare up with the fiery inferno leaving Phyllis' marriage to Jack in ashes? Revealing Sully's identity would bring joy to one man Sharon loves but cause a deep and searing pain to another. But would the truth of Christian's paternity blow up the lives of everyone? And could Adam really be a granny killer? Talk of seduction, hot desire, and a reckless abandon, all in this blazing Two Scoops.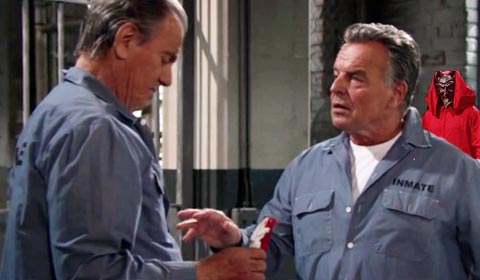 June 6, 2016
Ian Ward's devilish return spells trouble for Victor. Sharon thinks distancing her family from Nick is a better solution than the truth. Victoria told Phyllis that another woman had bewitched Billy. Phyllis asked Bethany to be Billy's beard. Devon saw Jill verbally abuse Hilary. If the devil is in the details, then you can read the fine print in this week's Two Scoops!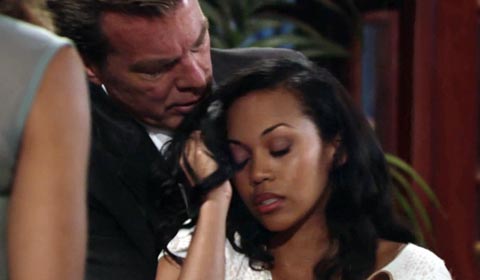 June 13, 2016
Hilary's vicious words were biting, while her right hand was trembling. Was her tremor the first sign of a relapse, and could Hilary end up falling back into a coma? (Please!) Will Billy's motorcycle accident result in the crash of Phyllis' marriage to Jack? And did Paul find picture-perfect proof that Victor had framed Adam for Constance's murder? Discussion of our all our favorite bad boys follows in Two Scoops.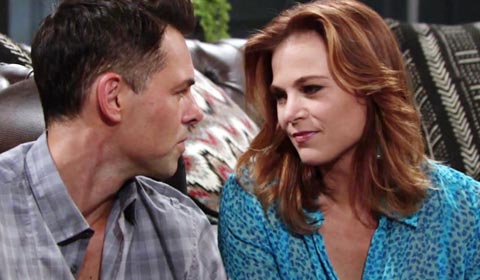 June 20, 2016
Victor took a risk to frame Adam for murder. Billy and Phyllis risked everything to find out if what they felt for each other was love or lust. Sharon risked her sanity to hold on to the lie that Sully was her son. Hilary risked her marriage to keep her health crisis a secret. Read this week's Two Scoops for risky business-as-usual in Genoa City.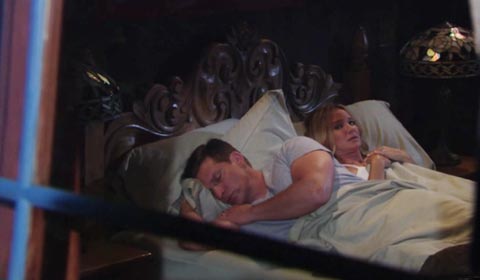 June 27, 2016
Phyllis suffered a twinge of guilt as she and Billy declared their love for each other. Will the newly anointed Peter and Wendy bring down good guy Jack with their Neverland secret? Would Sharon prefer to be off-her-meds delusional again rather than face any more Sage hauntings? And Devon may have finally realized Hilary's not a good person. It's a miracle! We switch from the bad boys to the nice guys in this Two Scoops.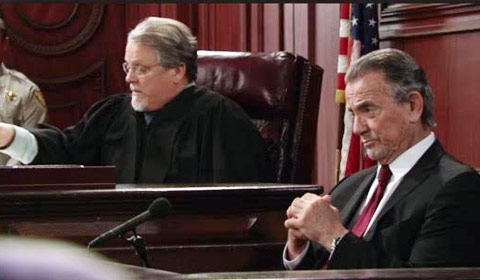 July 4, 2016
An urbane Victor took the stand for the prosecution, but when all was said and done, it sounded more like he was testifying for the defense. Sharon may need a defense after banging Mariah's head with that bookend. Hilary is already defending her decision to dump Devon, but will she keep his fortune and snare Jack instead? Read all about it in this week's Two Scoops.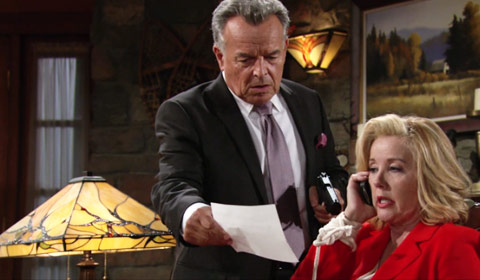 July 11, 2016
Egad! The villainous Ian kidnapped the virtuous Nikki while he also held the innocent bystander Phyllis hostage. Was our newly redeemed hero, Victor, able to battle through the pain of his gunshot wound to rescue our damsels in distress? Will good guy and extremely naïve Jack ever catch on to Billy's clues about Phyllis and give the cur the thrashing his brother so richly deserves? (Okay, probably not.) It's Genoa City melodrama at its best in Two Scoops.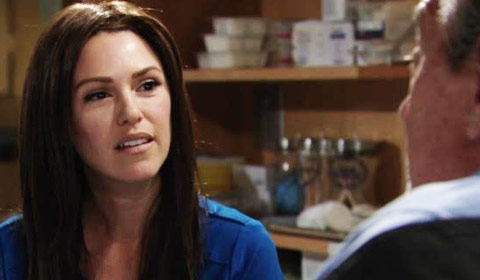 July 18, 2016
Chloe was revealed as the mystery woman who helped Victor frame Adam. Travis left Victoria high and dry as he vowed to set sail from Genoa City. Sharon and Mariah's paranoia had them jumping to incorrect conclusions. Phyllis and Jack separated. Billy pined after Phyllis as Jill repainted the mansion. Abby and Ben wanted to trust, but didn't. Get the lowdown in this week's Two Scoops.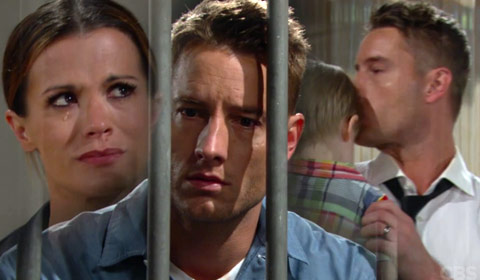 July 25, 2016
Adam was sentenced to 30 years in prison. Will new roomies Victor and Adam finally have the chance to bond together behind bars, as father and son? Chloe wigged out and held onto the evidence that proved Adam's innocence. Can anyone possibly rein in a lollipop-sucking Chloe with her ever-ready, handy-dandy cigarette lighter? It's time to think outside the box and not go back to square one in Two Scoops.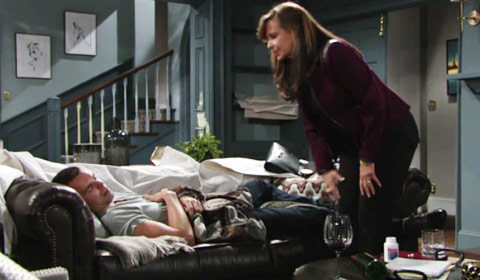 August 1, 2016
Darth Victor menaced both Chloe and his family as he quickly reclaimed control of Newman Enterprises and sent Nick and Victoria 'on vacation.' Phyllis reconciled with Jack, but only because meddlin' mama Jill got an eyeful and threatened Phyllis. Anita meddled and guilted Adam into letting Chelsea go. Ashley also meddled, but her advice actually helped Abby. Get the latest news in this week's Two Scoops.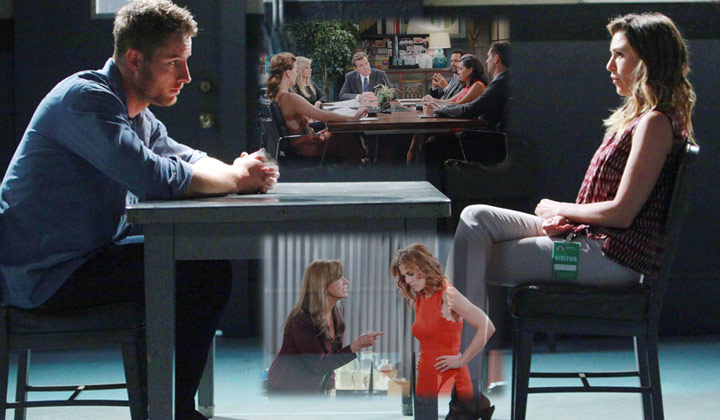 August 8, 2016
In a winner-take-all competition, Victor always rises above the rest to take the gold medal. Will Adam and Chelsea ever wise up and realize they are being played by Victor's mystery lady, Chloe? Phyllis and Billy continued to play a cat-and-mouse game at work. Will Jill dash to tell Jack the truth about the affair, or will the fans be left with a marathon, waiting for the huge reveal? Let's grab the gusto and the glory in this Olympic-themed Two Scoops.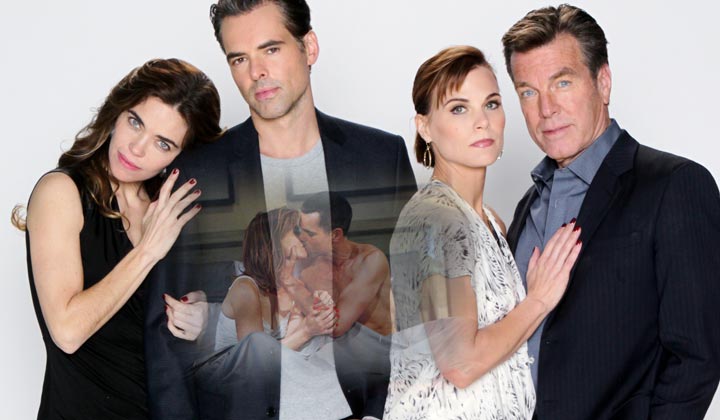 August 15, 2016
The Summer Olympics might be in full swing in Rio, but in Genoa City, it's business as usual. Get your game face on, readers -- it's time for the scoop!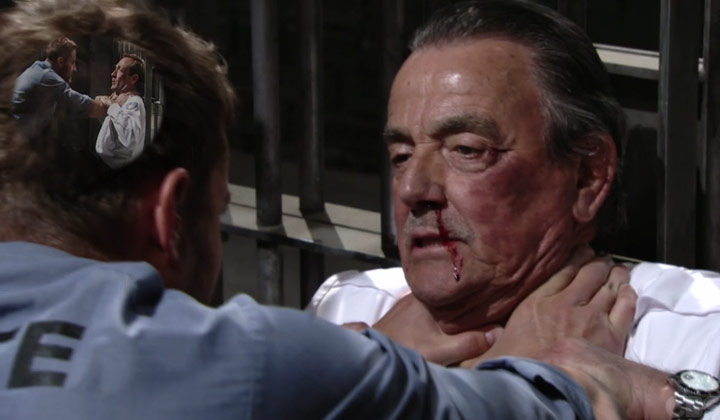 August 22, 2016
Control freaks, Victor and Phyllis, called a temporary truce to collaborate on a scheme to split Summer from Luca. Jill spared no effort in her poorly disguised attempt to reignite the love spark between Billy and Victoria -- who, instead, got her freak on with Travis. Prison stress caused Adam to freak out moments before news of his exoneration arrived. Get freaky and read the latest Two Scoops.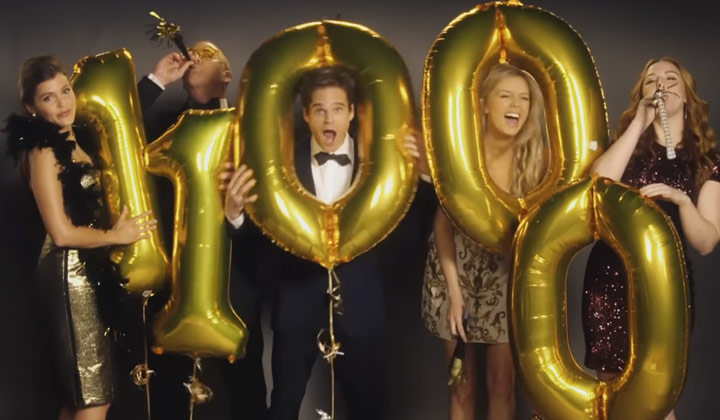 August 29, 2016
As Y&R prepares to celebrate its 11,000th episode on September 1, 2016, things in Genoa City remain just as dramatic as always. Jailbreaks, doomed engagements, and mommy issues were on the agenda this past week, and there was even room to squeeze in the return of two familiar faces. All that and more in this week's edition of Two Scoops!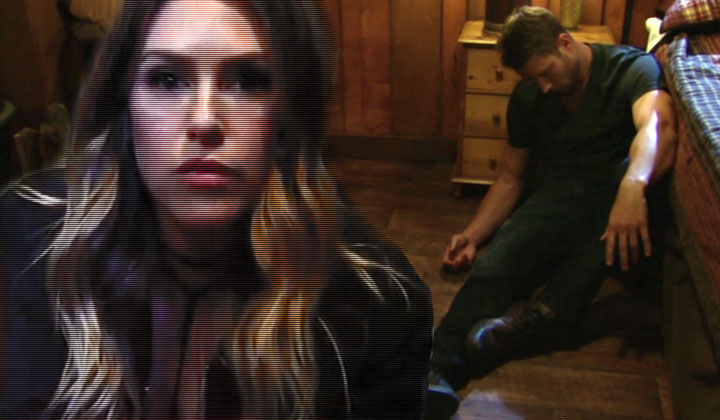 September 5, 2016
The Young and the Restless celebrated 11,000 episodes as Chloe gloated, "I'm gonna watch you die," and a fiery explosion rocked the night sky, after which Adam went missing. Nikki stood by her man, Victor, as Nick delivered news of Adam's possible demise and demanded answers. Chelsea refused to lose hope. Neil found his estranged mother and reconciled. Catch the latest twists in this week's Two Scoops.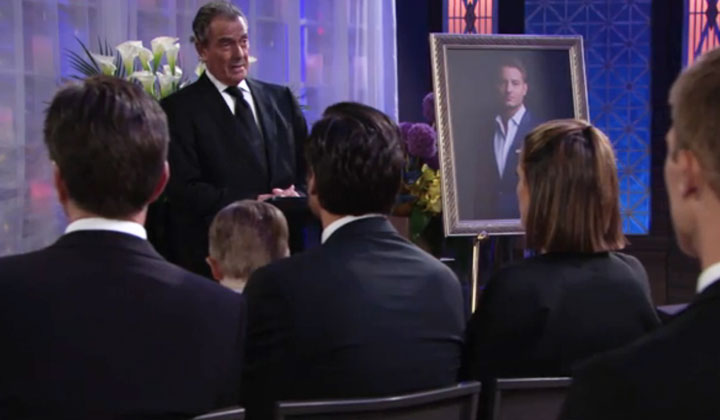 September 12, 2016
As Adam's loved ones mourned, Victor claimed responsibility and was on the brink of confessing when Jack stepped in and stopped him. Phyllis refused to show Victor sympathy and turned to Billy. Jill was furious when her plans for Billy and Victoria went awry. Neil found, reconciled with, and lost his mother on the same day. Catch the Two Scoops roller coaster and take a wild ride with Boone.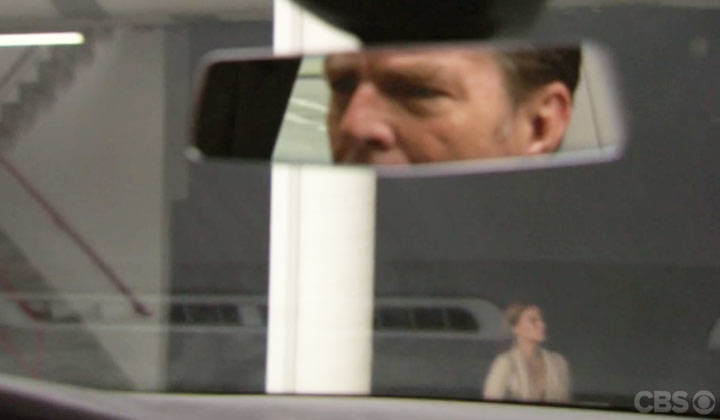 September 19, 2016
Everyone bid farewell to Adam, and it was time to move on. But will Chelsea be able to start a new life with reminders of Adam everywhere she goes? And will Nick's attention toward her turn into something more than friendship and support? Just as Phyllis was ready to mend the holes in the fence of her marriage, Jack built a sturdy brick wall of distance between them, which was good, since he finally learned the truth. Did Jack see "Red" once Phyllis admitted she had betrayed him? I bid goodbye to my favorite Adam Newman (so far) in this Two Scoops.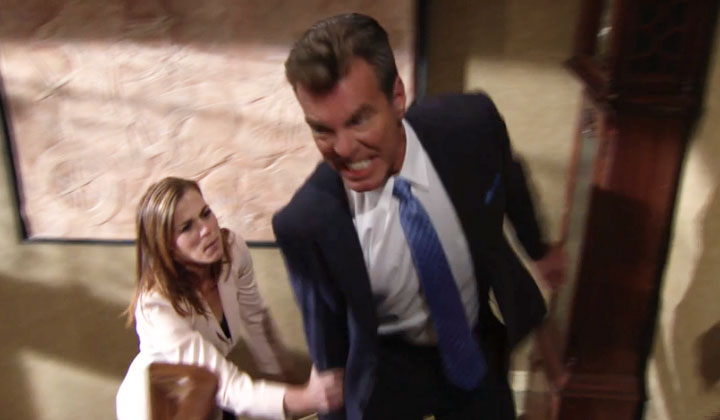 September 26, 2016
After a meltdown on TV, Jack took an imaginary knife and severed his connection to the Abbott-Winters foundation. Phyllis tried to put her marriage back together, but Jack told her to get lost, and as they argued, Phyllis tumbled down the stairs. Jill made a move on Travis, who recognized that Victoria had unresolved feelings for Billy. Boone forecasts a 'Jacknado' for Genoa City in this week's Two Scoops.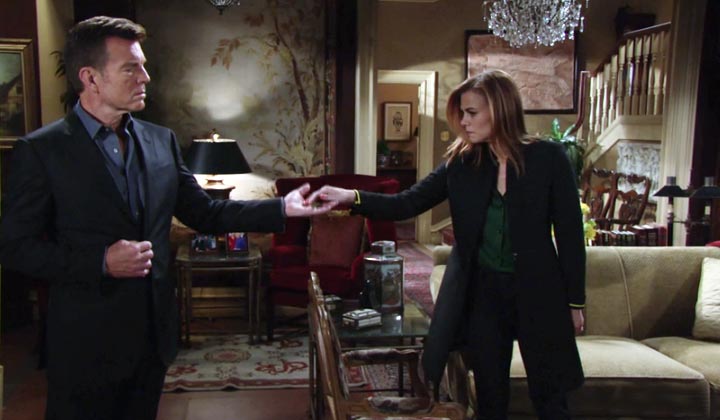 October 3, 2016
It's back to the drawing board, as Jack, Phyllis, Billy, and Hilary begin a new chapter in the storybook of their lives. Will Jack let bitterness turn him into a calmer, more rational version of Marco? Will the queen of underhanded and nasty be a credible hostess for gossip with a conscience?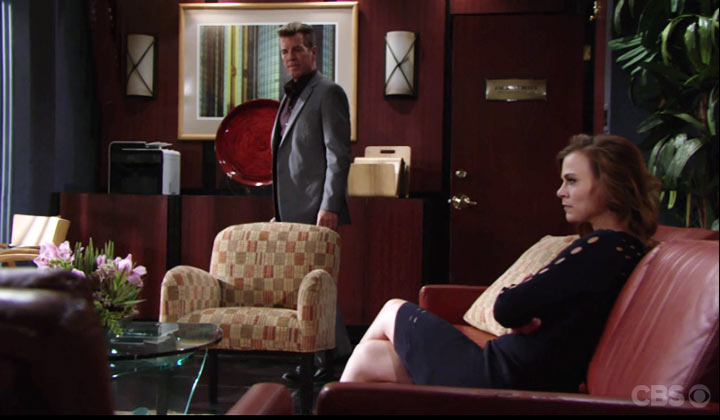 October 10, 2016
Phyllis begged Jack for a second chance, but he said there was no going back and assigned her to the file room. Travis mouthed eight words that Victoria dreaded, but it caused a gleeful Jill to refer to Travis as a pale imitation of Billy. Hilary's new career got off to a rocky start when Cane, Billy, and Victoria squabbled on camera. Catch the latest buzz in this week's Two Scoops.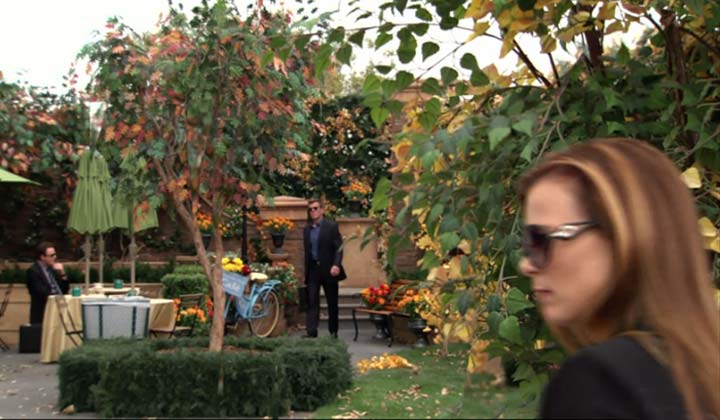 October 17, 2016
Delia's loved ones paid tribute to the darling girl on the anniversary of her death, but will Billy ever recover from the damage caused by her death to live a happy and fulfilling life? Would Chelsea be able to support a still-grieving Chloe if she knew the truth about Adam's demise? Are Delia and Adam standing together hand in hand in heaven, gazing lovingly down on their loved ones? And can a new tomorrow bring Phyllis the promise of a bright future with Jack?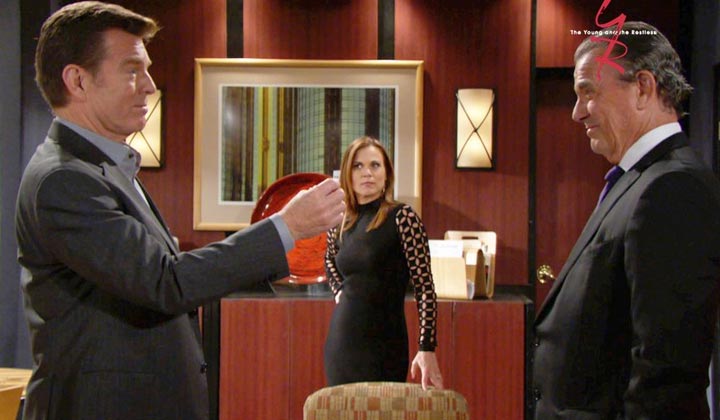 October 24, 2016
Despite a losing record, Jack attacked Victor anonymously, but was it a landslide, or has Victor baited Jack into making a serious error? If Victor sues, will Hilary's scoop put an end to GCBuzz and Devon's fortune? After splitting with Abby, can Ben still find happiness with Ashley, or will he leave town with good bud Dylan? Find out who rigged what in this week's Two Scoops.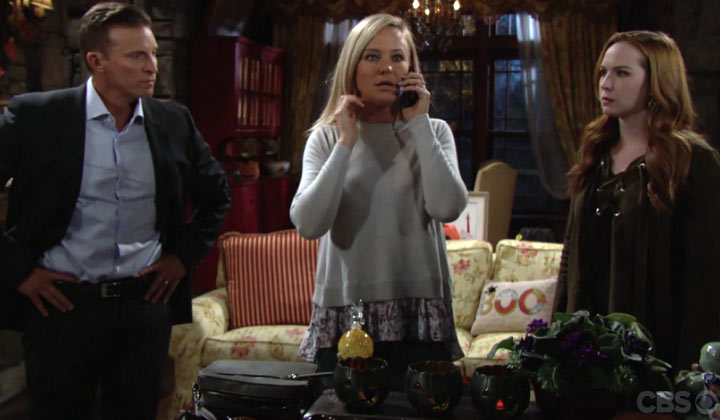 October 31, 2016
Sharon tried to get her caboose in gear to stop the train wreck the reveal of Sully's parentage would cause. Will the cover-up and ongoing lie be her undoing with Dylan, even though she had no control of the initial act? Should Nick forgive Sharon, as a parent who understands the loss of a child, when the truth comes out? Will the ongoing chain reaction destroy more than one family when all is said and done? Plus, Patty painted kitties (and one pregnant woman). And Phyllis purred with Jack and hissed at Victor as she made like the cat who ate the canary in Jack's plot to take the Mustache down.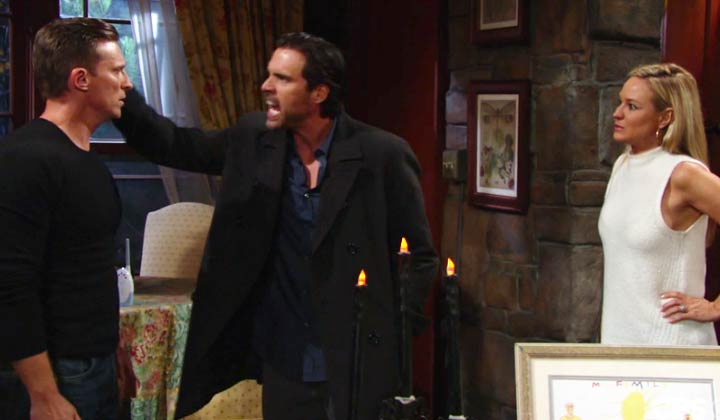 November 7, 2016
In ancient times, before TV, a scorned sorceress cast the baby daddy curse on Genoa City, dooming generations of men to faux fatherhood. Two Scoops tells all.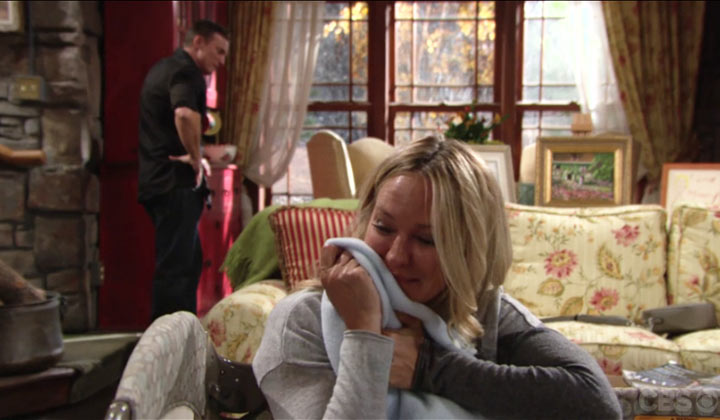 November 14, 2016
As Dylan and Sharon mourned the loss of their beloved Sully, Nick rejoiced in learning his precious Christian was alive and well. Will Christian be able to adjust easily to his new home with the only mother he has ever known no longer in his life? Can Dylan, Sharon, Summer, Faith, and the rest of the world ever get used to calling the boy Christian? And how long will it take Sully to get used to his new (original) name? The name change of this rose is not as sweet for some in Two Scoops.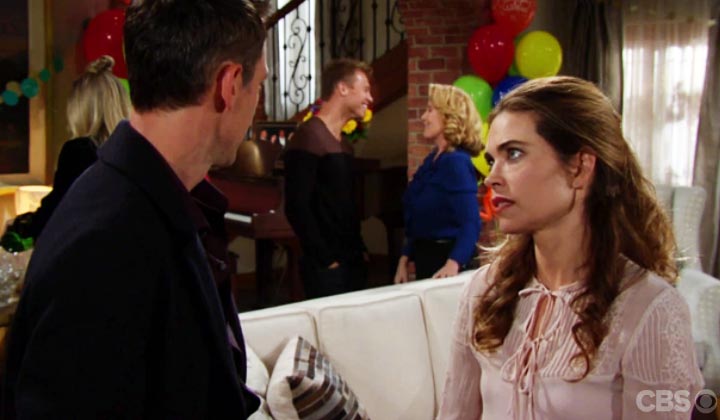 November 21, 2016
The Newmans circled the family wagons as news shark Hilary circled them. Jack denied his desire to circle Phyllis while Michelle expressed passion for Travis. Get all the news in this week's Two Scoops.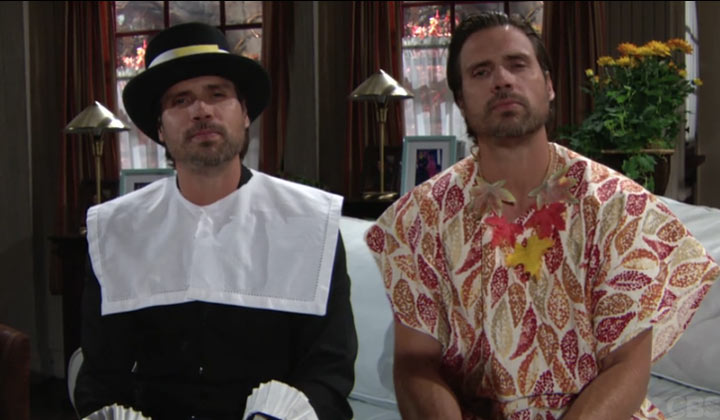 November 28, 2016
Hilary was hot on the heels of her baby-swapping story while she expected her gofer to continue to dig up the dirt. Should Mariah go on strike due to unfair labor practices, harassment, and low pay at GC Buzz? And we were seeing double, as Faith filmed Nick in a special Thanksgiving video.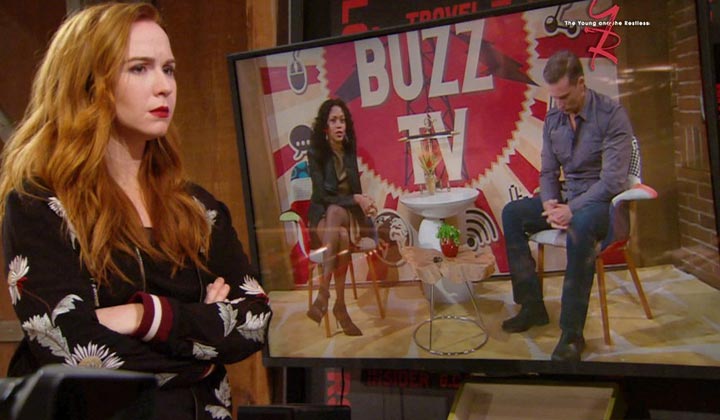 December 5, 2016
It was a buzzkill for Sharon and Dylan, who lost Christian, and Jack, who recognized what he had valued and lost. Meanwhile, Victoria cut Travis loose, and Hilary proved to be a loose cannon. Check it out in this week's Two Scoops.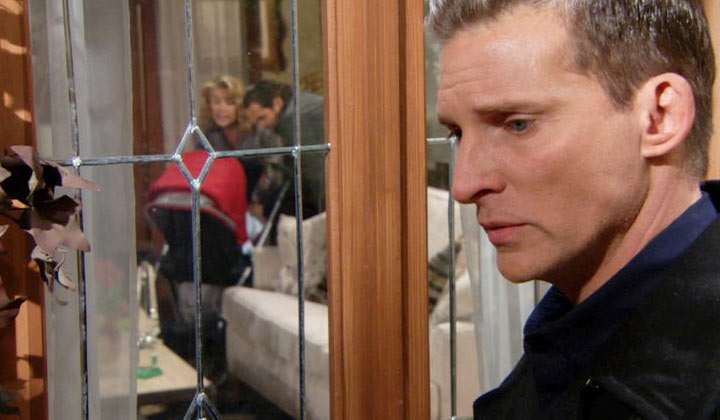 December 12, 2016
Love was a double-edged sword, as Dylan tried to parry Nick's every lunge in the court battle over visitation. In a brotherly duel to the end, who survived to become the ultimate victor? Or did Victor turn out to be the foil? It's en garde in this week's Two Scoops.
December 19, 2016
In a soapiverse far, far away, Santa made a list and checked it twice before landing his sleigh in Genoa City to spread Holiday cheer. Read this week's Two Scoops to find out who's been naughty and who's been nice.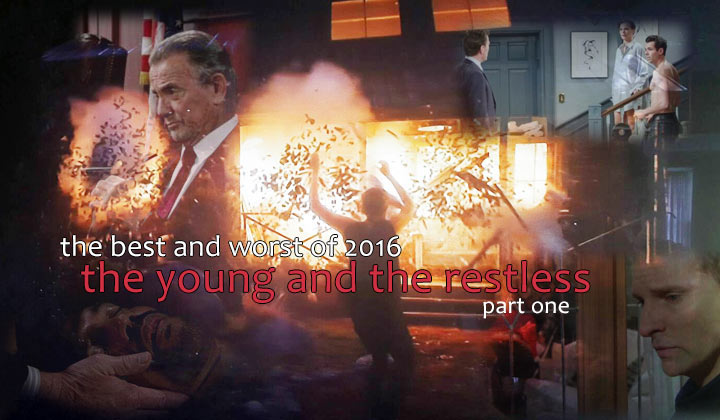 December 26, 2016
Going out with a bang would certainly be Adam's philosophy after both Adam and the cabin exploded into a million pieces. But did the year for Y&R also finish out with a bang as 2016 drew to a close? Or did the soap limp out with a whimper not much louder than Christian's nonexistent cry after he was stripped from Sharon's loving arms?