Y&R Two Scoops: Two Scoops Archives for 2015
The Young and the Restless opinion columns from 2015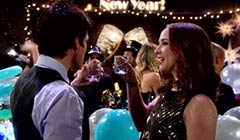 January 5, 2015
Will Sage spice up Adam's life before Nick starts cooking in the kitchen? Is 2015 the year Victor finally gets his comeuppance? Who is more delusional Kelly or Don Quixote? In a boxing match, who would win, Jack or Caspar Milquetoast? Will Billy and Victoria reunite before or after Nick figures out that Gabriel is Adam? Read on as this week's Two Scoops scribe muses about life and love in Genoa City.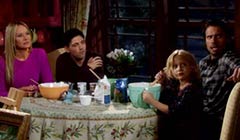 January 12, 2015
Despite her best efforts, Avery was still attracted to Joe. Do Dylan and Avery have any real chance to make it down the aisle? Abby confiscated a sample of the love potion, but who will she choose as her guinea pig? The possibilities are endless. This week's Two Scoops is dishing up a scent of love, passion, and betrayal.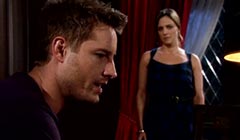 January 19, 2015
Is Neil fated to regain his sight just in time to see a union between Hilary and Devon? Is Nikki trading her union with Victor for one with the bottle? Will Gabe form a union with Sage, or will he reunite with Chelsea? Who's acting crazier in the battle for Jack's heart, Phyllis or Kelly? Will Billy and Victoria reunite before or after February sweeps? This, and more, as this week's Two Scoops scribe addresses the state of the unions in Genoa City.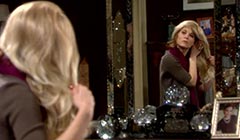 January 26, 2015
Has Phyllis flipped her wig -- Or did a desperate Kelly poison herself in the hope of winning Jack back? Who is the victim and who is the culprit? The debate rages on! Plus, Jill and Victor poured out their hearts -- in battle over Chancellor Industries! For more, read this week's Two Scoops.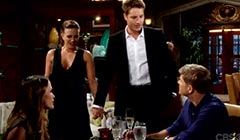 February 2, 2015
Has karma finally caught up to Phyllis with an assist from Kelly? Will Victor survive his latest scheme to cheat fate? Will Hilary still love Devon if their shared karma requires that Devon lose his billions? Will it be destiny or deviousness that brings Chelsea and Adam together again? Will Avery tempt fate and fall for Joe's smarmy charm? Will Nikki sober up and play Truth or Consequences? Get answers as this week's scribe opines on the karmic destinies of Genoa City's most illustrious citizens.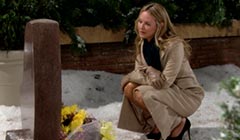 February 9, 2015
Miracles do happen! Neil regained his sight -- just in time to see Devon and Hilary sexing it up in the sack. Will Neil choose to remain blind to their indiscretion? Nick was awarded full custody of Faith. Will he ever allow Sharon her unsupervised visits, since they are at his discretion? For more, read this week's Two Scoops.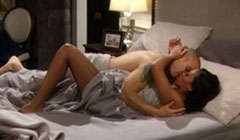 February 16, 2015
Up in the sky, it's a bird, it's a plane, it's a jet load of people flying in bad weather with a bombshell set to explode! Batten down the hatches and get ready for an explosive Two Scoops.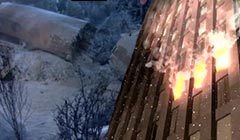 February 23, 2015
Usually, bad things happen in threes, but how about catastrophe in sixes? Beneath the rubble, snow, blood, and charred wreckage is a perfectly unblemished copy of this week's Two Scoops. Check it out in the safety of our Two Scoops bunker.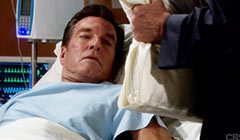 March 2, 2015
After a death, three disasters, and an explosive revelation, residents of Genoa City are getting ready to rumble, grumble, and mumble until someone walks away with all the marbles and gloating rights. Read on as this week's scribe ponders the difference between "the spoils," "the spoiled," and "spoiling for a fight!"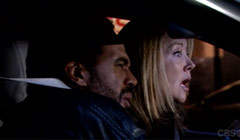 March 9, 2015
Neil emerged from the deep, dark tunnel and, in Nikki's car, rode onto a path of drunken despair -- aimed directly at Christine! Should Nikki name her demonic vehicle in honor of its victim (in true Stephen King fashion)? And beware, Jack, of mustachioed enemies bearing truces. To learn more of this week's drama and intrigue, check out Two Scoops.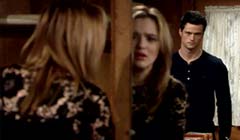 March 16, 2015
Summer took one look in the mirror and got more than she bargained for. The Scooby gang rallied to keep Summer safe, but it was Abby who was attacked. As Victor pulled the strings, Kelly confessed that she, not Phyllis, had poisoned the tea. Adam decided to make a speech, Abby cried on Ben's shoulder, and Dylan comforted Sharon. This and more as Boone dishes the latest dirt on her imaginary friends in Genoa City.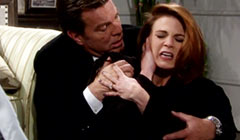 March 23, 2015
Spring was not the only thing breaking after Phyllis' head felt the heavy clunk of the Champagne bottle. Did Kelly's impulsive action thwart Victor's grandiose scheme and damage his future as a master puppeteer? Watch what you say. The confessional walls have ears. Also, should the stalker "accessorize" the mirror with a different shade of lipstick? To learn more, check out Two Scoops.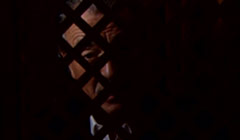 March 30, 2015
...except for Victor Newman who was voted "Most Soulless" by a jury of his peers. Sharon tried to confess her indiscretion with Austin to Nick, but Nick was canoodling with Sage and in no mood to hear it. After learning horrific news about Kelly, Stitch got drunk and confessed his sin to blabbermouth Abby, while Victoria and Billy made confessions of their own. Read on as this week's scribe hears confession at the biweekly meeting of Soapaholics Anonymous.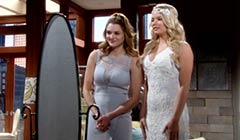 April 6, 2015
Confessional hijinks, a mirror-cleaning fetish, and an infectious engagement bug. Yes, it was just a typical, routine week in the lives of our Genoa Citizens. Does Sharon really have what it takes to be a serial killer? Plus, Phyllis found a very effective way to take Jack's mind off of a deceased (?) Kelly. To learn more, check out Two Scoops.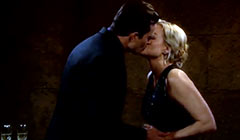 April 13, 2015
Batten down the hatches and get ready for the storm of the century as the winds of change swoop down on Genoa City. Victor plots to reign over Jabot while Jack and Phyllis plan a wedding trip to the islands. Dylan was prepared to defend Sharon, but what will he do now that Sharon's fingerprints have been found on the murder weapon? Will Avery fall for Joe after Joe took a tumble? Will Billy and Victoria, Abby and Stitch, or Chelsea and Gabriel be the first couple to be unfaithful to one or the other's significant other? For a prognostication of what's about to change for our imaginary friends, please join Boone for this week's Two Scoops.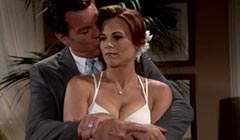 April 20, 2015
Did one man's free-fall into love -- and over the balcony -- hit the "wow" meter of a certain lady's heart? Could Sharon be setting herself up to take the fall for two murders? And was Phyllis' wedding to "Yack" a dream come true, or was she about to enter the nightmare of her life? To learn more, check out Two Scoops.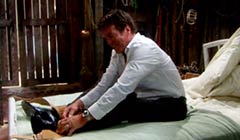 April 27, 2015
Yack cuddled up to Phyllis while Kelly snuggled up to Jack. Victor seized Jabot, and Victoria took Ashley's office. Hilary witnessed for Neil's defense as Dylan and Michael looked out for Sharon's. Victoria ditched Stitch who slept with Abby. Victoria inched closer to Billy. All this and more as Boone spills the beans in this week's Two Scoops.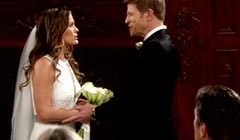 May 4, 2015