Y&R Two Scoops: Two Scoops Archives for 2019
The Young and the Restless opinion columns from 2019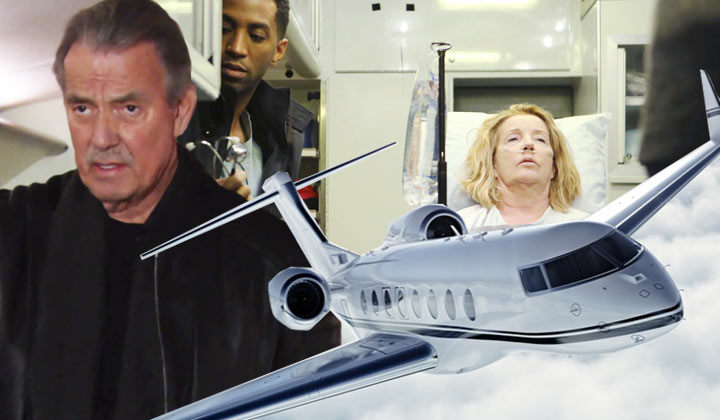 January 7, 2019
Victor was arrested for J.T.'s murder shortly after he was discovered hiding Nikki in  plane  sight. Will Rey ever begin an actual investigation to find the murderer? And why would the detective believe that Victor was stupid enough to hide evidence in his own stables? It's happy New Year in Two Scoops.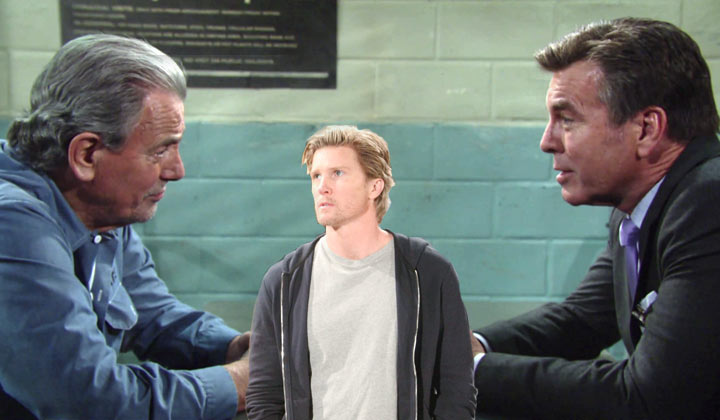 January 14, 2019
Here, the columnist makes a case for Phyllis being the bad guy and fills in some potential holes in this theory by again suggesting that the reports of J.T.'s death might be greatly exaggerated. Will Victor be convicted and be willing to serve time for the woman he loves? It already feels like we're moving headlong into February sweeps, and there's a change in the writing regime that should lead to different -- hopefully better -- storytelling.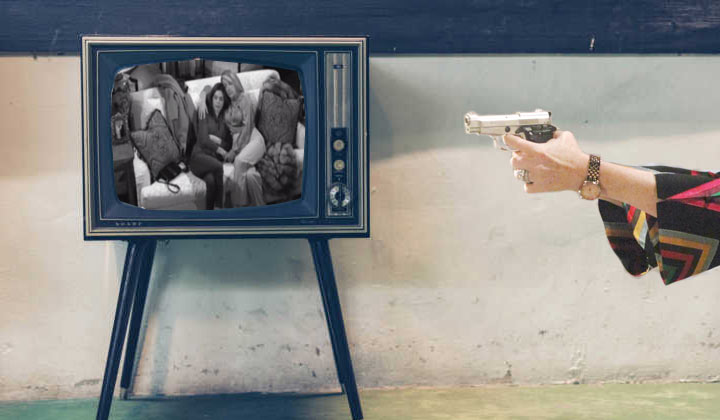 January 21, 2019
Nikki finally revealed the truth to Nick about her part in J.T.'s death. But who is the culprit that has hidden cameras planted at the Newman ranch? And if J.T. is still alive, would Nikki happily slug him with the fire poker again? Love doesn't mean never having to say you're sorry in Two Scoops.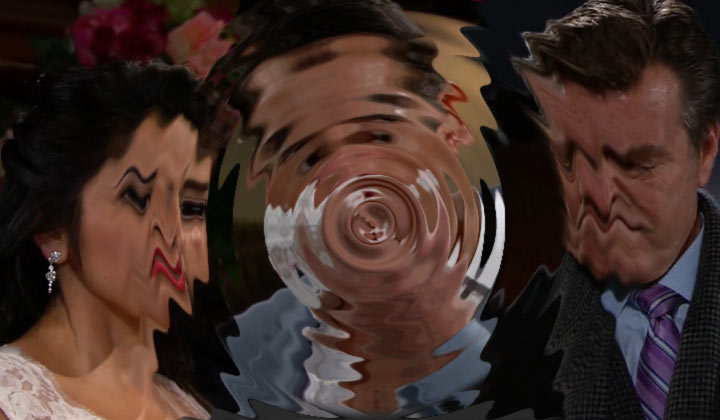 January 28, 2019
Throughout Genoa City this week, actions had consequences, and the ripples were felt by a lot of people, including many who did nothing wrong. Sometimes a kiss isn't just a kiss, especially when it could tear families apart. Who knew a marriage renewal could lead to bouts of one-upmanship? Duplicity and jealousy and half-truths created enough ripples that you could make a basket out of the overlap if they were made of wicker! Let's dive in and try not to make too many waves in Two Scoops.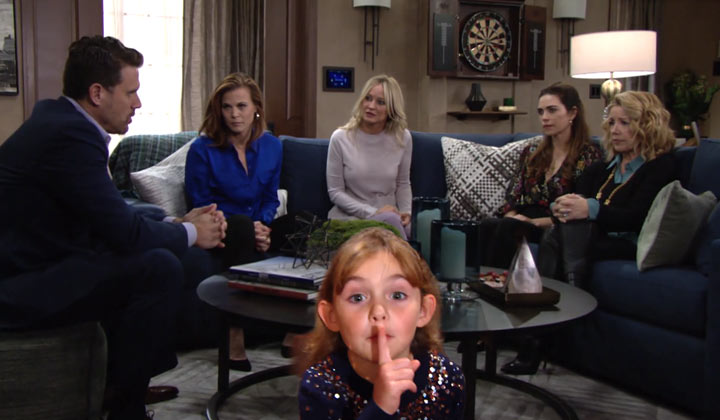 February 4, 2019
Okay, so just who was Katie's special friend? Was J.T. alive and well and using his security tricks and technological know-how to snow the Newmans? Or was Victor so diabolical he used his own granddaughter to cover the tracks of framing himself? Only the shadow knows in Two Scoops.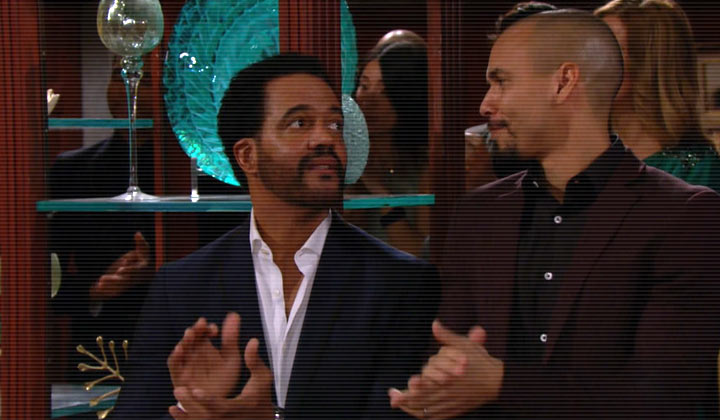 February 11, 2019
The overriding story of the week happened off the canvas, with the untimely and tragic death of Kristoff St. John, The Young and the Restless' beloved Neil Winters. In Genoa City, faulty evidence led to a rushed murder trial and all sorts of angst. Find out what our columnist thinks of the goings-on in Genoa City.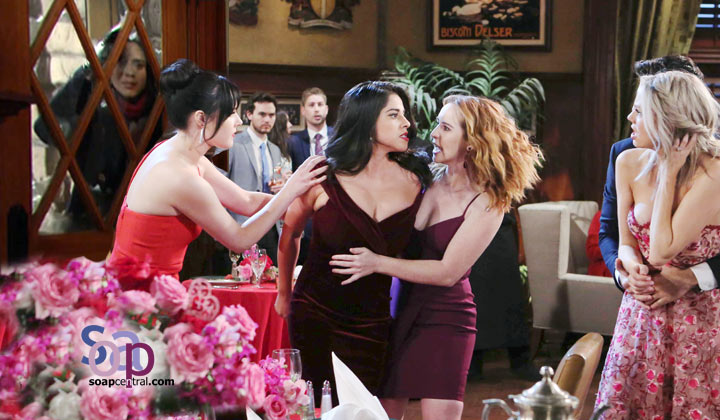 February 18, 2019
Nikki confessed and was promptly arrested. While Nikki faced the music for killing J.T., Lola played the same old "no sex" tune as Fen's singing career hit a rough patch. Did a questionable search neutralize words of love and lead to bracelets being given to several ladies? It's Valentine's Day in Two Scoops.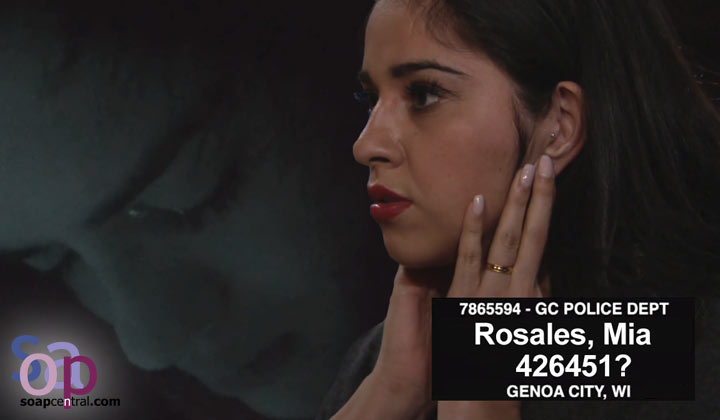 February 25, 2019
It was a week with delusion, deception, backstabbing, and a coma -- in other words, a typical soap week. But there is serious action in Genoa City, and a major writing change is around the corner. Let's look at what was, what is, and what could be in Two Scoops.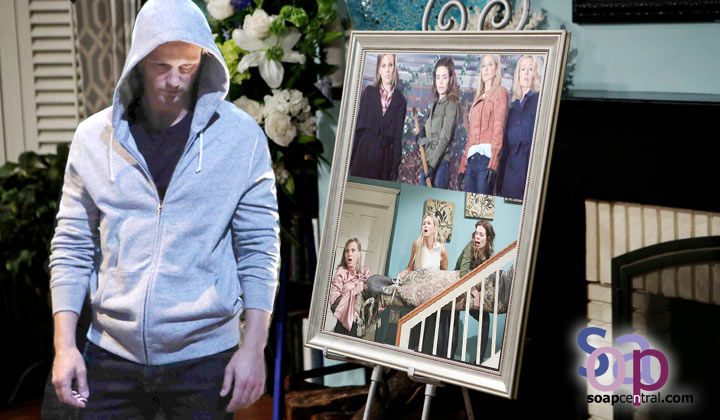 March 4, 2019
After Phyllis threw his mother and sister under the bus, Nick tossed her patootie out of his house. Will Billy's thirst for blood wipe Phyllis' face off the Jabot map? Could J.T. be roaming the earth as a zombie, since the dead and the truth don't stay buried? The day of reckoning is near for our fearless foursome in Two Scoops.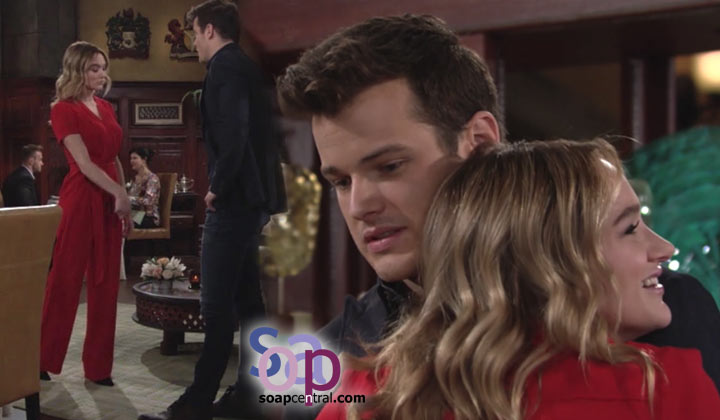 March 11, 2019
Will Summer do the right thing because she's a good person at heart? Or will she do the right thing because it's the only way she can get what she wants? And does she really want Kyle or is he just the shiny toy another little girl is playing with? Was there adequate legal representation in the big trial that nobody attended? Will the female half of the cast be in jail before the end of the month? So much going on this week in The Young and the Restless -- let's explore the madness.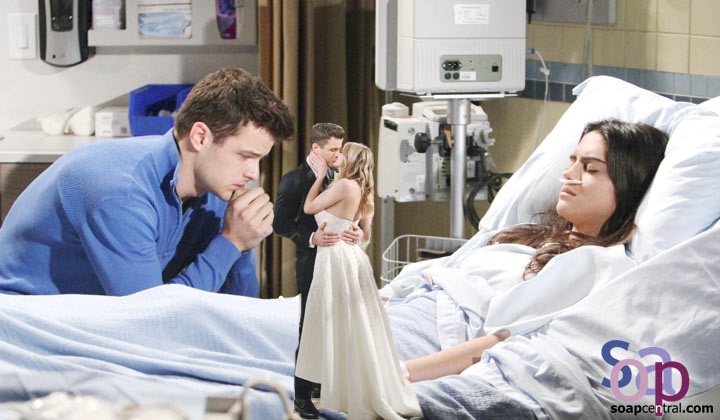 March 18, 2019
Nikki, Victoria, and Sharon faced spending years behind bars, and Kyle's marriage threatened to be a prison of his own making, while Jack's heart was imprisoned by an unknown adversary. Will an alive J.T. return in time to free our ladies? Will Summer renege on her deal after Kyle "put a ring on it"? The verdict's in.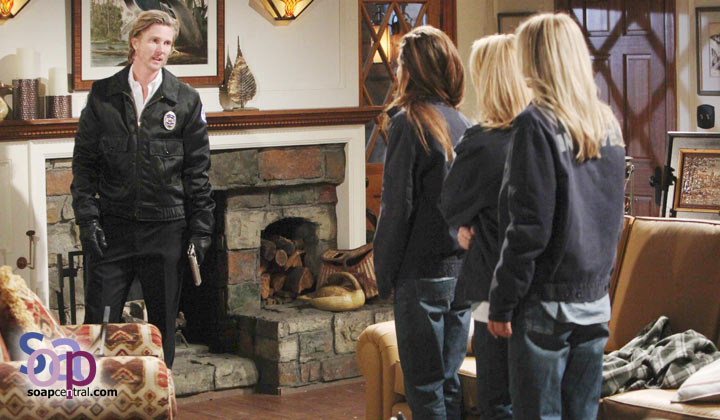 March 25, 2019
February Sweeps seem to still be going on because this was an explosive, exciting, frustratingly short week in Genoa City -- frustrating because five days is too long to wait to find out what happens next! But the dead have risen, or washed out in a storm drain, lives are in peril, and we have to wait five days to find out what happens next. Join our columnist as she gives her Two Scoops of enthusiasm for an action-packed short week in Genoa City.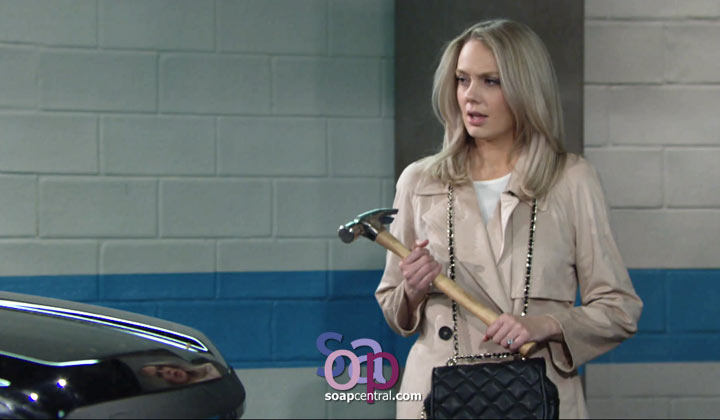 April 1, 2019
Sacrifices were made for love, but with two different motives at hand. Was Kyle being selfless, or was he still in love with Summer as Lola claimed? Was Rey's intent selfish just to win the hand of his fair maiden? And was J.T.'s brain tumor the cause of all his turmoil? April showers may bring flowers, and it's Two Scoops.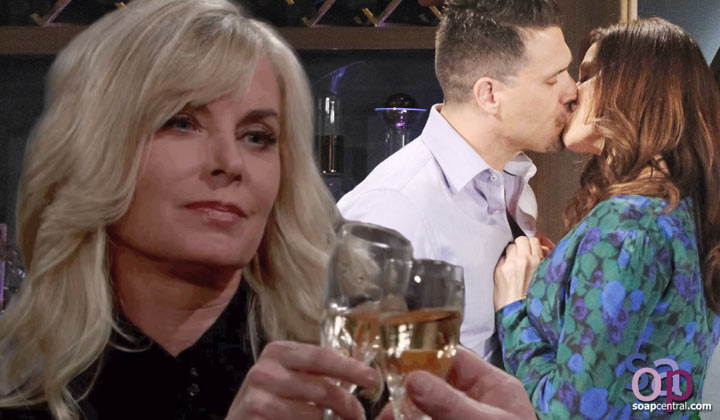 April 8, 2019
In a truly twisted twist, Ashley came back and created a tailspin at Jabot, ousting Phyllis, putting Jack back in charge, leaving Lauren wanting to run for the hills, and intensifying the battle between Jack and Ashley. And that was just Monday! Changes are afoot in Genoa City, and it's anyone's guess where things will end up. Let's jump right in and see what our new writers are preparing to serve us in this week's Two Scoops.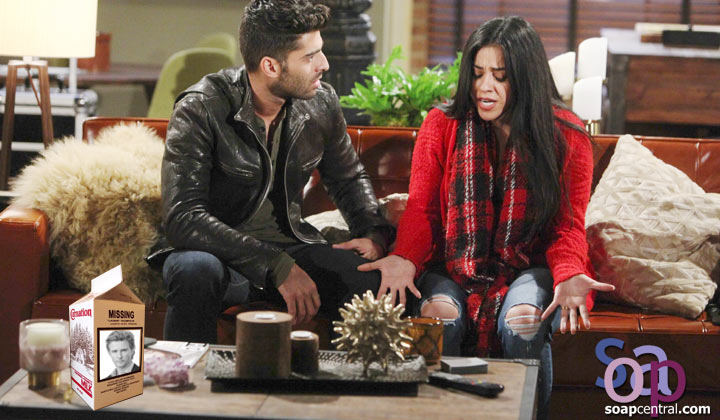 April 15, 2019
Yesterday's gone, and so was J.T. and his storyline. So, just where does that leave our favorite characters? Are the right two Rosales family members leaving town? And should the other two follow them out the door? Has Sharon quit taking her meds? Jack's back in charge at Jabot, and all's right in the world in Two Scoops.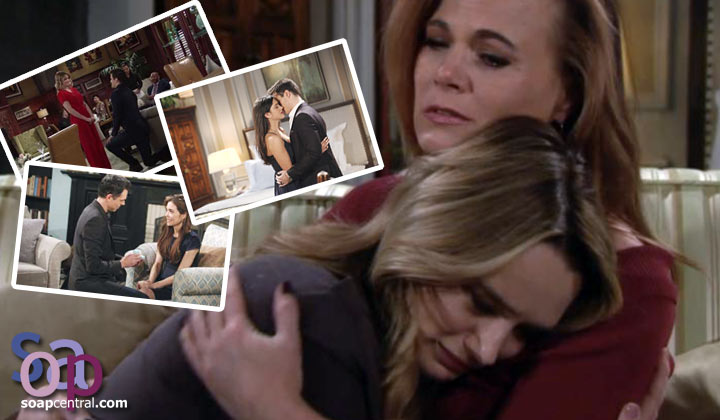 April 22, 2019
One couple seems to be over due to loving the wrong person (or people). One couple is not over despite the same reason. Family loyalty is in flux, and some people are struggling with deep feelings of inadequacy. All in all, a typical week on The Young and the Restless. But there's a dark cloud hanging over Genoa City as we prepare to say goodbye to Neil. Join our columnist as she ponders the goings-on in Genoa City in this week's Two Scoops.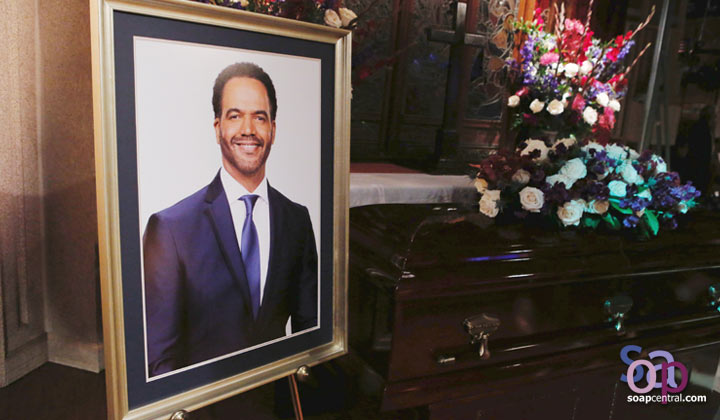 April 29, 2019
With Neil's death, all our beloved Winterses seem to be fading away. Did Lily need to leave Genoa City to heal? Will Devon be able to recover so soon after the death of Hilary and his unborn baby? As loved ones reflected on his kindness and quiet strength, it's a heartfelt goodbye to Neil Winters in Two Scoops.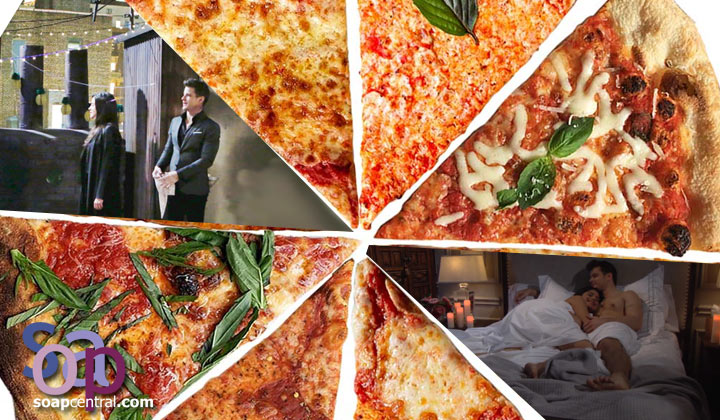 May 6, 2019
There was closure, there were new beginnings, and there are upcoming returns. There was food and sex, but not together. Are Lola and Kyle heading for happily ever after or happily ever disaster? Will there be babies in the near future? Are we moving toward Dina's death, and will Jack ever put her in a facility that can monitor her 24/7? The groundwork is laid for an interesting May Sweeps, all this while the Daytime Emmys are honoring the best and the brightest in daytime television. Let's get right into it in this week's Two Scoops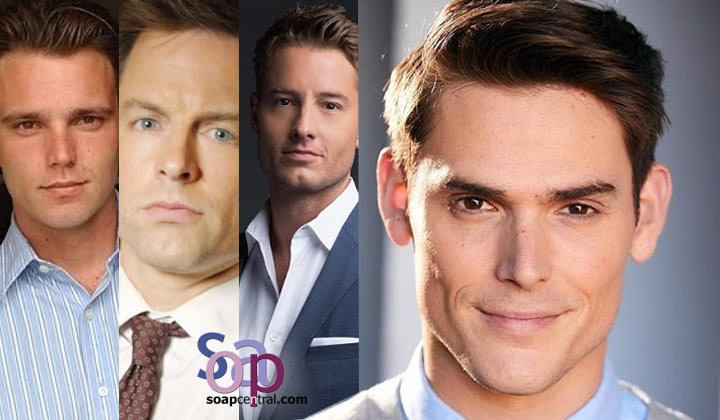 May 13, 2019
Even with no memories of the past, Adam Newman was back playing the same old games. Will he disrupt Sharon's life and her relationship with Rey? And when Adam's memory returns, will the feelings of love and hate for his father reawaken, also? It's the three (or four) faces of Adam in Two Scoops.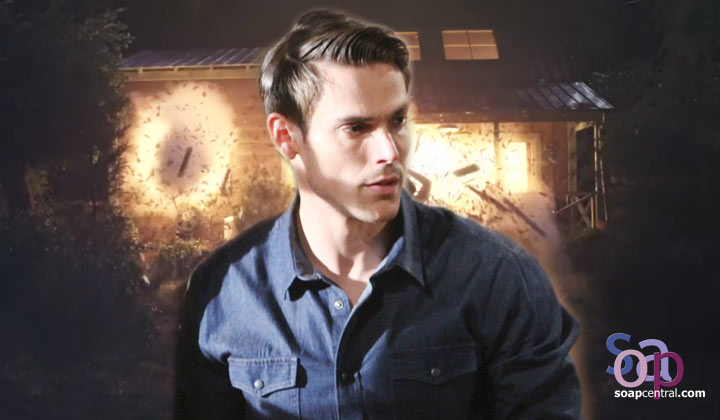 May 20, 2019
We don't recognize Adam, but that's okay because he doesn't recognize anyone -- but does it work? His homecoming wasn't all rainbows and lollipops, and like the Biblical Prodigal Son, the older brother wasn't as joyful about the reunion as daddy was (and neither were his sisters). No sooner was he back in town than someone put a bullet in his belly. Talk about Sweeps! Let's jump right in and scoop about this improbable return from the not-quite-so-dead.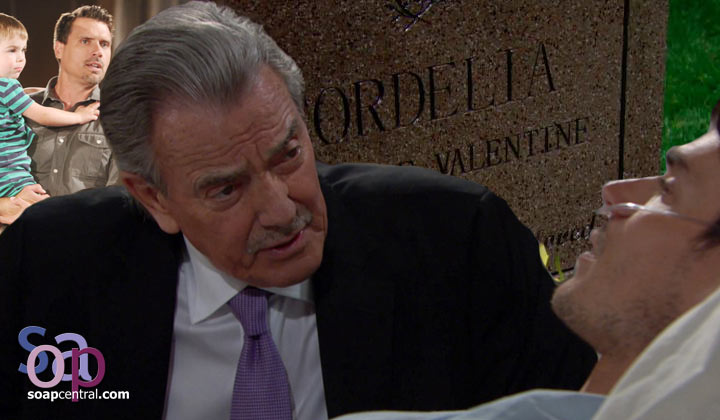 May 27, 2019
Thanks to a bullet in the gut, Adam woke up from surgery with his memories completely intact. Would Adam be awarded full custody of Christian from Nick, if he chose to sue? Will Victor's desperate act to reunite his family with the prodigal son backfire? It takes one black sheep to know one in Two Scoops.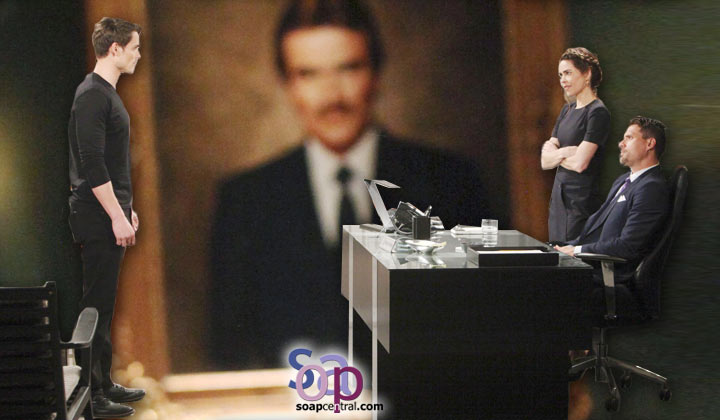 June 3, 2019
Life goes on in Genoa City, and people make outrageous choices with great regularity. And sure, people suffer, but perhaps the unseen victims who will suffer the most are the children. Join our writer as she looks at the goings-on and the potential impact on the littlest ones on The Young and the Restless in this week's Two Scoops.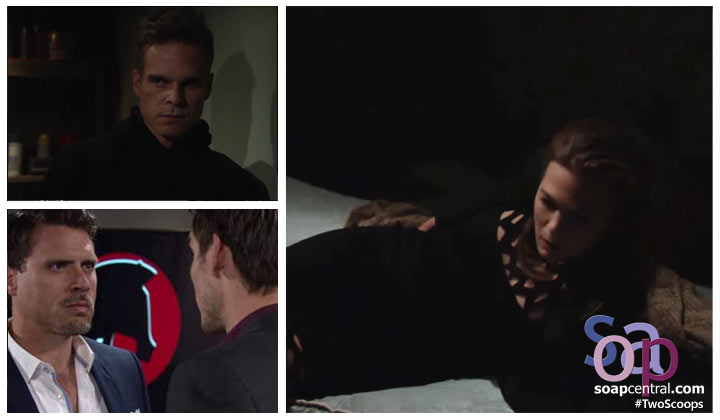 June 10, 2019
Phyllis and Adam joined forces to get back at all the people they felt had done them wrong. Did this dynamic duo have a devil's pact as partners in crime? And who will they end up hurting more -- the ones they love or themselves? There's a fire in the kitchen with a dish best served cold in Two Scoops.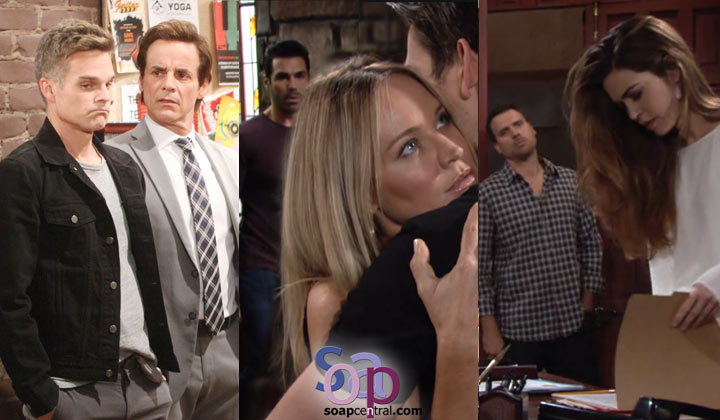 June 17, 2019
We had families putting the dys in dysfunction, without so much of the fun. The amount of pain in Genoa City was hard and difficult to watch. Were it not for one engagement and one blissful married couple, there wouldn't have been any happy people. Let's unpack this heavy week on The Young and the Restless.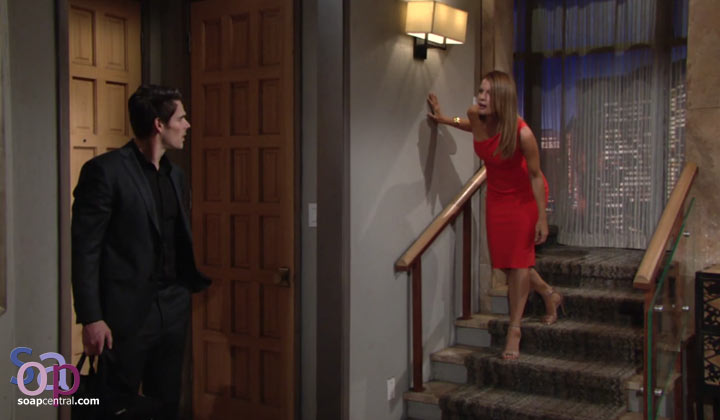 June 24, 2019
Phyllis' need for revenge burned hot, while Adam was cold and calculating in his vengeance. Was there more to these two than just as partners in crime? Could a triangle with Phyllis and Sharon over a new Newman be looming? Michelle Stafford was back as Phyllis and ready to blaze in Two Scoops.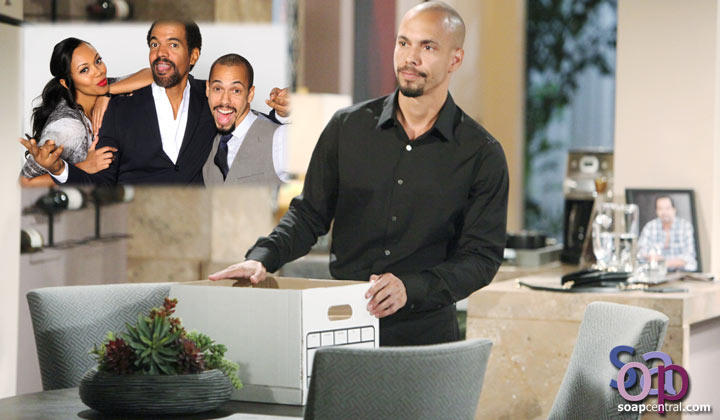 July 1, 2019
Worry and grief permeated The Young and the Restless, with returns from the dead and not-quite-dead-but-still-gone peppered in for fun. Join our columnist as we look at the good, the bad, and the brutal in this week's Two Scoops.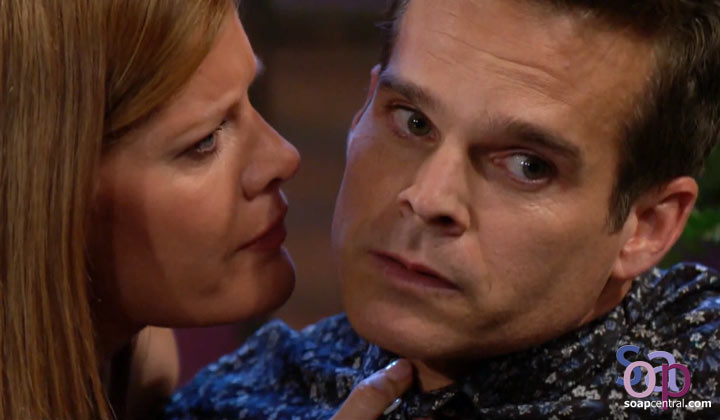 July 8, 2019
Chelsea returned to town to protect her precious child from his adoring father, Adam. Since she and Nick both had similar custody issues, would they join forces against a common foe? And which "devil" should Kevin fear more: Adam or Phyllis? Happy Birthday, America and Billy Abbott in Two Scoops!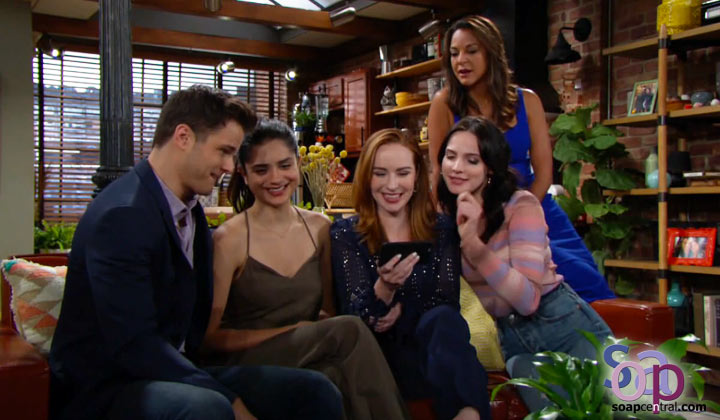 July 15, 2019
We met Chelsea's husband just in time for him to die, but did his presence mean anything? Everyone's suspicious of everyone else, and most of them have cause. It's a crazy, mixed-up week in Genoa City, and our writer has no idea where things are going. Let's jump in as we scoop about it.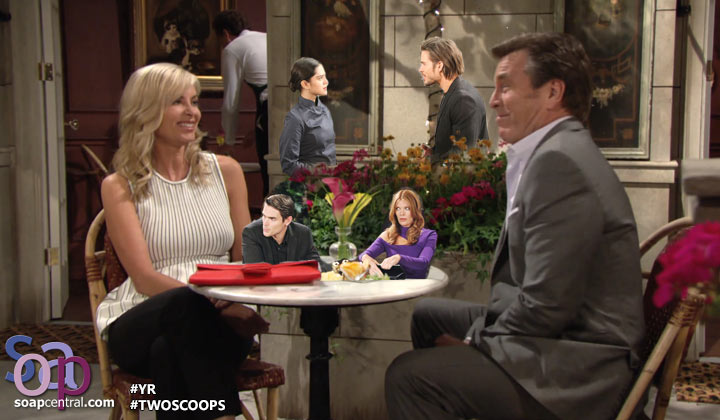 July 22, 2019
The custody battle over Christian was near -- with Connor's possibly looming in the horizon. Was Adam a selfish and cold-hearted weasel who only wanted to control and possess his sons? Has he been painted in too dark of a shade of grey to ever be redeemed? It was a battle of the hearts and wills in Two Scoops.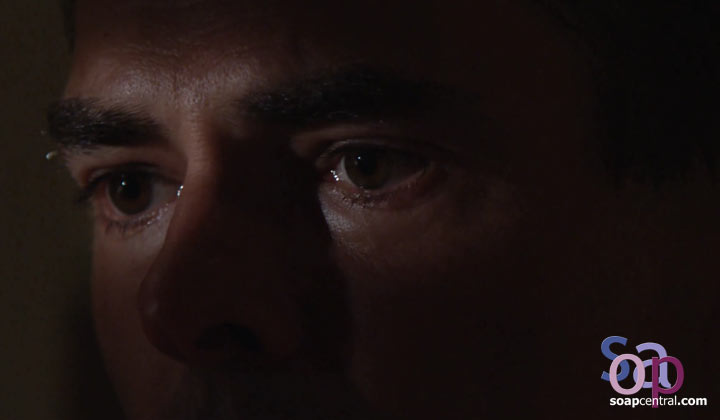 July 29, 2019
We've had parents leading with guilt, parents dealing with grief, and parents denied custody of their children. They all claim to love the kids, but who loves the kids unconditionally and really works at it, and who loves the kids for how they make the parents look? There's a lot to analyze in the parenting and love styles in Genoa City. Let's dip our toes in during this hot summer week and see if the water's fine in this week's Two Scoops.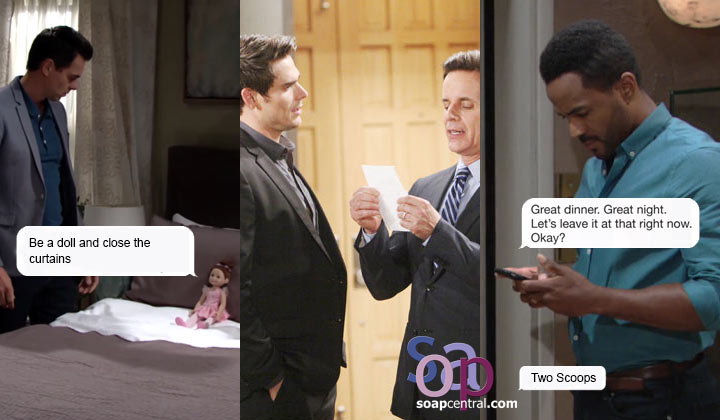 August 5, 2019
Our beloved characters have gone through various stages of luck since Adam's return to town. Was it a stroke of luck when Chelsea received her inheritance before her custody battle? Or was Phyllis correct when she claimed that everyone had to make their own luck? May the good luck (and the force) be with you in Two Scoops.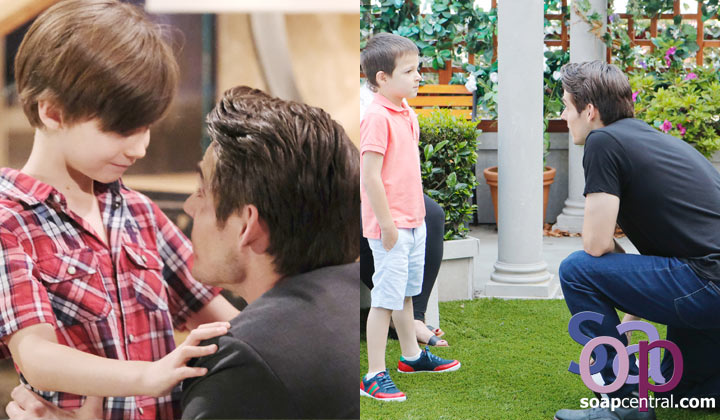 August 12, 2019
We have fathers battling for sons and a father battling his own mind over a lost daughter. There are crimes we saw and crimes we've heard hints about. Love is blossoming, but so is lust, as the love of people's lives changes based on who's in the room. There are some tough decisions coming up around paternity and paternal rights, and it's a toss-up who will be chosen. Join our Two Scoops columnist as she explores some of the twisted goings-on in Genoa City.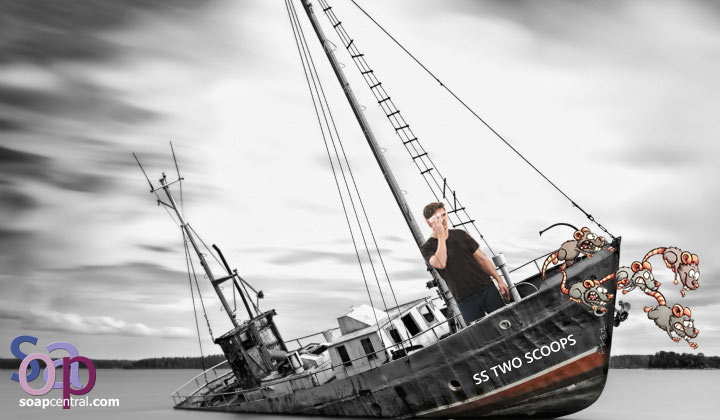 August 19, 2019
The Newmans and Chelsea scrambled to protect two innocent boys from the destructive force known as Adam. Will Chelsea resort to a court battle over the custody of Connor? Will Victor's restraining order prevent future damage to Christian? Threats, superstitions, and jinxes threatened Lola's big day in Two Scoops.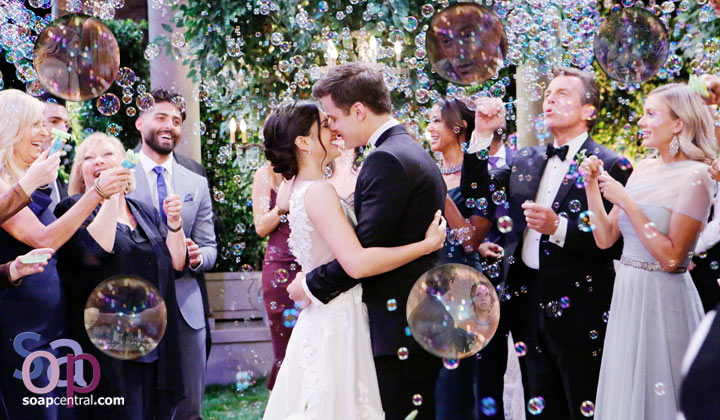 August 26, 2019
All you need is love, but what we do to get it sets us apart. Apparently, Adam will destroy everything and everyone for it, and it looks like Phyllis is on the way to that, too. Michael had a strange way of showing love to Kevin, and Sharon and Nick still have some love, as Chelsea and Adam witnessed. Kyle and Lola are basking in love... but will love be enough for our friends and frenemies in Genoa City? Let's do a little of our own lurking and find out.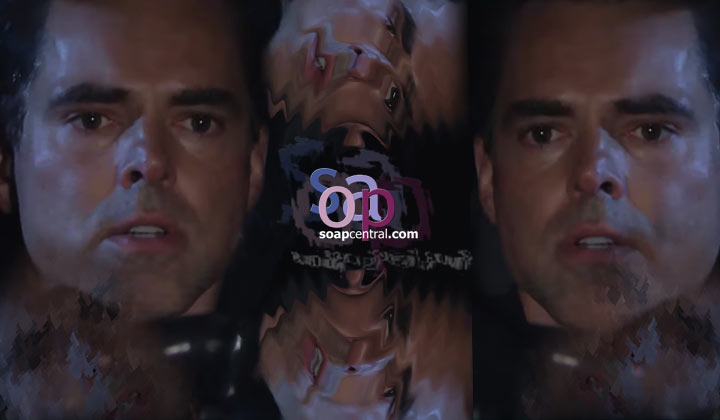 September 2, 2019
As he chomped on his chewing gum, a sleep-deprived Billy tried to plow Adam down at the scene of darling Delia's hit-and-run. Did the gum make him do it? Will Billy be able to return to being the mild-mannered daddy that his daughter had known and loved? It's twice the fun in not One Scoop but in Two Scoops.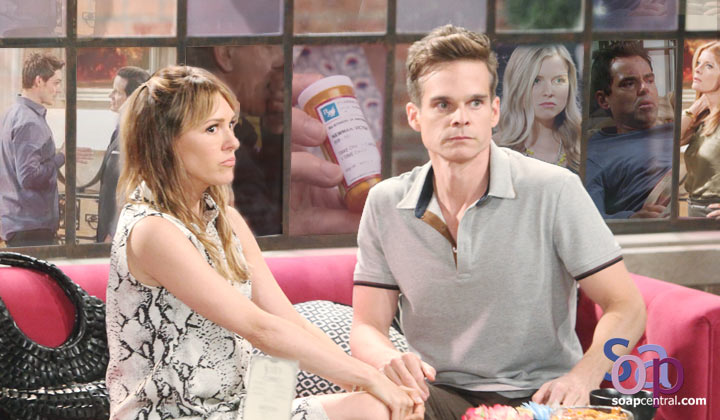 September 9, 2019
The big Grand Phoenix opening is upon us, but it looks like the event won't be as smooth as Society's opening was. Who is going to blow everything up? And who will emerge from the ashes as the new phoenix in the miraculous resurrection club? Join our Two Scoops writer as she reflects on the unbelievable returns, the surprising departures, and the looming disasters.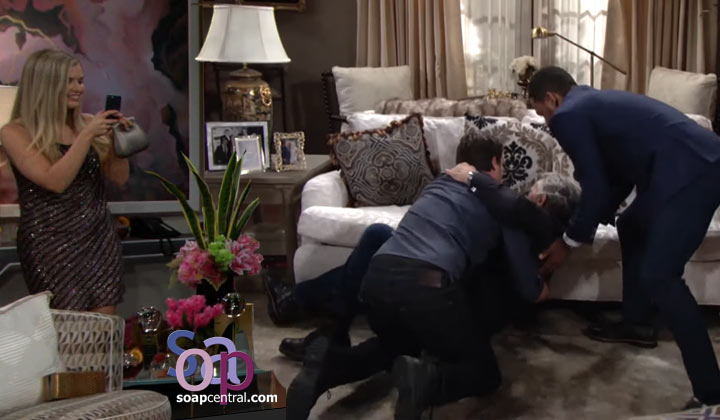 September 16, 2019
Adam pulled a switcheroo with medication that could cost Victor his life, as teenybopper Zoe spiked the sangria at the gala to exact her own revenge. If Victor lives, will he ever feel safe in his own home again? Were Theo and Phyllis proving to be better investigators than Paul and Rey? It's powder versus pills in Two Scoops.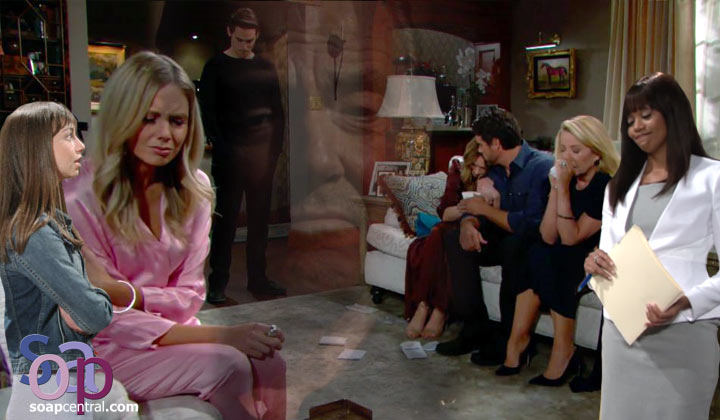 September 23, 2019
Who's dead, who's not so dead, who's imaginary? While the Newman Civil War continues, other family battles are underway, and it's hard to tell what's real and what's not. Our writer struggled to figure it out, but she delves into it in this week's Two Scoops nonetheless.
September 30, 2019
Victor pulled a classic Newman switcheroo by being alive after Adam had changed up his dad's medication. Was Adam still redeemable even after framing Victoria for supposedly killing her beloved father? And was Hilary look-alike, Amanda, part of a ploy to swindle Devon out of his billions? It's all just an illusion in Two Scoops.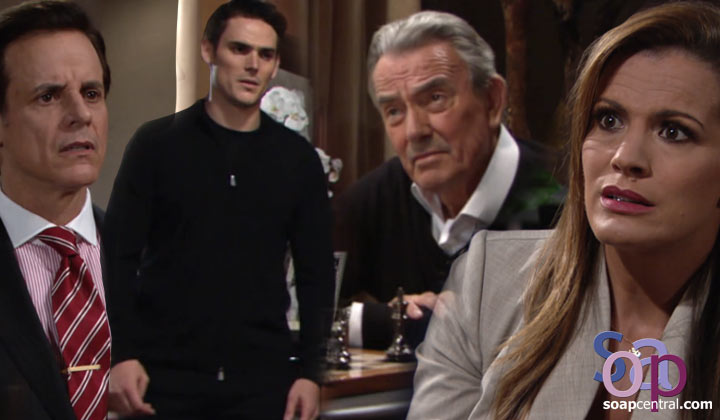 October 7, 2019
The con people hate being conned, the untrustworthy hate not being trusted, and everyone's stuck with a case of righteous indignation that can't be cured. Is anyone right or is everyone a little bit wrong? Step into the goings-on in Genoa City with our Two Scoops writer as she tries to figure it all out.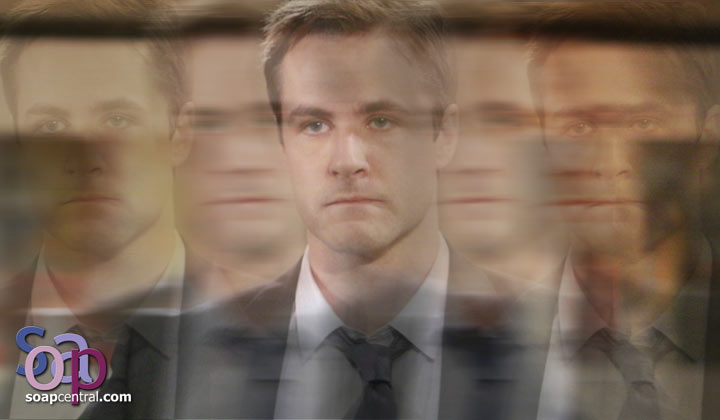 October 14, 2019
Is Chance real, or is someone pretending to be Chance? If so, who is behind the will mess, and why does it even matter when the lawsuit has no teeth? Has Victoria finally inherited the reins from her father, or is she a fill-in until one of his boys can take over for her? Our columnist fills in for a vacationing Teddi in this week's Two Scoops.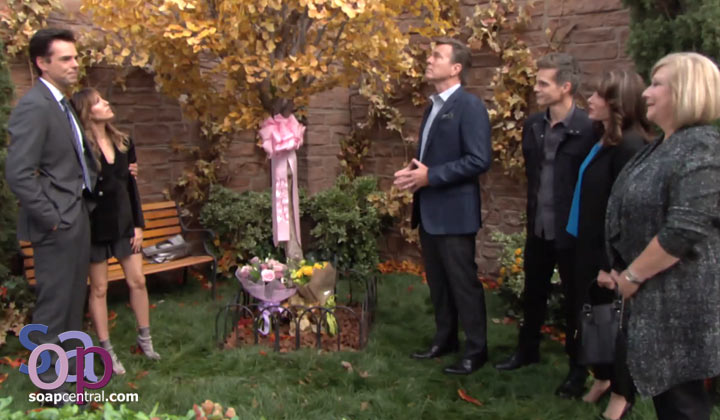 October 21, 2019
We've had breakups and breakthroughs, kids who see the light and kids who are on the road to psychopaths. All kinds of stories are topsy-turvy as we hurtle toward November Sweeps. Where is it all leading? Join our columnist as she tries to figure it out in Two Scoops.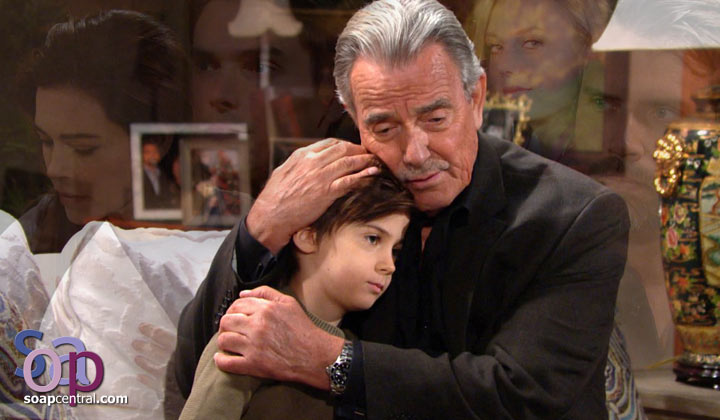 October 28, 2019
Connor punched a kid at school, locked Christian in the garage, and jumped off the jungle gym to get what he wanted, which was his dad. With Adam and Chelsea as his parents, does the boy have the makings of being a serial killer? Or is he just the typical Newman, who knows a thing or two about manipulation? The devil's in the detail in Two Scoops.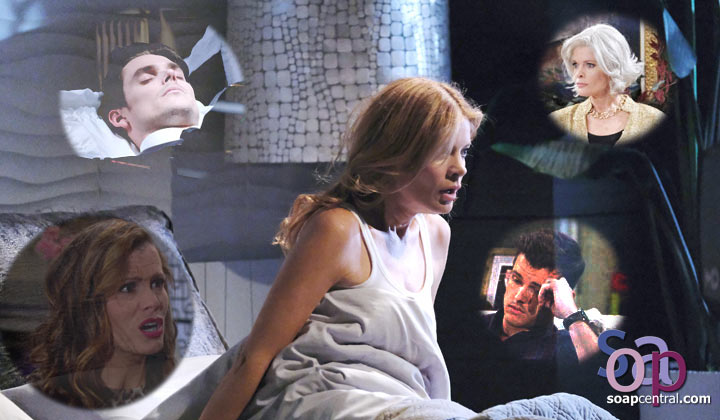 November 4, 2019
The Abbott family got a little bigger, the gap between Sharon and Rey got a little smaller, and -- tough as it may be to imagine -- Nick's run for City Council got a little more ridiculous as The Young and the Restless dove head-first into November Sweeps with a standalone stunt that was the highlight of the week. Read on, and we'll give you Two Scoops of the good, Two Scoops of the bad, and Two Scoops of the everything in between!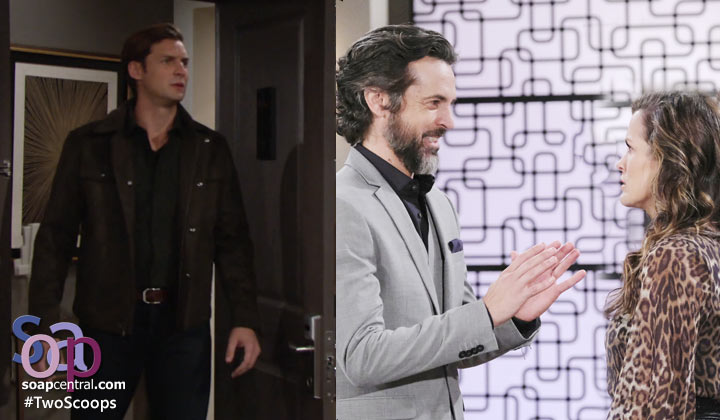 November 11, 2019
The DNA results were in, and Dina was Theo's grandmother! Why was Kyle so determined to stop Theo from getting to know his own family? Was Kyle jealous? Or did he see Theo as a past version of himself back in his self-centered and power-hungry days. Kyle's reasoning was gone with the wind in Two Scoops.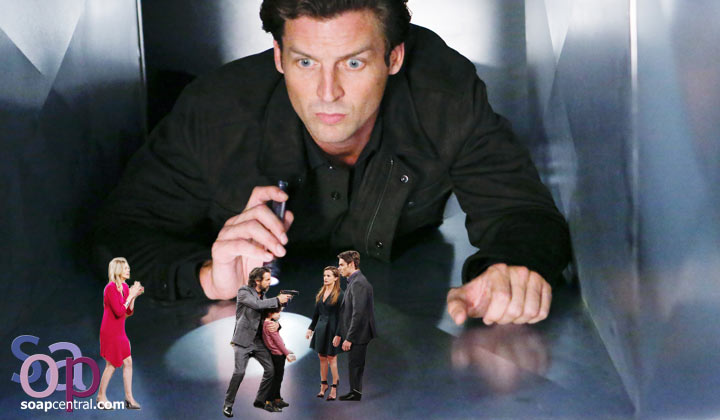 November 18, 2019
Stuff got real as a bad guy made himself way more bad by terrorizing a troubled child. In a Chance-y move, our hero saved the day and dropped into a whole world of story in Genoa City. It was a shortened week, but The Young and the Restless made up for it by bringing the November Sweeps drama. Let's dive in with our Two Scoops writer and see if we can unpack a little Genoa City baggage.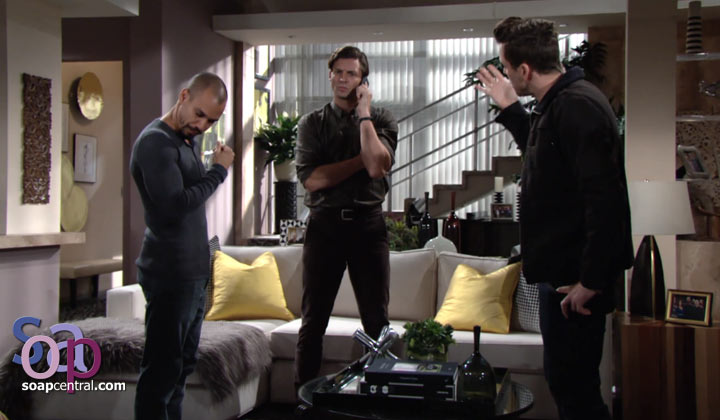 November 25, 2019
Chance returned to town to investigate the mystery of the codicil to Katherine's will, which had left most of her fortune to Cane. Was Colin's claim that the newly discovered pages were ''the real deal'' true? Also, Kyle looked ready to raise Cain when Jack gave Theo a chance at Jabot. Read all about it in Two Scoops.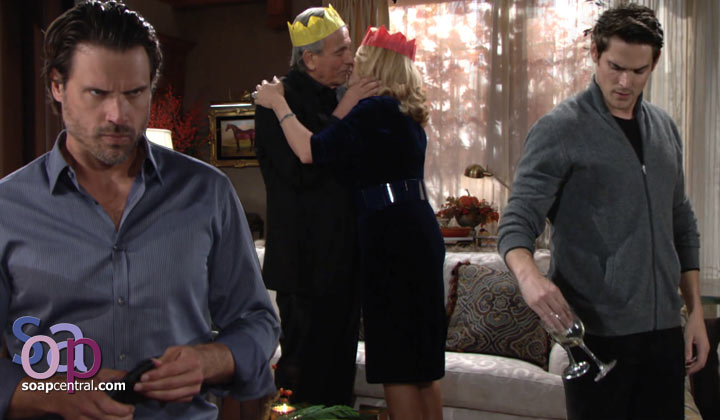 December 2, 2019
As the citizens of Genoa City pause their daily activities to join loved ones and give thanks, our Two Scoops writer takes a few moments to explore some of what she is thankful for this holiday as November Sweeps wind down. Check out what she has to say and let us know if you agree or disagree, and please tell us what makes you grateful this year.
December 9, 2019
The similarities between Amanda and Hilary seemed to be more than what was on the surface. But just who was Amanda Sinclair? Had she helped to pull off the codicil to Katherine's will fraud? Or was she just the innocent legal eagle she claimed to be? Bait the hook and then see what bites in Two Scoops.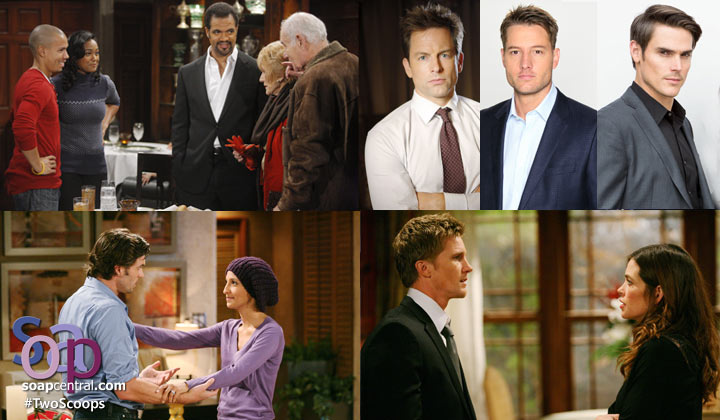 December 16, 2019
It's hard to believe that we've come to the end of another decade. Contrary to what critics might say, things are not exactly the same as they were ten years ago. Don't believe it? We've reached into the Soap Central Two Scoops archives to look at what our columnists thought were the best and worst of 2009. And our current columnist is taking a look at how things have changed in the past ten years.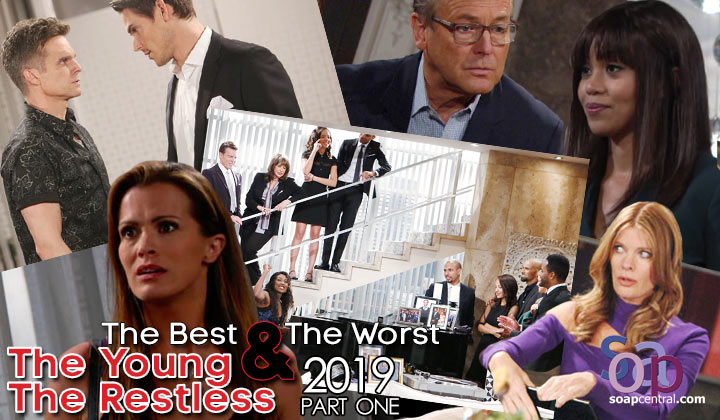 December 23, 2019
A long, drawn-out story ends! What one not-so-dead Newman did in Vegas, stayed in Vegas, until he dramatically returned to Genoa City, a new man. One feisty lady sported a new (old) shade of red that suited her familiar, spit-fire personality. And we bid adieu to a loved one as we also said hello to returning fan favorites in a review of the past year in Two Scoops.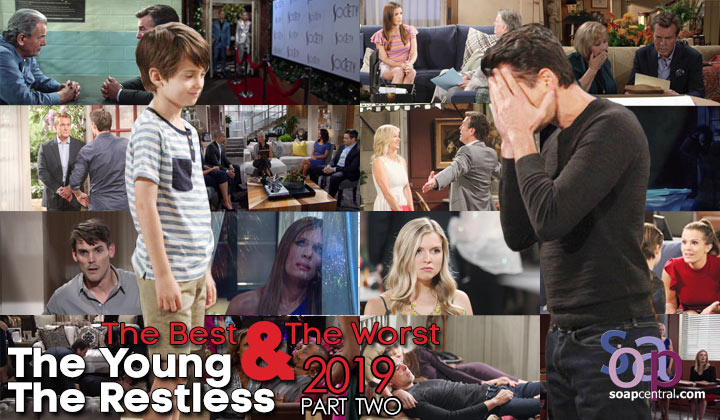 December 30, 2019
Here is another columnist's look at the best and worst moments of the year that was. Check it out to see if you agree with her choices or if you think she's crazier than Billy was when he was dissociative. When you're done, let us know what you loved and hated this year.