DAYS Two Scoops: Two Scoops Archives for 2015
Days of our Lives opinion columns from 2015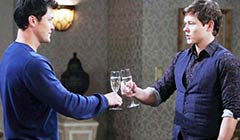 January 5, 2015
A new year means new beginnings for Salem. What pairs rang in 2015 with a kiss and what pairs are headed for trouble? Find out in this week's Two Scoops.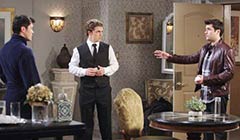 January 12, 2015
If ever there was a time for Roman to break out his "What 'da hell!?" catchphrase, this may be it. Find out who was sleeping with who, but I'm not exactly sure I can explain the "why" part. Discover why it was more like Days of Odd Lives in Salem in this week's Two Scoops!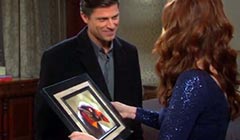 January 19, 2015
There's a redhead, a rich daddy, and a drunken know-it-all on stage to entertain us. Find out which one of them is worth our time in this week's Two Scoops.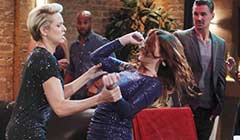 January 26, 2015
What do Serena, Clyde, and Paul have in common? Well, they're all new characters. And they're all driving storylines in Salem. So how are the newbies holding up? Who's totally wicked? Find out in this week's Two Scoops.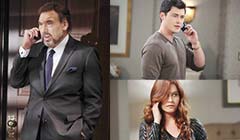 February 2, 2015
Though DAYS might have made a few questionable calls lately, it's not out of the big game yet. Find out in this week's Two Scoops (and from it's special guest contributors) how DAYS can go from drab to fab in just a few easy plays during February Sweeps. Game on, soap fans!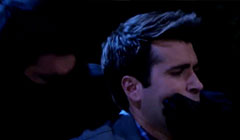 February 9, 2015
That was close! Elton John nearly had to re-re-record his famous tune to sing "Goodbye Salem's Rose" as Sonny had a near brush with death. But it was the truth bomb that Derrick detonated in Sonny's heart that really has the power to destroy his life. Find out why Cupid may not be so welcomed in Salem this year in the week's Two Scoops!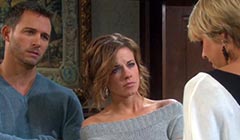 February 16, 2015
DAYS is a little, well, odd right now. Is there something on the horizon to make it better? Are there a few changes to be made to restore the grand ol' gal? Let's discuss it in this week's Two Scoops.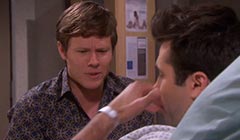 February 23, 2015
DAYS dished out some delightful drama for the third week of Sweeps. It wasn't all delicious, but like burnt brownies, there was still something tasty there if you scraped away the crispy edges. Find out what was delish and what left a bitter taste in our mouths in the week's Two Scoops!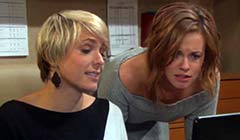 March 2, 2015
It was a week of girl power on DAYS. And I don't just mean because Will continued his quest to sabotage the entire case for the male gender having a brain. I mean because some fantastic gals stepped up and made a valiant attempt to save Sweeps.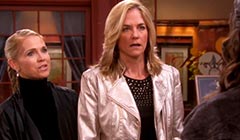 March 9, 2015
Whoomp! There it is. Jennifer discovered J.J. and Eve's naughty little secret, but will she truly end up with the upper hand, or are Jennifer's hands about to get just as dirty? Plus, Will and J.J. seem to be cut from the same cloth, as neither is ready to own what he did, and both want a free pass. Will they get it? Find out all the sordid details in this week's Two Scoops!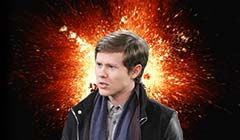 March 16, 2015
In this week's Two Scoops, it's time to crack the skulls of two knucklehead cousins -- who Alice and Tom (thankyouverymuch for not comparing yourself to him again, J.J.!) would surely send to timeout. And we welcome back the king troublemaker of them all!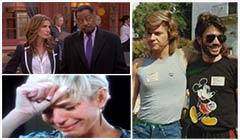 March 23, 2015
And so it's begun! Amazing anniversary casting news outshined Serena's pachyderm predicament. Okay, that's not hard. Stefano sauntered into Salem and snatched his company back, but don't count Kate out yet -- she's a survivor! Plus, Will worked overtime to torment Tori while Adrienne realized her days of wedded bliss may have come to an end. Let's break down all the returns, and the boardroom and bedroom buzz in this week's Two Scoops!,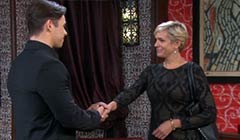 March 30, 2015
Just when I thought there was no way to get me to pay attention to any more talk of elephants, DAYS introduced me to Xander. If Nicole doesn't go to dinner with him, I may never forgive her. Find out why she should say yes in this week's Two Scoops.
April 6, 2015
Team DAYS has a lot of Emmy greatness to celebrate, but Will and company might not be in such a party mood after his affair with Paul was publicly exposed! It looks like karma is catching up to him. So, get what you deserve in this week's DAYS Two Scoops!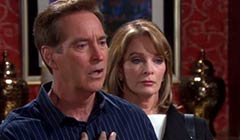 April 13, 2015
It took two paternity reveals in one week to get DAYS back on track! Finally, DAYS is must-watch TV again. Join the Paul and Xander Appreciation Party in this week's Two Scoops.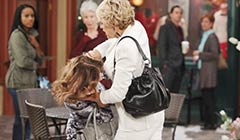 April 20, 2015
Even the birds and the bees were probably shocked by some of the steamy shenanigans several Salemites were up to last week! Just don't ask them where babies come from unless you have a lot of time. It's a special delivery in this week's DAYS Two Scoops!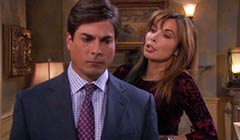 April 27, 2015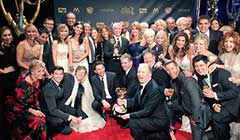 May 4, 2015
It was the best of times, and it was the worst of times last week for DAYS! There was a ton of Emmy gold to celebrate, yet on-screen viewers had to say goodbye to a beloved fallen heroine named Kristen DiMera. But, girl's a DiMera, and maybe she'll bounce back. Let's party and mourn in this week's Two Scoops!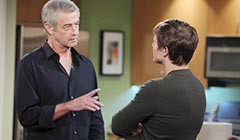 May 11, 2015
As Will and Clyde break into "love to hate" status, could Theresa just be downright lovable? And if so, will Brady ever return her feelings? See what odd couples are doing great things for DAYS.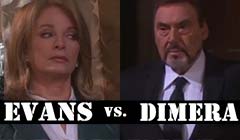 May 18, 2015
Evans vs. DiMera. Due to Kristen's untimely death, the legendary grudge match between these two Salem heavyweights heats up once again! Marlena seems safe for now, but is Stefano really done with his former Queen of the Night? Plus, Roberts vs. Horton, Narita vs. Black, and Baby Christopher gets an official name change. Get ready to rumble in this week's Two Scoops!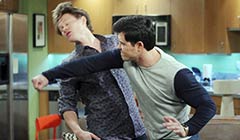 May 25, 2015
Oh, how the mighty Hortons have fallen! Will, J.J., and Jennifer all got knocked off their self-appointed pedestals and down to earth. And it was glorious.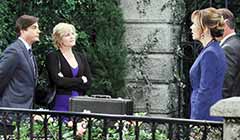 June 1, 2015
With J.J. and Eve's sordid secret exposed and all the baby drama exploded, it was a cleanup week in Salem! The landscape is changing, and it might be just what DAYS needs right now as we blow into an exciting time of celebration. Let's batten down the hatches and pick up the debris in this week's Two Scoops!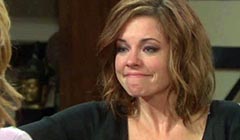 June 8, 2015
Our premier party girl is all grown up and moving on out... or back in with her mother. Either way, her farewell lap was a return to the grand tradition of tender soap exits.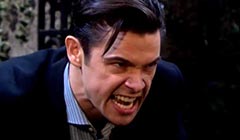 June 15, 2015
If you're trying to avoid stress, Salem might not be the place to go for your summer vacation. The citizens are crazy, horny beasts with hair-trigger tempers and pent-up rage. So, if you like your getaway with a side of snark and revenge, let's take off together in this week's Two Scoops!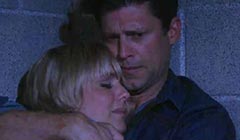 June 22, 2015
Salem's couples have been shuffled. Which ones should take the plunge, and which should let their summer flings be flung out the window? Find out in this week's Two Scoops.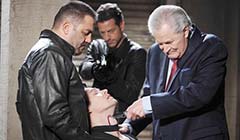 June 29, 2015
Things were sizzling and scorching in Salem last week, and we're not only talking about Eric and Nicole's near brush with becoming bacon! Find out what the former flames were up to, and what burning issues they may face in this week's Two Scoops!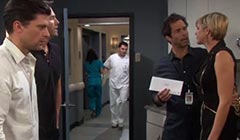 July 6, 2015
Now that we've got our couples of summer settled, why, it's time to throw in a triangle! Let's chat about the good, the bad, and the ugly in this week's Two Scoops.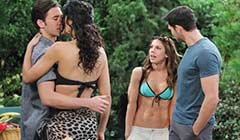 July 13, 2015
It's probably the strangest summer ever on record in Salem. What storylines would you like to see carry over into the fall? What ones will fade away? Let's discuss in this week's Two Scoops.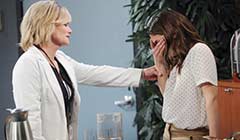 July 20, 2015
Oh, boy (or girl)! It's confirmed that Abigail has a bun in the oven, but just who's the baker -- Ben or Chad -- is the big baby dad question (stay tuned). In fact, last week, Salem set up a lot of summer storylines, so let's slather on the sunscreen and soak up the soapiness of it all in this week's Two Scoops!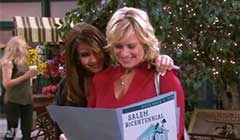 July 27, 2015
And so it's begun! Kayla's new extracurricular activity is on the board of the Bicentennial Committee, and it's promised to be a "pretty great celebration!" Plus, worried about Clyde's growing amount of airtime and "Dancole's" engagement? Don't be! Find out why in this week's Two Scoops!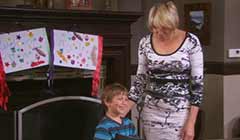 August 3, 2015
It was time for rare sightings in Salem. But was everything as it seemed? Is Daniel really okay? Is Will really being helpful? And is Abigail's decision all that hard? Let's take a deeper look in this week's Two Scoops.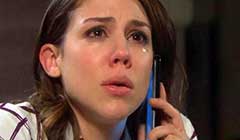 August 10, 2015
We all get why Abigail is upset. But it's time to have a come-to-Two Scoops moment with her and let her know that she's got it pretty sweet. Don't you think?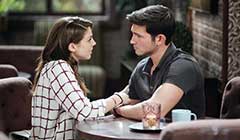 August 17, 2015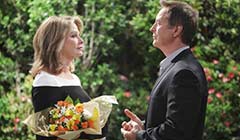 August 24, 2015
This summer in Salem has been like finding a bag of Christmas M&M's in your pantry. While still your beloved chocolate, there's something truly funky about the whole thing. Can the new writers right the ship? Find out in this week's Two Scoops.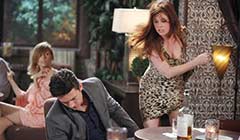 August 31, 2015
Come one, come all! Grab your top hat, megaphone, and tamer's whip because Salem has new ringleaders. Are the new writers writing the right stuff? Are they clowning around? Or is it too early to tell? Plus, find out who really killed Serena in this eye-patch praising edition of Two Scoops!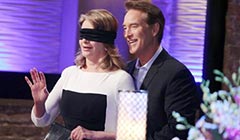 September 7, 2015
DAYS shaked, rattled, and rolled as the winds of change swept Salem at a brisk pace! Don't feel alone if you're having trouble keeping up with all the latest twists and turns, but that's not necessarily a bad thing as you'll find out in this week's Two Scoops!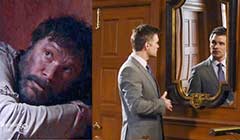 September 14, 2015
Is the new serial killer the best thing to hit Salem since Caroline's chowder? Who will be next? And could he at least scare Steve into being nicer? Find out in this week's Two Scoops.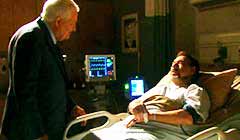 September 21, 2015
Though Salem is a dark and dangerous place right now, the DAYS cast is shining brighter than ever! Celebrate the tangled storylines and epic talent (as well as welcoming Gabi back) in this week's swooning Two Scoops!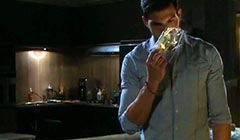 September 28, 2015
In this edition of Two Scoops, we stop to ponder the question: can there ever be enough deliciously twisted bad guys on a soap? And if the bad guy is getting rid of useless characters and beefing up comatose storylines, is he really all that bad?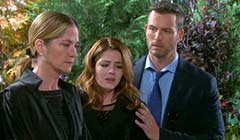 October 5, 2015
Gloom? Doom? Yep, Salem has certainly seen brighter days. In fact, last week was pretty bleak. There was death, disease, despair, and one devastating breakup that has this Scooper sobbing in his scotch. Will Salem ever see blue skies again? Let's grab a box of tissues and find out in this week's Two Scoops!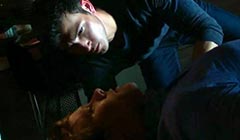 October 12, 2015
When a death doesn't make sense in soap land, you know you've got problems. Is the fiftieth anniversary doomed to be the gloomiest party ever? Find out in this week's Two Scoops.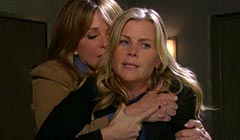 October 19, 2015
Salem might not be the place for the squeamish these days, but if you're looking for first-rate performances, DAYS is the place to be. Let's laugh and cry -- well, mostly cry -- in this week's Two Scoops!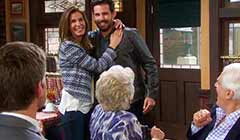 October 26, 2015
Did you guys see that? Finally, a returning character made their anniversary debut on a happy note! Shawn-D is back, and he's giving out hugs! Where do I get in line? Find out in this week's Two Scoops!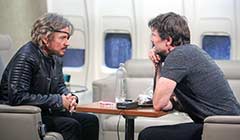 November 2, 2015
After months of anticipation, the fiftieth festivities are beginning! The boys are heading back to town, the Martin Mansion is ready for the gala, and Hope's all dressed up for a wedding. So grab your best vintage garb and let's pre-party together in this week's Two Scoops!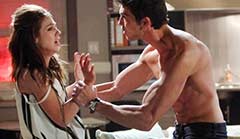 November 9, 2015
'Twas the night before the anniversary, and all through the show, the red carpet was rolled out for the return of our Bo. Then Ben snapped at Abs, in a sight most unpleasant. While Aiden gave Hope the worst wedding present.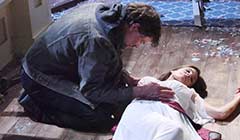 November 16, 2015
Sure, DAYS 50th Anniversary wasn't all fun and games -- okay, there weren't any fun or games -- but even without the party hats andnoise makers the show was pretty spectacular nonetheless. Well, "spectacular" in a kinda bittersweet way. Let's talk the good, the bad, and the Bope in this week's Two Scoops!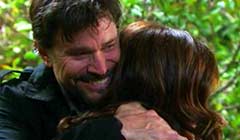 November 23, 2015
We laughed and cried (okay, mostly cried) as we said goodbye to our leather-jacket wearing hero. What will Salem do now that Bo isn't around? What will become of Hope? And how will his death affect the Brady family? Let's all raise a bottle of beer to Bo in this week's Two Scoops.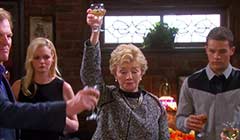 November 30, 2015
If you like teardrop-infused turkey and pumpkin pie with an extra dose of sobbing, Salem's Thanksgiving celebration was right up your alley! Plus, Abigail gave birth to a baby boy...while being held at gunpoint... and then Ben shot the midwife. Let's toast another uplifting week in Salem in this week's Two Scoops!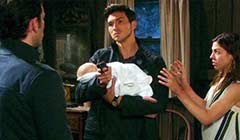 December 7, 2015
Ben lit people on fire. Hope tried to kill a man point blank. Yet, this week was still the most light-hearted we've had in a while! Let's celebrate the end of Sweeps in this week's Two Scoops.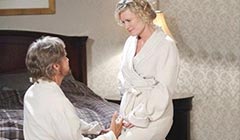 December 14, 2015
For the second week in a row, Salem wasn't the saddest place in Soap Land! Granted there were near death experiences, mental breakdowns, torture, and abductions. What were we discussing? Right. Despite the dark clouds, we finally got some love in the afternoon. Let's swoon in this week's Two Scoops!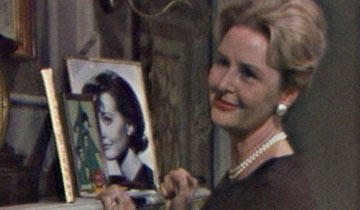 December 21, 2015
Grab your favorite snack and beverage! From DiMera villains to Bope love, it's time to celebrate all that was great in Salem during 2015 in this very special edition of holiday Two Scoops!