Stephanie "Steffy" Forrester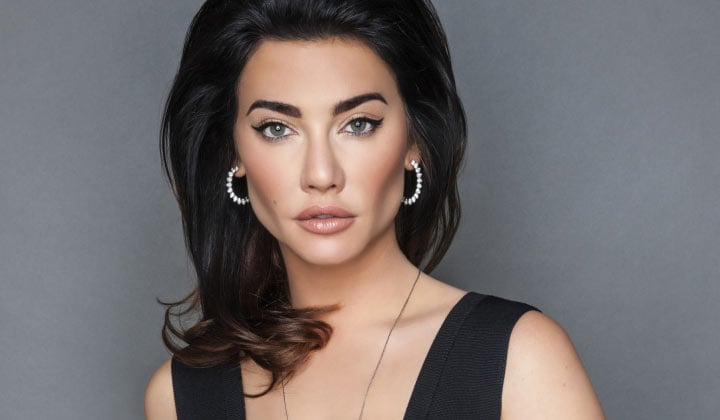 Jeffrey and Jacob Wold / William and Charlie Carter
Grace and Kelly deMontesquiou / Alexis and Allyson Collins
Alison and Brooke Johnston / Taylor and Brooke Toneman
Brooke and Madison Dinsmore
January 2001 (never appeared on-screen)
Sophia and Whitney Schuring
Cameryn McNabb
Jordan Mella
Kylie Tyndall
Alex Hoover
Stephanie (given name)
Born on-screen September 21, 1999
Said to be 2 years old in March 2001
Said to be 6 years old in January 2002
Said to be a pre-teen in 2004
College age by 2008
Co-CEO of Forrester Creations
Owns 37.5% of Forrester Creations
Former CEO of Forrester Creations
Former president of Forrester Creations
Former executive at Forrester International, Paris
Former head of Public Relations, Forrester Creations
Created the Forrester Creations ski line
Has a seat on the board of Spencer Publications
Former spokesmodel for Forrester Creations' Intimates line (formerly Brooke's Bedroom)
Former shipping department employee, Forrester Creations
Student (did not complete college)
A cliff house once owned by Bill Spencer, 22027 Pacific Coast Highway, Malibu, CA
Formerly Bill Spencer's beach house, Malibu, CA, once owned by Taylor Hayes
Formerly the Forrester Mansion (369 Willow Hill Rd., Beverly Hills, CA)
Formerly Paris, France
Formerly a penthouse loft in Los Angeles, CA, once owned by Jackie Knight
Formerly Taylor's mansion, 3197 Holden Drive, Beverly Hills, CA
Formerly London, England
Single
Liam Cooper Spencer [Married: 2011; divorced: 2012; first time]
Liam Cooper Spencer [Married: 2013; annulled: 2013; second time]
Wyatt Fuller Spencer [Married: 2016; divorced: 2017]
Liam Cooper Spencer [Married: 2017; annulled: 2018; third time]
Ridge Forrester, Sr. (father)
Taylor Hamilton Hayes (mother)
Massimo Marone IV (grandfather)
Stephanie Douglas (grandmother; deceased)
Jack Hamilton (grandfather)
Sharon Hamilton (grandmother; deceased)
John Douglas (great-grandfather; deceased)
Miriam (great-great-grandmother; deceased)
Zach Hamilton (uncle)
Thomas Hamilton Forrester (brother)
Phoebe Forrester (twin sister; deceased)
Douglas Forrester (nephew)
Pamela Douglas (great-aunt)
Ann Douglas (great-grandmother; deceased)
Oscar Marone (first cousin, once removed)
Ridge "R.J." Forrester, Jr. (half-brother)
Jack Hamilton Marone (legal maternal half-brother / paternal half-cousin)
Dominick "Dino" Marone (half-uncle)
Diana Carter (half-aunt)
Angela Forrester (half-aunt; deceased)
Thorne Forrester (half-uncle)
Kristen Forrester (half-aunt)
Felicia Forrester (half-aunt)
Nicole Marone (half-cousin; deceased)
Zende Forrester Dominguez (half-cousin; via adoption)
Alexandria Forrester (half-cousin; deceased)
Kelly Spencer (daughter; with Liam; 2018)
unnamed child (miscarriage; with Liam; 2013)
Phoebe Forrester (adoptive daughter; 2019; does not know she is raising Hope Logan's child)
Marcus Walton Forrester (dated)
Rick Forrester (broken engagement)
Oliver Jones (kissed)
Bill Spencer, Jr.(not consummated, 2011; broken engagement, 2018)
Liam Cooper Spencer (broken engagement)
Faked text messages to keep Brooke Logan away from her father [2009]
Blackmailed Bill Spencer into returning Forrester Creations [2010]
Sabotaged Hope Logan's fashion show by making a sign read "HO for the Future" [2010]
Blackmailed Brooke Logan and Oliver Jones [2010]
Seduced Liam Spencer away from Hope Logan and manipulated him into marriage [2011]
Worked with brother Thomas Forrester to keep Liam from seeing Hope in Cabo San Lucas [2012]
Got into a chocolate fight with Hope Logan [2012]
Tried to seduce Liam Spencer away from Ivy Forrester [2015]
Nearly arrested for violating a restraining order filed by Ivy Forrester [2015]
Slapped Quinn Fuller to the ground [2016]
Shot Sheila Carter then participated in a cover-up [2017]
Slept with Bill Spencer Jr. while married to his son, Liam Spencer [2017]
Helped Thomas arrange for Hope to catch her kissing Liam and kept Thomas' involvement secret [2020]
Presumed dead in a shark attack [2000]
Hit her head and fell off a boat [2010]
Almost drowned after slipping in a bathtub and hitting her head [2011]
Suffered a head injury after falling off an ATV in Cabo San Lucas [2012]
Hurt knee when Hope Logan crashed into her on ski slope in Aspen [2012]
Fell off a cliff and plunged into the Adriatic Sea [2012]
Pushed (while pregnant) into a desk by Hope Logan [2013]
Fell from a motorcycle and miscarried her baby [2013]
Became infertile during a botched D&C procedure [2013]
Underwent a successful procedure to reverse her infertility [2013]
Suffered psychological memory lapses regarding her involvement in the death of Aly Forrester [2015]
Had a wedding ring tattoo removed [2016-2017]
Sustained minor injuries and irritation from breathing rubble dust [2017]
Tripped and fell, causing a difficult, premature labor [2018]
Steffy Forrester is the daughter of Ridge Forrester and Taylor Hayes; Steffy and her identical twin sister, Phoebe Forrester, were born after Taylor suffered through tuberculosis during pregnancy. Steffy was named for her grandmother, Stephanie Forrester. During a boat trip in St. Thomas, two-year-old Steffy supposedly fell overboard and was presumed dead in a shark attack, but Morgan DeWitt, a deranged woman who once was forced to abort Ridge's baby, had kidnapped Steffy and dyed her hair red to pass Steffy off as her daughter. Steffy was rescued when Ridge crashed through Morgan's house in his car.
Steffy was devastated when Taylor died in an altercation with the nefarious Sheila Carter; Steffy was partially raised by Brooke Logan, whom Ridge remarried. Steffy reunited with her parents when it was revealed that Taylor's "body" had been replaced with a dummy by Taylor's former husband, Prince Omar of Morocco, who was keeping Taylor at his palace. Steffy and Phoebe went to London to attend boarding school; while Phoebe returned to Los Angeles, Steffy remained overseas.
Now said to be Phoebe's fraternal twin, Steffy came home from college and worked in the mail room of her family's design house, Forrester Creations, where Steffy met Marcus Walton. Steffy dated Marcus, but gently turned down his proposal after becoming interested in Rick Forrester, who had been involved with both Steffy's mother and sister. Though Steffy initially railed at Rick for his womanizing and blamed him for the car accident which claimed a confrontational Phoebe, Steffy bonded with Rick in her grief, raising the ire of her entire family.
After Steffy agreed to marry Rick, Ridge played her a recording in which Rick admitted he was only romancing Steffy to get back at longtime rival Ridge. Steffy forgave Rick but ultimately let him go because of the dissension their relationship caused within her family. Steffy later turned down Marcus' attempt at a reunion.
To ensure that Ridge and Taylor remarried, Steffy and her brother, Thomas Forrester, faked text messages from Brooke, but Steffy was exposed when Brooke stopped the wedding. Steffy made moves on the married Owen Knight, then developed an attraction to the equally married Bill Spencer, Jr. Steffy kissed Bill before his wedding to Brooke's sister, Katie Logan, whom Bill made CEO of Forrester after he took over the company; Steffy attempted to seduce Bill and swiped Katie's engagement ring, saying she would go to Katie if Bill didn't sign Forrester over to her. Steffy edged out "the Logans" by dividing the company's stock between her grandfather Eric Forrester, Stephanie, Ridge, and Taylor.
Steffy worked against Hope Logan by trying to steal her boyfriend, Oliver Jones, and publicly embarrassing Hope by making her "Hope for the Future" sign read "HO for the Future" during a fashion show. Steffy didn't get the chance to publicize Oliver's footage of Bridget Forrester sleeping with the married Owen, but Steffy was able to strike out at Brooke when Brooke mistakenly cheated on Ridge with Oliver at Hope's costumed graduation party. Steffy's attempt to blackmail Brooke and Oliver was defused by Brooke, who confessed to Ridge. Steffy was forced to assemble a video tribute to Brooke, but computer tech Liam Cooper accidentally recorded Steffy talking about Brooke's betrayal; Steffy was blamed when her words were dubbed onto her video by Bill's right-hand man Justin Barber and leaked online.
Angry with Ridge, Steffy contemplated selling Bill the 25% share of Forrester given to her by Taylor. Instead, after a failed attempt to entice Liam away from Hope, Steffy transferred to Forrester International. Coming home with Bill on her mind, Steffy saved Amber Moore when Bill plotted to kill Amber for trapping Liam with a pregnancy. Steffy begged Bill for help when Thomas was lost at sea; Steffy and Bill became closer through the ordeal, but Steffy was distraught that Bill wouldn't leave Katie for her.
Steffy and Bill nearly made love, but Taylor caught them and told Katie. Heartbroken when Bill went back on his promise to leave Katie, Steffy slipped and nearly drowned in a bathtub until she was rescued by Liam. Steffy let Liam know she was sexually available, unlike Hope, who wanted to remain a virgin until her wedding night. Steffy was thrilled when Liam gave her the engagement ring Hope left behind after catching Steffy and Liam kissing; Steffy worked with Bill to keep Liam and Hope apart, spiriting Liam away to Aspen and marrying him while Hope was forced to watch their wedding from a gondola.
Steffy and Liam vacationed at the same resort as Thomas and Hope; Steffy tried to keep Liam from seeing Hope, which led to Steffy being thrown from an ATV. Steffy was diagnosed with a blood clot in her brain that was said to be life-threatening under stress; after it was revealed that Bill faked Steffy's MRI to keep her and Liam together, Steffy held out for a proper divorce from Liam instead of granting him an annulment. Steffy debuted a ski line in Aspen, where Hope, hopped up on antianxiety pills, crashed into Steffy on the slopes. When Liam stayed by Steffy's side in the hospital, Steffy signed Liam's annulment papers, which he tore up.
Steffy grudgingly travelled to Puglia, Italy, for Liam and Hope's wedding; when Hope was a no-show, Steffy welcomed Liam's surprise kiss, but was disappointed when Liam married Hope anyway. Steffy watched the wedding from a distance and fell into the Adriatic Sea. After Hope saw a video of Steffy and Liam kissing and demanded a "do-over" wedding, Steffy took Liam out partying the night before. Once Hope left Liam at the altar for showing up with dyed hair and a tattoo, Steffy informed Liam she would be there for him, and they went parasailing in Aspen.
Steffy spied Liam and Hope kissing; finding out she was pregnant, Steffy refused to tell Liam, giving him time to decide between her and Hope instead. But when Steffy got wind of Liam and Hope's surprise wedding, Steffy stopped it with news of her pregnancy. Steffy rode up the aisle of her own wedding to Liam on a motorcycle; though Liam asked her not to ride again until after the baby was born, Steffy risked it and took a spill that caused her to miscarry. Steffy told unlikely confidante Katie that a botched D&C procedure had left her sterile, then divorced Liam and moved to Paris. Later, Steffy underwent a procedure that restored her fertility and told Liam about it on his wedding day to Hope at the urging of Quinn Fuller, whose son, Wyatt Fuller, wanted Hope for herself. Steffy settled in France after Liam said his heart was with Hope.
When Liam came to her begging her to help oust tyrannical Forrester CEO Rick, Steffy announced she would only contribute her 25% share in the company if Liam ditched his current girlfriend, Ivy Forrester, making her point in a bikini. Liam refused, but Steffy later combined her stocks with Ridge, Thomas, and Bill after Ridge told her not to make Liam's return a condition in their takeover plan. Though furious when Liam married the Australian Ivy to keep her in the country, Steffy finally got her chance to reunite with Liam, drawing the ire of young Aly Forrester, whose mother, Darla Einstein, had died falling into the path of Taylor's car. Steffy defended herself against Aly's accusations of promiscuity and implored the increasingly unstable Aly to accept Ridge's California Freedom line, which featured bikinis, lingerie, and transgender models.
After a successful showing, Steffy's car got a flat on the same stretch of highway where Darla died. When Aly nearly ran Steffy down and came at her with a tire iron, Steffy grabbed it and swung at Aly, who hit her head on a rock and died. Steffy stashed the tire iron in the bushes but was horrified when Ivy presented a video in which it looked like Steffy had killed Aly and demanded to be made the New Face of Forrester. After Wyatt got Ivy to delete the incriminating clip, Steffy avenged herself by making the conservative Ivy model lingerie until Liam brokered peace between the cousins. It didn't last long: Steffy found out Ivy had been kissing Thomas behind Wyatt's back and torpedoed their relationship; Steffy's confrontations ended with Ivy getting electrocuted by live wires and falling down the stairs.
Steffy's engagement to Liam hit the skids when she violated Ivy's restraining order; Steffy allowed herself to be comforted by Wyatt and fell asleep with him in bed. Steffy didn't know that Liam had seen them and couldn't understand why he'd dumped her. When Liam mysteriously left town, Steffy called Hope and Ivy to see if they knew where he was. Spending more time with Wyatt, Steffy soon married him but got the shock of her life when a disheveled Liam appeared, having been held captive by Quinn while suffering from amnesia. It disturbed Steffy to learn that Quinn had Liam believing they were man and wife, and that they'd slept together.
Steffy told Wyatt to keep Quinn away from her, so she was even more outraged to attend the Spencer Summit in Monte Carlo and catch Quinn in a romantic clinch with Eric; Steffy slapped Quinn to the ground. Steffy worked with Ridge to stage a boycott of Quinn's wedding to Eric. Steffy felt bad when Eric was hospitalized with a brain hemorrhage after he raged at his family for their lack of support. Steffy helped Ridge keep it a secret that Eric had given Quinn power of attorney; when Wyatt ratted Steffy out, she left him. With Quinn as interim CEO, Steffy tried to sabotage her showing by refusing to model the showstopper, a move which backfired on Steffy when Quinn modeled it instead and won raves.
Steffy accepted the position of CEO herself and hinted to Liam that if they pooled their stock with Eric's, they'd have enough to force Quinn out of the company. Steffy refused Eric offering her a million dollars and the mansion if she stayed with Wyatt; instead, Steffy moved in with Thomas until her divorce from Wyatt was final. Steffy stopped a frustrated Liam from leaving town with the news she'd fast-tracked her divorce, and took Ivy's suggestion to marry Liam in Australia in a double wedding with Ridge and Brooke. Steffy butted heads with Rick and Thomas after she was asked to split her CEO duties with Ridge instead of one of them.
Steffy made an instant enemy of fledgling designer Sally Spectra, the namesake grandniece of infamous knockoff queen Sally Spectra. Goaded into a public foodfight with Sally, Steffy was furious to learn that Sally had uploaded a viral video of it to piggyback on Steffy's social media presence. Steffy caught Sally masquerading as a caterer at the wedding of her cousin Zende Forrester Dominguez and shoved Sally's face into the cake. Then, in Sydney, Steffy zip-lined into her wedding and exchanged vows with Liam, only to find Sally on Thomas' arm; Steffy laughed when Sally fell into the water as a result of their argument.
Steffy demanded Sally be arrested when Sally stole Forrester designs by planting cameras in the jewelry of her sister, Forrester intern Coco Spectra. When Steffy learned Sally had only ripped off Forrester because Bill wanted to build a skyscraper on Spectra Fashions' lot and sabotaged Sally's original work, Steffy told Thomas, which led to Thomas investing $100,000 in Spectra and defecting to that company. Steffy reluctantly gave novice designer Zende her brother's position but accused Sally of using Thomas to breathe new life into Spectra. Steffy led Forrester in a swimsuit fashion duel with Spectra in Monte Carlo after posing for a calendar teasing the showing.
Steffy grabbed a gun when she learned that Eric, who had left Quinn, was staying at a motel with Sheila Carter, Eric's criminal ex-wife who was responsible for Taylor's near-death. Believing Sheila had her own gun in her purse, Steffy shot Sheila in the arm when she saw Sheila reaching for it. Though she was grateful that Sheila uncharacteristically helped cover up the shooting, Steffy spat bullets when she found out Eric had walked out on Quinn for kissing Ridge several times.
Steffy brought Thomas' ex-love and the mother of his child, Caroline Spencer, back from New York to lure him away from Sally. Steffy was happy when Thomas left Sally and went back to the Big Apple with Caroline, but horrified to learn Bill had convinced Caroline to lie she was dying to reunite her with Thomas and make Spectra ripe for a takeover. Steffy talked Liam into keeping quiet about it, yet felt genuinely bad for Sally when Spectra went up in flames. Steffy couldn't believe Bill had arranged the fire and disapproved when Liam recorded Bill's confession and used it to force Bill out of Spencer Publications.
Steffy got closer to Bill trying to broker peace between him and Liam, and ended up searching for Liam in the rubble of Spectra when Bill unknowingly blew up the building with Liam and Sally inside. Steffy saved Sally, then walked out on Liam when she discovered he had kissed Sally; in her upset, Steffy made love to Bill. Steffy tried to tell Liam, but got caught up in his vow-renewal ceremony. When Steffy learned she was pregnant, she had a paternity test done to make sure the baby wasn't Bill's; it was confirmed to be Liam's, but Steffy lost Liam when he came upon the test results. Though Steffy was determined to save her marriage and rebuffed Bill's repeated attempts to woo her given their years-ago flirtation, Steffy received annulment papers from Liam, who suggested Bill was a better match for her.
Steffy was unable to convince Ridge that she had slept with Bill willingly. At first, Steffy was grateful to receive the returning Hope's support, but Steffy began to sense that Hope still had feelings for Liam. Steffy turned down Bill's proposal of marriage and was horrified to learn he'd been shot in the back; Steffy had to deprogram Liam, who'd given himself another concussion and believed he'd pulled the trigger. Steffy couldn't believe it when it turned out Taylor had tried to kill Bill; Steffy was able to talk Bill into not going to the police, but found herself forced to sign Liam's annulment papers when Bill implied he might turn Taylor in anyway.
Steffy was confused after receiving dozens of roses from a conciliatory Liam, only to learn he was marrying Hope. Steffy soon got clarity when she discovered Bill had faked a continuing"affair" with her and used Wyatt to relay that"information" to Liam. Steffy slammed the door on an amorous Bill and fell, going into premature labor. With Liam on hand, Steffy welcomed their daughter, Kelly, whom Steffy named after Liam's deceased mother. Steffy stalled setting a wedding date when Bill threatened to jail Taylor if Steffy married Liam; by the time Bill relented, Steffy found out Hope was pregnant by Liam but was undeterred until she caught Liam kissing Hope. Steffy took off her engagement ring and put it on Hope's finger, essentially proposing to her on Liam's behalf.
Steffy briefly considered marrying Bill but changed her mind, still coming away with his 12.5% share of Forrester stock he'd promised her as a wedding gift. Steffy and Hope agreed to form a blended family with Liam and their children with him. Deciding to stand on her own as a single parent, Steffy channeled her new "I choose me" mantra into Forrester's lingerie line, Intimates. Steffy accepted Hope's invitation to her wedding to Liam, but regretted bringing Taylor after Steffy and Hope caught Taylor and Brooke hurling wedding cake at each other.
Steffy and Hope's truce threatened to buckle when Ridge could either fund Steffy's Intimates line or Hope's rebooted Hope for the Future line, but not both; Steffy convinced Ridge she needed the line to compensate for everything else she'd lost. Steffy ruffled further feathers at Forrester by hiring Sally as a designer for Intimates. Steffy walked in on Bill kissing Brooke and went to Ridge, who felt that Bill was trying to take Brooke from him. Steffy continued offering support to Taylor, who was obsessed with the fear that Bill would send her to jail, anyway; Steffy also tried to calm Liam and Hope after Taylor went off on them for stealing Steffy's life. Steffy put her foot down with her parents and told them to stop using their mistaken impression Bill had violated her as an excuse to hate him. Steffy was furious when Liam told Hope that Taylor had shot Bill, especially when Hope went to Brooke with the news. Steffy continued to insist that Taylor was not a danger to them, or to Kelly.
Feeling that the fracas about Taylor would keep Hope's baby from being a sibling to Kelly, Steffy decided to adopt a child and was surprised when Taylor came to her about a baby who needed a home. Steffy fell in love with the child on sight and named her Phoebe, after her deceased sister. Steffy formally adopted Phoebe but worried how Hope, who had just lost Liam's child, would react; Steffy wasn't sure what to think when Hope also instantly bonded with Phoebe and only seemed to find peace while around her. Steffy assured Brooke she wouldn't try to come between Liam and Hope since their grief was causing a rift between them and couldn't believe it when Hope took off her ring and tried to reunite Steffy with Liam, whom Hope had come to believe should be raising Kelly and Phoebe.
Steffy worried when Hope seemed to become overly attached to Phoebe and decided to take her babies on an extended trip to Paris to give Hope a chance to heal from her own loss. Upon returning home, Steffy was flabbergasted to hear Hope deciding to get an annulment from Liam and asking Steffy if she would move Liam back in. Steffy insisted Liam being in residence again didn't mean she would take Liam back romantically, though she did enjoy raising Kelly and Phoebe with Liam at her side. Steffy also enjoyed it when an unusually emboldened Liam made love to her after a party, but didn't know what that meant for any future together.
Steffy encouraged the returning Thomas, who wanted to marry Hope and create a family for them and his now-motherless son, Douglas. Steffy didn't know what to think when Phoebe crawled up to Hope during the wedding and started calling her "mama"; Steffy was especially unnerved when Douglas told her and Liam that he was sure Phoebe was Beth, the baby Hope had lost. Steffy was blindsided when Liam took Douglas' pronouncement to heart and found out it was true: Steffy and Hope had both been the victims of Reese Buckingham, an obstetrician who stole Hope's newborn, Beth, switched her with a dead baby, and used money from her adoption to pay gambling debts. Realizing Phoebe was really Beth, the sobbing Steffy ultimately chose not to fight it when Hope wanted to take her baby home and collapsed in Ridge's arms.
Steffy focused on raising Kelly, but got her chance to rail at not only Flo, but Thomas, who knew Beth belonged to Hope but kept quiet about it. Steffy let Ridge stay with her when he moved out on Brooke for her continuing belief that Thomas was dangerous; Steffy appreciated Ridge's desire to unify the family, but balked at his idea to bring Thomas in to live with them. Steffy enjoyed a non-scheduled visit from Liam, who had brought Beth with him, and texted him an effusive thank-you message which Hope saw; confronted by Hope, Steffy claimed the uncommitted Liam was still fair game and listened as Liam didn't give Hope a clear answer as to who he wanted to be with. Steffy lent Liam an ear when Hope started spending time with Douglas and Thomas and agreed with Liam's contention that it wasn't necessary for Hope to adopt Douglas.
Steffy teamed up with Sally in planning a fashion showdown against Hope for the Future; Steffy agreed to Liam's request to unearth Thomas' true motives for designing for Hope and asked the rehired Zoe Buckingham, whose father had stolen Beth, to spy on Thomas. Steffy was skeptical when Thomas and Zoe started seeing each other and decided to get married a couple of months into their relationship. Meanwhile, Steffy had an unexpected houseguest in Liam after he proposed marriage to Hope on the condition she give up custody of Douglas and got turned down. Steffy received a phone call from Thomas telling her "you know what to do"; Steffy abruptly kissed Liam, which Hope saw. Steffy continued to shelter Liam when Hope threw him out but felt guilty about her her part in it; despite wanting to tell the truth, Steffy kept quiet when Thomas pressured her to. Later, Steffy was pleasantly surprised when Liam kissed her on his own, stating he wanted to "show her his heart."
Both Steffy and Ridge were unhappy with the decline in Sally's work and readied to fire her until they learned from Katie that Sally was dying. Steffy agreed to prominently place Sally's designs in Forrester's couture line instead.

Post a Comment

Share on Facebook

Tweet this

Submit Feedback